Food & Wine
Winners revealed at the 2023 Food&Wine Awards
The Food&Wine Restaurant of the Year Awards in association with Rémy Martin took place at The Round Room at The Mansion House today. Hosted by Food&Wine editor Gillian Nelis, the event celebrated the best of Irish food and drink.
No other event brings together the hospitality industry like the Food&Wine Restaurant of the Year Awards in association with Rémy Martin - it really is the highlight of our culinary calendar. After such a tough couple of years for the industry, we were delighted to be able to celebrate the best of the best at the ceremony.
On arrival, guests were treated to a Rémy Martin Grand Tonic cocktail, a new iteration on a classic from our title sponsors Rémy Martin before enjoying a three course meal devised by With Taste, with support from Kish Fish, Irish Hereford Prime Beef and HireAll. To start, we enjoyed wild Irish kombu cured monkfish from Kish Fish with confit tomato, sea purslane, pistachio, borage, and Gubeen chorizo.
For mains, there was roast Irish Hereford beef sirloin and smoked cheek from Irish Hereford Prime Beef with potato and horseradish purée, charred celeriac, kale, and black garlic jus. Dessert consisted of spiced Champagne apple mille feuille with an Irish honey and white chocolate cigar, pecan butterscotch, and buttermilk parfait.
Wine pairings from our partner Liberty Wines, who also sponsored our Wine Experience awards, were the crisp Vesevo Beneventano Falanghina 2022 and the subtly spicy Quinta Dos Carvalhais Dao Tinto 2021. Additionally, our water partners S.Pellegrino and Acqua Panna kept everyone refreshed throughout the event.
The event was attended by some of Ireland's best chefs and restaurateurs from across the country, but if you weren't able to join us at the awards, we have the full list of winners below, so read on to find out who took home the top prizes.
Regional Awards, in association with Rémy Martin
Ulster
Best Restaurant Ulster
Winner: Ox
Highly commended: The Olde Glen
Best Chef Ulster
Winner: Stevie McCarry
Highly commended: Gemma Austin
Best Casual Dining Ulster
Winner: Stereo
Highly commended: Monad
Best wine experience, sponsored by Liberty Wines
Winner: Frae
Highly commended: Noble
Leinster
Best Restaurant Leinster
Winner: Keith Boyle at the Bridge House
Highly commended: Neighbourhood
Best Chef Leinster
Winner: John Coffey
Highly commended: Gareth Naughton
Best Casual Dining Leinster
Winner: Dubh
Highly commended: Nine
Best Wine Experience Leinster, sponsored by Liberty Wines
Winner: Kelly's Resort & Spa
Highly commended: Ristorante Rinuccini
Connaught
Best Restaurant Connaught
Winner: Aniar
Highly commended: Lignum
Best Chef Connaught
Winner: Martin O'Donnell
Highly commended: Kevin Stirzaker
Best Casual Dining Connaught
Winner: Ard Bia at Nimmos
Highly commended: The Fisherman's Pub and Ranji Room at Ballynahinch Castle
Best Wine Experience Connaught, sponsored by Liberty Wines
Winner: Daróg
Highly commended: Éan
Munster
Best Restaurant Munster
Winner: Dede at the Customs House
Highly commended: Terre
Best Chef Munster
Winner: Ahmet Dede
Highly commended: Vincent Crepel
Best Casual Dining Munster
Winner: St Francis Provisions
Highly commended: Goldie
Best Wine Experience Munster, sponsored by Liberty Wines
Winner: L'Atitude 51
Highly commended: Paradiso
Dublin
Best Restaurant Dublin
Winner: Chapter One by Mickael Viljanen
Highly commended: Mamó
Best Chef Dublin
Winner: Damien Grey
Highly commended: Barry Sun
Best Casual Dining Dublin
Winner: Fish Shop
Highly commended: Korean Table
Best Wine Experience Dublin, sponsored by Liberty Wines
Winner: A Fianco
Highly commended: Big Mike's
National Awards, in association with Rémy Martin
Hall of Fame
Rory O'Connell
Café of the Year
Winner: Warehouse Food Market Café, Dublin
Highly commended: Izz, Cork
Customer Service of the Year
Winner: Big Mike's, Dublin
Highly commended: Rúibín, Galway
Pastry Chef of the Year
Winner: Paula Stakelum
Highly commended: Orna Larkin
Young Chef of the Year
Winner: Aishling Moore
Highly commended: Attila Galambos
Newcomer of the Year
Winner: Homestead Cottage
Highly commended: Row Wines
Hotel Restaurant of the Year
Winner: Terre
Highly commended: The Bishop's Buttery
Cocktail Experience of the Year
Winner: Bar 1661
Highly commended: Hawksmoor
Innovator of the Year, sponsored by Tomkins
Winner: Cork Urban Soil Project
Highly commended: Conor Spacey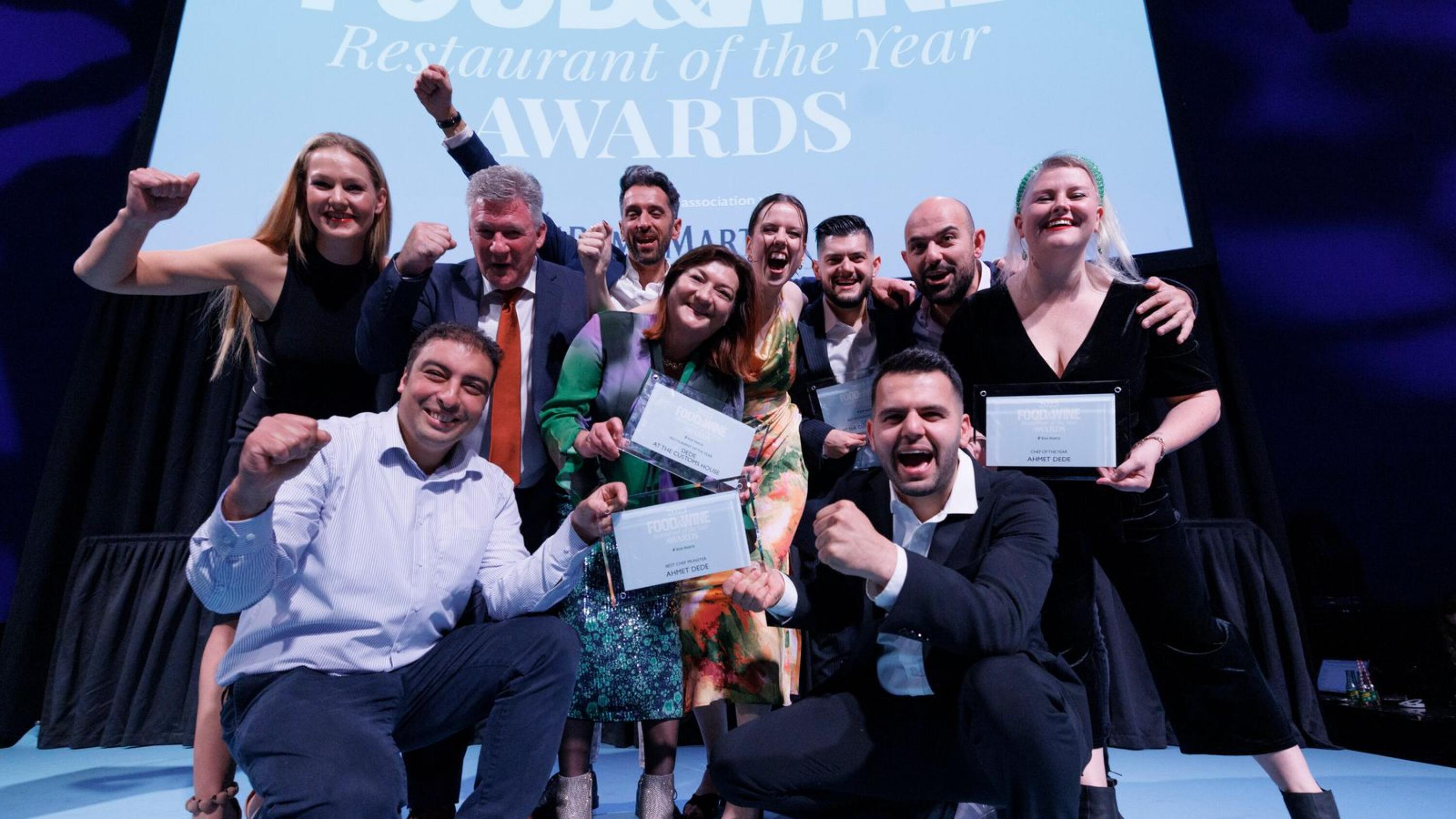 Overall Winners, in association with Rémy Martin
Wine Experience of the Year, sponsored by Liberty Wines
A Fianco
Casual Dining Restaurant of the Year
St Francis Provisions
Chef of the Year
Ahmet Dede
Restaurant of the Year
Dede at the Customs House
Photography by Andres Poveda