Food & Wine
Taste Test: the Food&Wine take on the Simply Better Christmas range
Food&Wine editor Gillian Nelis picks her favourite savouries, meats, desserts and more from this year's Simply Better Christmas range. Partner Content with Dunnes Stores Simply Better
Mini seafood en croute selection, €6.99
Morgan's Fine Fish in Omeath in Co Louth are responsible for this selection of mini puff pastries with seafood fillings. Each pack includes Irish salmon with Monterey Jack, Irish salmon with maple and thyme, and - my favourite - smoked haddock with spinach and cream cheese. Perfect for a drinks party.
Handmade seafood gratins, €5.99 each
Morgan's are also behind the new range of seafood gratins, which will be a godsend for those times over Christmas when you want something tasty, but can't face another evening slaving in the kitchen.
There are three varieties, including an Irish king scallop gratin in a cauliflower sauce with a garlic and chorizo crust, and wild Atlantic prawn gratin in a white wine, leek and fennel sauce, topped with a tomato and basil crust and Gruyère cheese.
My favourite? The mixed seafood gratin with salmon, hake, smoke haddock and prawns in a white wine, leek and fennel sauce. Pop the gratins in their ceramic dishes into the oven for twenty minutes, then serve with a glass of white wine and a simple greens salad.
Handmade dips and relishes, €3.99 each
If you've ever eaten in Sage, a great restaurant in Midleton in Co Cork, you'll already know just how talented a chef that Kevin Aherne, its owner, is. Kevin has been working with the Simply Better team since 2021, and his range of dips and relishes will see you right through Christmas.
Slather the garlic aioli on your turkey sandwiches, serve the spiced beetroot relish and cauliflower piccalilli with a cheeseboard, and cook up some chicken wings - the Simply Better corn-fed chicken wings are €3 a pack, and delicious - to serve with the buttermilk ranch dressing.
28-day matured Irish angus rib roast, €19.99 per kilo, and beef gravy, €2.99
I'll never not eat turkey for Christmas dinner, but in many ways those lazy, in-betweeny days between Christmas and New Year are even more enjoyable when it comes to food. This Irish Angus rib roast, aged for a minimum of 28 days, would make a great late lunch after a long winter walk, and the beef gravy will work perfectly with it. On the side, try the Irish garlic roasting potatoes (€4) or the Irish garlic potato gratin with Drinagh vintage cheddar sauce (€4).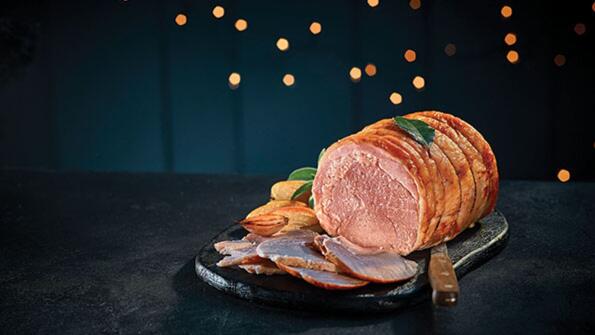 Hand cut unsmoked Irish ham, from €10.99 to €16.99
The Waldron family in Co Roscommon secured three stars for this ham at this year's Great Taste Awards, with the judges describing it as "sweet, yet subtle…we found this to be addictive, going back for more and praising the tenderness of the meat which still retained a great texture". With three sizes available serving from four to ten people, you should fine one that's perfect for your table this year.
All-butter Sicilian lemon tart, €7.99
Even the most well-organised among us will struggle at this time of year with figuring out exactly how much food to buy. I like to pop a few well-chosen items into the freezer that can be defrosted easily; that way I'm never stuck, but I'm also less likely to waste food. This all-butter Sicilian lemon tart is a perfect example, and there's an all-butter chocolate ganache tart available too.
Handmade pudding selection, €10
Looking for an alternative to a traditional Christmas pudding? This selection made by What's For Pudding in Co Meath could be just the thing. For the traditionalists, there's a sponge plum pudding packed with vine fruits, apricots, cranberries, prunes and cherries, all soaked in Irish stout and fruit juices.
For the chocolate lover, the triple chocolate sponge puddings are incredibly indulgent flavour bombs made with Irish butter and Irish free range eggs, Belgian chocolate chips, and a Belgian chocolate sauce at the base which bakes up through the sponges as they cook.
And it wouldn't be a What's For Pudding selection without a sticky toffee pudding - no one makes one quite like them - and this one features a date sponge, Irish butter and Irish free range age, and Black's golden rum from Kinsale in Co Cork.
Neven Maguire's Irish farmhouse cheese board, €29.99
This selection of Irish farmhouse cheese, complete with a cheese knife, a wooden serving board and a jar of the gorgeous cranberry and fig chutney made by Wexford Home Preserves would make a great gift. It includes some of Neven's favourite cheeses, including organic Cashel Blue from Tipperary; St Killian from Wicklow; 15 Fields cheddar from Waterford, and St Tola from Clare. Give it to the cheese lover in your life, or treat yourself to an evening in front of the fire with a nice glass of red, this cheeseboard and a Christmas movie.
Artisan cracker selection, €3.49 each
If you've got cheese you need crackers, and with five varieties available in this new Simply Better range, you'll be spoiled for choice. Wholemeal spelt; hazelnut, almond and pecan; and beetroot and apple are among the flavours on offer.
Sticky toffee pudding crown, €15
There are few enough foods that can truly be described as showstoppers, but I reckon this is one of them. Heat this pudding made with Irish butter and free range eggs, Black's rum and mixed spices, take it to the table, pour over the accompanying sea-salted toffee sauce, garnish with caramel chocolate curls and watch your guests demolish it. Add a scoop of Irish-made Simple Better ice-cream (€5 a tub, five varieties available) for the ultimate comforting dessert.