Food & Wine
'Good barbecue feeds the soul': Diva Q on life as a pitmaster, and why barbecue is true Americana
Danielle Bennett has spent decades immersing herself in the US barbecue scene, swapping a career in management for life as a pitmaster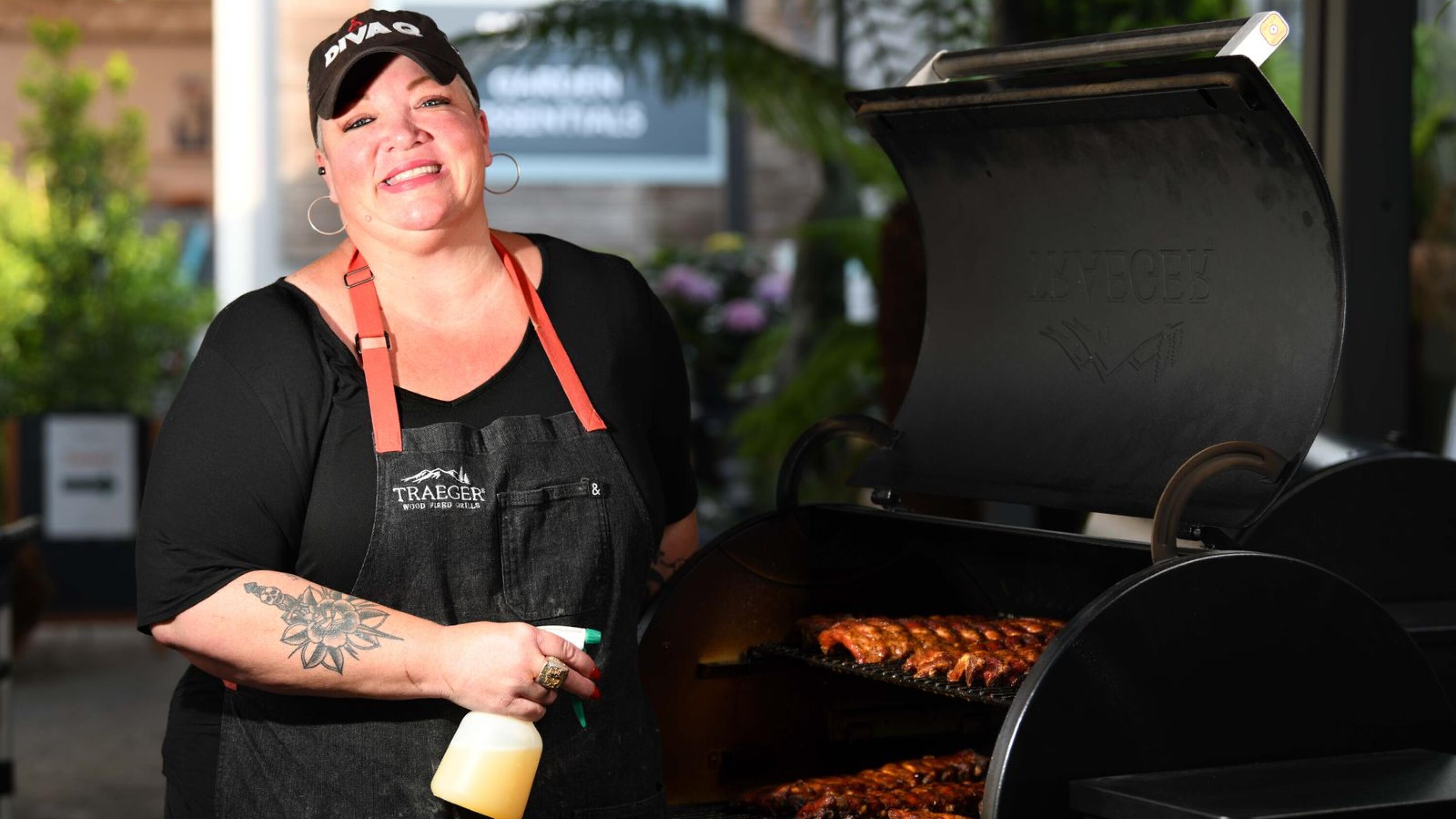 "Good barbecue doesn't just taste good. It feeds your soul. I truly mean that. It brings people together in a way that no French foam ever could."
It's late on a sunny Friday afternoon and I'm sitting in The Orchard garden centre in Celbridge, Co Kildare, talking to a living legend in the world of authentic American barbecue.
Danielle Bennett, better known on the pit scene as Diva Q, is in Ireland for the first time on a promotional tour with Traeger, the US firm that's been making wood-fired grills for over thirty years.
Later on Bennett will be teaching a sold-out course on how to cook real American barbecue, but already the smell of low and slow cooked pork ribs and beef brisket is wafting around the outdoor section of the garden centre.
"No offence to French cooking, because I enjoy that too, but fine dining just isn't the same as slow cooking an entire pork butt and getting ten friends to come around to sit around the fire, laugh and have a good time," she says.
Bennett is a big deal in the world of live fire cooking in the US, despite not actually being American. Born in Canada, she's technically a blow-in to a food scene that is not renowned for looking kindly on outsiders. But she feels that over the course of her 20 year career, she's paid her dues.
"When I started, there was no Youtube, no Instagram and no way to learn online. You could buy books on barbecue, but mostly you had to actually knock on people's doors. I had to go to these multi-generational pitmasters, these Southern mommas, and basically ask nicely if they'd teach me," she says.
"I was so blessed because almost without exception, they were so generous. Some of the most legendary families in barbecue opened their doors to me."
Before Bennett became Diva Q, she spent ten years as a human resources operations manager with a retail chain in Canada called Zellers. A naturally well-organised person, she managed schedules for 174 people and controlled a budget of $27 million.
When her young daughter became sick, she decided to step back from her corporate life to spend more time at home. By her own admission, though, she soon got bored, and cooking became a way to relieve the boredom.
"I've always been super organised - my cupboards and freezers are all perfectly inventoried - but that got old quickly. I don't watch TV and have no interest in the Real Housewives of wherever so I started taking culinary courses, and went on with that until one day a friend suggested I be a judge at a local barbecue contest," she says.
"On the day there was good, bad and terrible but I was fascinated, and it lit a fire in me. I started to think I could do this pretty well."
Three days later she had two grills set up in her backyard and they stayed lit for quite some time. She studied cook books, and entered and won barbecue contests, but soon realised that if she really wanted to do this properly, she needed to travel.
"Barbecue is an intensely regional thing in the US. Every region has its own way of doing things, but I wanted to learn all of it, as soon as I could. So I hit the road," she says.
"I went on solo trips to learn and grow my knowledge base to Kansas, Texas, to the Carolinas, to Kentucky and to California. Along the way I kept entering barbecue contests and doing really well. Six to eight months in, I knew I wanted to make a career of this, but I knew I needed to find a way to make this new obsession pay."
Winning contests brought her to the attention of TV producers, and she was one of the first people in her space to come to prominence on Twitter, and then on Facebook and Instagram.
A career that started out with endorsements, sponsorships and VIP catering gigs soon turned into a television show, BBQ Crawl, on the Travel Channel, which ran for three years and was shown in 157 countries.
A hit book followed, along with guest spots on primetime US cooking shows. She has worked with Traeger, which specialises in wood pellet-fired grills, for some time.
"I have owned, I think, 65 different grills. Offset style, kamado style, smokers, direct heat grills, gas grills - I wanted to be able to run everything from old style hickory pits to state of the art commercial grills," she says.
"If you're going to call yourself a pitmaster, then you either know what you're doing or you don't. It's really important to me that there's real substance behind what I do."
At the heart of Bennet's life work is preserving the regionality of authentic American barbecue. She says it's the one truly regional style of US food. Sure, there are other modern American classics - burgers and fries, Italian American classics and more - but nothing varies quite so much in how it's made from place to place as barbecue does.
"It's true Americana. And actually, as a non-native barbecue expert, I have a unique place as an advocate for all of it. Most pitmasters grew up with their local style and that's the base all their other work rests on, whereas I spent the time to visit all these places, knock on doors and ask nicely to be taken in and taught," she says.
American barbecue is a product of a few fascinating aspects of history. Its origins lie in dishes cooked by slaves, but it's also been heavily influenced over the years by the country's immigrant culture, and also by technological innovation.
"It was shaped by three major factors: slavery, immigration and railways. Interestingly, the earliest pit masters were women, not men, because the men on the slave plantations were working in the fields, while the women were tasked with finding ways to make the less premium cuts of meat palatable," says Bennett.
"That meant taking things like offal and the not-so-great cuts of meat like brisket, and learning that if you cooked them low and slow, instead of something tough and kind of unpleasant you got something exceptional."
Immigrants to the US throughout the 19th and 20th centuries brought the traditions of their home countries with them. "For example, Germans and Ukrainians brought their skill sets for sausage making, while Texas was beef and sausage country," she says.
"But then the railways arrived, and the country opened up. The Carolinas are pork states, a lot of ribs and shoulders. And that happened because of the way railways allowed meat to be transported in ice cars."
According to Bennet, it's possible to map present day strongholds of barbecue in the US directly onto the railway networks of the 19th century.
"That's changed today, of course. California, for example, used to be known for fish, wine and maybe things like [the beef cut] tri-tip, but today some of the best barbecue in the country is located there," she says.
"And of course, it's international. People all over the world love this food and everything that goes with it. I love that."
See divaq.ca for recipes and barbecue advice. Traeger Grills are stocked by The Orchard in Celbridge, Co Kildare. See theorchard.ie/Traeger
Danielle Bennet's favourite five
THE RESTAURANT
I've been to over 700 barbecue restaurants and won't rank them on principle. But what I will say is that on this trip to Ireland, I had a bacon chop at The Chophouse in Ballsbridge in Dublin, that was one of the best things I've ever eaten. It was spectacularly well done, and it came with a carrot puree and a jus that was superbly balanced.
THE HOTEL
My current favourite is the Meriton Suites chain in Australia. I travel all around the world on business, and they are the best when you're away from home. You get a great mattress for a good night's sleep, a powerful shower, and a little kitchenette to make a cup of tea before bed. Most importantly, they have my favourite thing - in-room laundry. If you're on the road for two to three weeks barbecuing, you permanently smell like smoke, so laundry is important.
THE INGREDIENT
After meat, my number one favourite thing to cook with is salt. Right now, my favourite brand is Real Salt from Redmonds, which is from an ancient organic sea salt mine in Utah. It's full of super trace elements and has a fantastic flavour.
THE COOKBOOK
On Food and Cooking by Harold Magee, followed closely by I'm Just Here For The Food, the original Alton Brown cookbook. I cook based on facts and science, not feelings. I want to know what I'm doing and why it works, or doesn't. These are priceless books for hard facts on cooking.
THE KITCHEN GADGET
A Meater or Thermapen digital meat thermometer, followed closely by a Traeger pellet grill. I teach people to cook to temperature and not time, so you need to know what's going on inside your barbecue. When it comes to cooking meat, amateurs guess but professionals measure.