Sponsored
Berry Good: How Wildberry Bakery created a dream partnership with Dunnes Stores Simply Better
This month we chat to Susan Robbins who, along with her husband Tom Fehily, runs the award-winning Wildberry Bakery in Ballineen, West Cork. She tells us about how they ended up baking for a living and how a partnership with the Dunnes Stores Simply Better Collection really is a dream come true. Brought to you in association with Dunnes Stores Simply Better.
The Dunnes Stores Simply Better range has a well deserved reputation for award-winning food and drink. Behind the scenes it also champions small Irish producers, helping them to grow while doing what they do best.
For Susan and Tom, the move into owning a bakery, a decade ago now, was a twist of fate neither really expected. Susan had a background in design, while Tom had studied accountancy before the duo took over Tom's family's business, a village shop in Ballineen. It became a café and lifestyle shop and when Susan and Tom struggled to find quality gluten-free products to serve in the café, they decided to bake their own.
"From that we were invited to bake products for a couple of other cafés and it was a rollercoaster from there for a couple of years," Susan explains. The new enterprise did so well that the pair decided to close the café and shop and pivot to a commercial bakery in the same premises. "It was a bit of a chance to take 10 years ago, but here we are," Susan says.
She admits it was a huge learning curve, although there was plenty of support then and now. "There are so many people within the industry who are willing to give you time and advice," Susan says. "And an awful lot of the people that we are friends with within the industry came from strange beginnings as well, they kind of fell into it too. So people are very generous with their information and their help."
Things really moved up a level when in 2018 Wildberry Bakery was selected as The Irish Quality Food Awards (IQFA) Small Producer of the Year by the Dunnes Stores Simply Better team. As Susan explains, it was the start of a dream coming true.
"You know the way that you have a photograph on the wall of the holiday you want or the house you want? For us, it was Simply Better," she laughs. "It was the goal so when we actually won the award, it was extraordinary. And it's been an extraordinary journey ever since. Dunnes Stores have been terrific, they're an amazing company to work for."
Following the win, Wildberry Bakery's carrot cake made its way into the Simply Better product range. "It took about nine months to get it into stores," Susan explains. "The product was tweaked and it was nine months of learning, to be honest. The Simply Better team were brilliant and held our hand every step of the way. And still do."
The hard work has paid off in fine style as the Dunnes Stores Simply Better Handmade Carrot and Walnut Cake won Overall Product of the Year at this year's Irish Quality Food Awards, a win that Susan and the team are delighted with.
It's testament to their success of their collaboration with Simply Better – and the dedication of a small and passionate team in a certain bakery in West Cork. A team that Susan is clearly very fond of.
"You can say Simply Better is a family, well the bakery is family too," she says. "Everybody's local, within 10 miles of the bakery, it's lovely. They're a great bunch too!"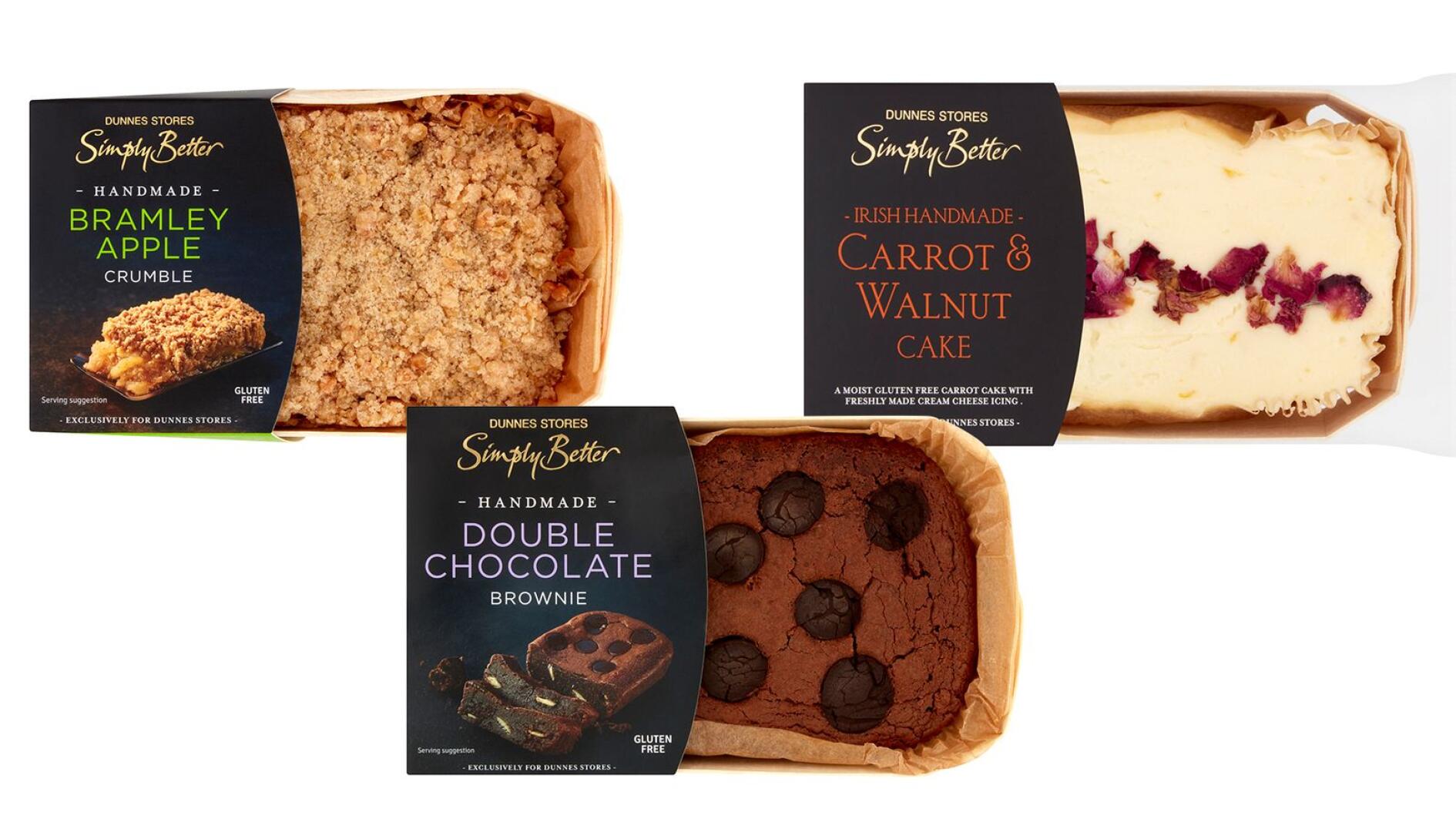 The Wildberry Bakery team may be small but they maintain impeccable standards in relation to what goes into their products, and how they're made. "We're incredibly passionate about our ingredients," Susan says. "We've only ever used Irish butter and we only use free-range eggs. We use very little gluten-free flour in our baking, we primarily use almond as it gives you taste and texture. It's not the cheapest ingredient, but it has lovely flavoursome benefits and mouthfeel – it's full of moisture and taste.
"We're very careful about the ingredients we use and we're very careful about how we make our recipes. We don't use preservatives or additives. For example, the carrot cake is flavoured with orange and we zest our oranges, we zest our lemons. Every flavour is made from what it should be made from."
In 2022, their product range for Simply Better expanded to include the Simply Better Handmade Double Chocolate Brownie and the Simply Better Handmade Bramley Apple Crumble – and both have since won Irish Quality Food Awards too.
While the product that started it all, the Handmade Carrot and Walnut Cake, remains the best seller, Susan's personal favourite is the apple crumble. "Without a doubt," she laughs.
And fans of a good crumble will be thrilled to hear that there is a new one hitting the Simply Better shelves over the coming weeks. "It's an apple and blackberry crumble, which we're really excited about," Susan says. "It's very different from the crumble that we already do and should complement it nicely. It's very autumnal with a lovely flavour to it."
When asked what she loves most about what she does, Susan immediately says it's the creativity of the role. "I come from a design background and I don't feel cheated having left that world because what you're doing every day is creating something, whether it's a new product, or whether it's just daily within the bakery. You start with gathering a few ingredients to put together and the whole process is just lovely. It's very satisfying."
The partnership with the Simply Better team is going from strength to strength and is built on collaboration, communication – and creativity. "It's lovely to develop recipes together," Susan adds. "They come here and sit in my kitchen and we chat and taste the product. That's a really nice way of us developing the products, it's not done in a clinical context."
A perfect balance of support from a business perspective and the freedom to create exciting products, it's clear that the Wildberry Bakery and Simply Better partnership is a good one. "The Simply Better team have huge faith in the people that they choose to work with so you feel that they have your back. And that's great," Susan says. "It's a huge boost for your staff and your business. It's a terrific journey - and we still feel like we're just at the beginning of it!"