Sponsored
In pastures new: how Irish dairy farmers are combating the climate crisis – and minding the land for the next generation
Irish dairy farmers are embracing sustainability, with support from cutting-edge science – and are putting novel solutions into practice every day
Dairy farming is fundamental to the Irish economy; approximately 90 per cent of dairy products are exported to more than 130 countries, contributing more than €6 billion to the Irish economy each year.
Dairy farming is not, however, without its detractors. Agriculture accounts for over 37 per cent of greenhouse gas emissions in Ireland, and farmers have a major part to play in their reduction. The Climate Action Act 2021 requires agriculture to reduce its emissions by 25 per cent by 2023.
Farming has also been identified, in an Environmental Protection Agency (EPA) report, as the major contributor to a reduction in the quality of our rivers, lakes and estuaries. This report indicates that, while more than half of our surface waters are in good (or better) condition, water quality in Ireland has seen a decline. This is, in large part, due to the 'run-off' of nutrients (nitrates from fertiliser) from agricultural land.
For the dairy industry, environmental sustainability is a vital concern. Across the country, farmers are employing innovative technologies and practices that are designed to offset agriculture's environmental footprint, both in terms of GHG emissions and water quality impacts. The goals are challenging, but the industry is making strong progress.
A 'typical Irish family farm'
Nicole Keohane farms alongside her grandparents John and Anne in Inishannon, Co Cork. "We're currently milking 90 cows, a typical Irish family farm by all means," she said. The 25-year-old currently combines part-time farming with her studies for a PhD. "Between Monday and Friday you might catch me in the laboratory, trying my hand at a bit of molecular biology, on one of my trial farms collecting milk samples, or in the library. On the weekends, I'm mostly found at home on the farm; milking cows, looking after calves, anything to do my part."
Nicole caught the farming bug a little later than most, she explained. "My grandparents have been the custodians of our land for the past 40 years, and I have early childhood memories of feeding the calves with my grandfather, peering in through the door to watch my grandmother in the milking parlour, and a tractor journey here and there.
"It wasn't until I was around 16 that I even milked my first cow. But once I had, I was hooked. I began studying Agricultural Science in school, and continued this through to college where I studied Agricultural Science in what is now the Southeast Technological University."
Nicole typifies a new generation of farmers for whom scientific innovation and ancient traditions can happily co-exist. "I like to think of my job as an amalgamation between farming and research, as the two go hand in hand for me," she says.
"I immerse myself in the cutting-edge research being published daily by those who want to better our industry, and I am in a position to contribute to a more sustainable future for farming."
Her PhD research centres on investigating a non-antibiotic approach to improving udder health in Irish dairy cows.
"Mastitis is the most prevalent disease on dairy farms and costs the Irish dairy industry €25 million per year," Nicole says. "My project is investigating the efficacy of an antibiotic alternative for the prevention and treatment of mastitis. If successful, this treatment could hugely reduce our reliance on antibiotics in treating the disease, and possibly prevent the disease from occurring in the first place."
Young farmers
A "young farmer" is classified as a farmer under 35 years of age. Young farmers currently represent 6 per cent of the total farming cohort in Ireland. Nicole would like to see that number improve, and feels that actively spreading her passion for regenerative agriculture, and speaking out on the efforts farmers are making to tackle climate-change challenges can encourage a new generation into the industry.
"Agriculture has been tasked with reducing our carbon emissions by 25 per cent by 2030," she says. "It's a huge task, but we're on board for these changes. Farmers are actively seeking solutions and implementing them where we can.
"There's a huge focus on breeding strategies, resulting in higher-yielding, longer-lasting and healthier cows. We can produce more dairy per cow, which is far more emissions-efficient than an unproductive cow.
"The grass cows graze has been reconsidered. Certain grasses such as clover, plantain, chicory require far less, or no, artificial nitrogen, so we increase these in our grasslands, reducing the amount of artificial fertilisers required. We have embraced technology, using cow monitoring systems to keep track of the cow's health and welfare, recording grass growth, and using GPS systems to ensure efficient spreading of fertiliser.
"Dairy farmers strive to do better, to leave our land in a better condition than we found it, and to ensure that there is a future on the farm for the next generation."
Insights from science
Dr Bridget Lynch is a senior Research Officer at the Department of Environment Soils and Land Use at Teagasc Johnstown Castle. Her areas of interest include grazing management for grass-based dairy production. Bridget says: "Dairy farming is an excellent converter of a non human-edible protein, in grazed grass or grass silage, into a human-edible highly nutritious protein source in the form of milk."
She says that farmers are hungry for insights from the scientific community. "Farmers are eager for information," she says, "and they are especially eager for new research to apply on their farms that will reduce emissions, improve biodiversity and reduce nutrient loss to water. Adopting the latest scientific innovations may also improve their profitability, meaning this is a win-win situation."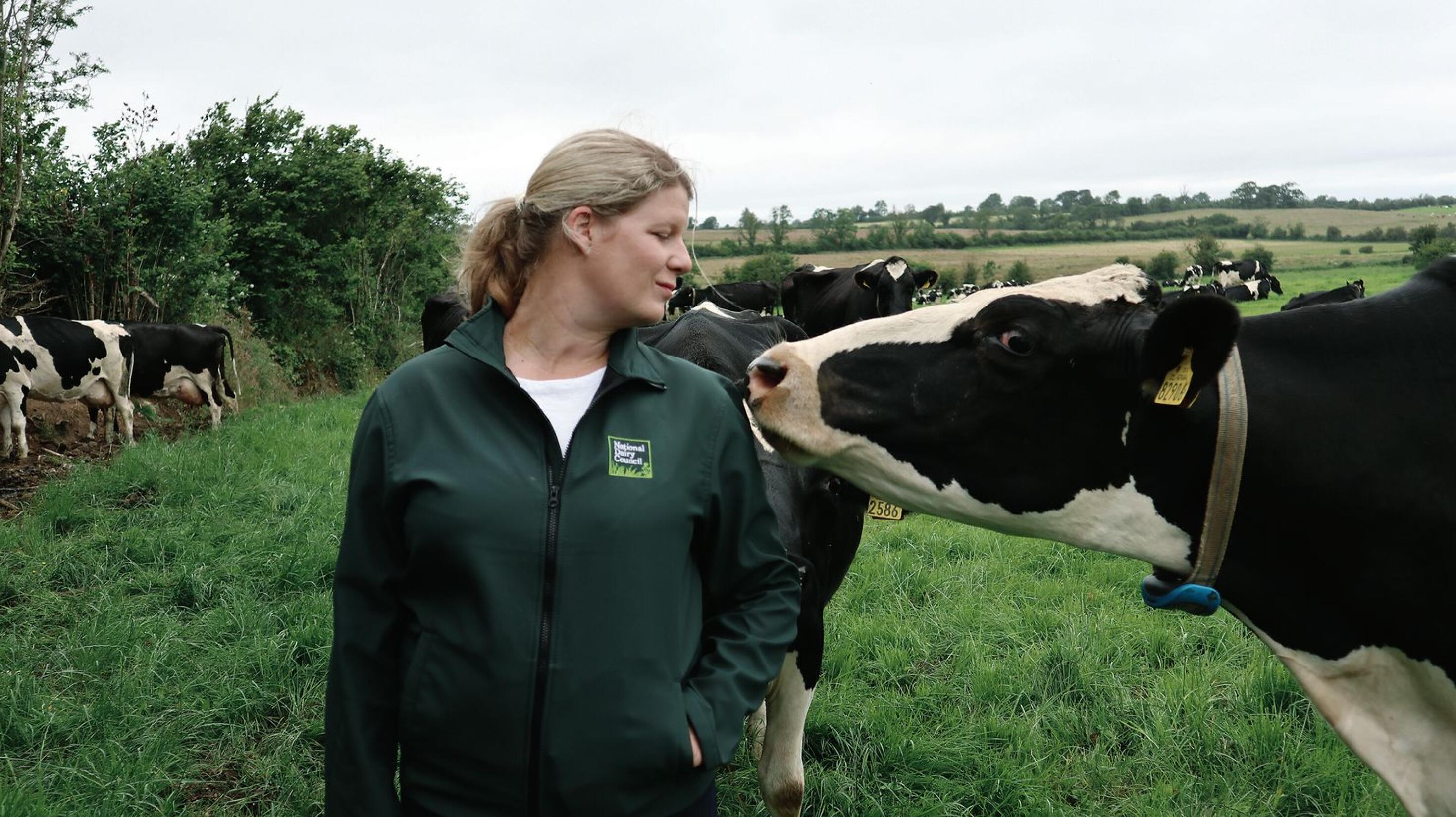 Bridget refers to PastureBase Ireland, a grassland management decision support tool that farmers can use on their smartphone or desktop computer. It allows them to "grass budget", she explains, by making strategic decisions in relation to grass growth, and to effectively manage grazing patterns so as to offset their carbon 'hoofprint'.
"By using the PastureBase Ireland tool, a farmer can predict grass surpluses," she says, "and can therefore set aside paddocks for silage production. This ensures that the grass the cows are consuming is of very high quality and that grass quality is not deteriorating.
"These factors are important because studies have shown that cows consuming very high-quality grass with high digestibility, compared to low-quality grass that has matured, will reduce methane emissions.
"Ultimately it's important for the animals, the farmer and for the environment that we ensure that the grass the cows are consuming is of very high quality."
Miriam Gunn farms with her husband in Strokestown, Co Roscommon. They milk 180 cows and were National Dairy Council and Kerrygold Quality Milk Awards finalists in 2019.
Miriam says that sustainable farming starts from the ground up. "We spread all of our slurry with a low-emissions slurry-spreading technique and we use protected urea," she says. "We have a nutrient management plan, so last year we had soil samples taken across the entire farm to determine what nutrients were needed and in what areas. We tailor our fertiliser programme to suit exactly what is required, so there is no excess of anything being used."
Miriam refers to new regulations, entitled the European Union Good Agricultural Practice for Protection of Waters Regulations 2022 Statutory Instruments S.I No. 113 of 2022. The purpose of these regulations is to give effect to Ireland's Nitrates Action Programme concerning the protection of waters against pollution caused by nitrates from agricultural sources.
She says that while these regulations are instructive, they do not affect their farm in Strokestown as they are already mindful of slurry-spreading methodologies.
"We are always checking the forecast," she says. "Slurry is a valuable commodity in that it provides nutrients to grow grass, so we don't want to be wasting any of it and we don't want any of it to go astray. We want to make sure that every bit of it is doing its job and growing more grass. We would be very mindful of how, when and where we spread our slurry."
Water quality
Niall Moore farms with his wife in Annestown, Co Waterford. They milk 130 cows using a robotic milking system. Moore acknowledges that "there is an issue, certainly, with water quality".
"I suppose agriculture is doing its best and of course the industry must play a serious role in improving water quality," he says. "I am a representative with Tirlán, the new name for Glanbia Ireland, and I am aware of 420 water improvement projects within Tirlán, where there are advisers in place in different water catchment areas."
Niall is also a National Dairy Council ambassador, one of a group of ambassadors who champion more sustainable dairy farming methods. He is keen to share practical examples of sustainability efforts, and offers the example of a pilot project run in conjunction with Waterford County Council and scientist Dr Rory Harrington where farmers have reed bed filtration systems built on their farm to deal with yard run-off water.
"You have a series of ponds that are planted with reeds," Niall says. "The topsoil is then put back into the ponds, the reeds are planted in these ponds and your yard run off comes down into each pond. The reeds basically take out the nitrates, the potassium, and the phosphorus, and the water then filters through that system, goes off into another pond and constantly filters down.
"It started on my uncle's farm," he continues. "Willie Moore was the first to build this system and Éamon de Buitléar, famous for all his work in nature, was happy to drink a glass of water that had gone through his system.
"It's proven, it's constantly tested and it's a fantastic way of purifying water that might have been contaminated along the way in the yard area. It also has the added benefit of creating a fantastic ecosystem for biodiversity, plants and wildlife on the farm itself."
While accepting the challenges that dairy farmers face in relation to emissions, Niall is a staunch advocate for nutritious, responsibly produced Irish milk. "The population of the world continues to increase," he says. "Milk consumption increased 2 per cent last year, and we in Ireland produce milk better than anywhere else in the world, in my view.
"Milk will continue to be produced to meet demand, so I would argue that the regulations dairy farmers must adhere to in Ireland will see us asserting our position as the sustainable choice."
In harmony with nature
A dairy farmer in Bawnlusk, Co Kilkenny, Eamon Sheehan has his cows grazing on grass 270 to 290 days of the year. "We have invested heavily in low-emission slurry spreading," he says. "And we have invested in collars on our cows that support us in genetically improving our herd on a yearly basis. We are also working on our grassland management and making sure that everything is at its optimal level by using the likes of protected urea."
Eamon has been using protected urea for five years due to its comparatively low loss of nitrogen to the atmosphere.
"Apart from how we apply our organic and artificial fertilisers, we have invested in the diversity of our land. The hedgerows we have sown in recent years will have a large impact on carbon sequestration. We have 40 acres of forestry as well, and they represent a major sequesterer of carbon going forward. You have to question why, when agriculture can do so much in this area, that it's not being acknowledged or credited.
"On a reseeding base we don't plough any fields; we just use minimal till or minimal cultivation, where you are stitching grasses into the ground rather than ploughing, so you are not losing any carbon there."
He has also introduced more clover into the farm's grasslands, to minimise nitrogen emissions. "Over 20 per cent of our farm is now space for nature, between the ponds we have dug, and the hedgerows and woodlands we have planted. It is a source of pride to work on a large-scale dairy farm that operates in harmony with nature and wildlife," Eamon says.
Back in Roscommon, Miriam Gunn says she would be delighted for any of her four children to pursue a career in agriculture. "I know they are young – 13, 12, 8 and nearly 6 – and I would be fairly certain even at this stage that I have three of them that probably will pursue careers in agriculture," she says.
"I think it's a great way of life and they have such a grá for it already. You know it's something that's in you. It's not something that you can buy or necessarily learn. It's the love of the land and a vocation rather than a career. I would be absolutely delighted to see my children following in our farming footsteps."
For more information on what dairy farmers are doing for the climate, visit ndc.ie/farmer-ambassadors