Partner Content
A taste tour with Five Farms, the award-winning Irish cream liqueur
The hit the road this year, visiting music and food festivals across the globe with some surprising results, explains co-founder Johnny Harte
It has been building a loyal fanbase since it first launched in 2018 but as with most brands, the past few years brought challenges for Five Farms, the award-winning Irish cream liqueur. Co-founder Johnny Harte couldn't wait to get back out there and bring the brand to new audiences and this year Five Farms embarked on what Johnny calls "a comeback tour".
It all kicked off with sponsorship of the Irish Oscar Wilde awards in Los Angeles and then Five Farms hit the food and music festival trail, going everywhere from Dublin to Toronto to Sydney. "The idea was to bring the taste of Five Farms to a wider audience so we went to food and music festivals wherever we could this year," Johnny explains. "It has been extremely successful for us and we got to meet musicians and other Irish people out and about selling their wares too."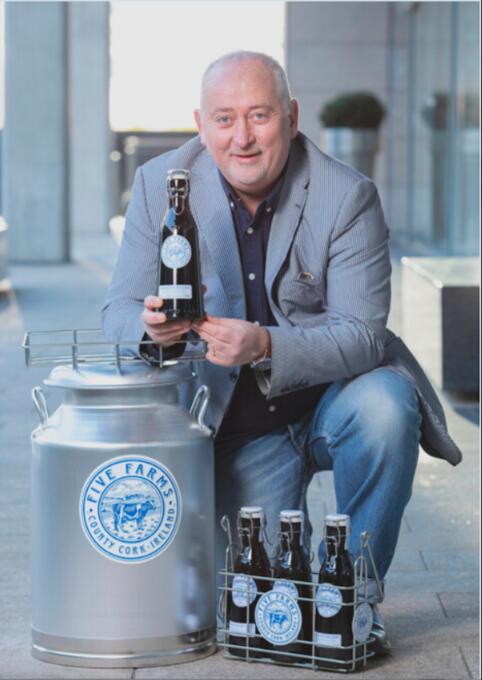 One particular highlight for Johnny was collaborating with Mike Hanrahan. Perhaps best known for being a member of Stockton's Wing, Hanrahan is also a cook and an author. "Mike had a kitchen at some of the Irish festivals and I was able to complement that with cocktails and he also did a dessert with Five Farms," Johnny explains, adding, "It was nice to meet a hero of mine along the way and it was all very positive for Irish food and beverages internationally, working together."
From the beginning Johnny was determined that quality was at the heart every aspect of Five Farms and it is the first genuine 'farm to table' Irish cream liqueur. It contains the most Irish whiskey that can be included in a cream liqueur [10x other brands], the highest cream content – from five family-run dairy farms in Co Cork - and the best natural vanilla extract from Madagascar.
It's little wonder then that the product is a multi-award winner and it picked up further accolades this year. It won a Gold Medal at the prestigious San Francisco Spirits awards and a second gold medal at the Irish Celtic whiskey Irish Whiskey Awards recently too. "It's always good to get those industry endorsements from your peers," Johnny notes, "So we were very pleased with that."
The success of the brand across the world, not to mention all those awards, are testament to its quality but perhaps the highest praise comes from fans of the liqueur. And it even surprised Johnny a little too. "One thing about going to the shows and festivals like the Bloom Festival is that you hear what people say about the product quite clearly. We discovered that while the Five Farms cocktails are very popular, we have a wider audience than that. People do consume it in cocktails, such as the espresso martini, but they also love drinking it in more traditional ways - by itself or with ice. The quality is there," he explains.
"So many people came up to me at festivals during the summer, especially in North America, and said, 'This is the first time I've tasted a product that tastes like the one we used to make at home'. And I'd dreamt of a response like that. We were delighted."
THE FIVE FARMS ESPRESSO MARTINI
INGREDIENTS
60ml Five Farms Irish Cream Liqueur
15ml vodka 30ml
Espresso
METHOD
In a shaker, add all ingredients and shake until chilled
Strain into a chilled martini glass
Garnish with espresso beans
Five Farms is available in Supervalu, O'Briens Off Licences, and independent outlets nationwide. fivefarmsirishcream.com; Twitter @drinkfivefarms