Trends
Fashion is wrapped up in scarves, throws, and shrugs this season – but it's a lot more polished than you think
From soft tailoring at The Row to Toteme's viral scarf jacket, draped fashion is creating considerably more noise this season, writes Trudy Feenane
Could a five-second video of Lenny Kravitz portend one of the season's most trending fashion moments? If it's a five-second video of Lenny Kravitz swathed in a gargantuan scarf, then yes.
The singer made his TikTok debut last month with a clip that sees him stride towards the camera enveloped in a brown knit trailing scarf. "Grab your big scarf. It's the first day of fall," he quips in the video, which has since clocked 10.3 million views.
Those of the pop culture-subscribed internet were quick to corroborate the video with Kravitz's meme moment in 2012, in which he wrapped the mammoth scarf in question around his neck to run errands in New York.
Naturally, this elated the paparazzi and Kravitz described it as the reference he "cannot escape" in a 2018 interview with Jimmy Fallon.
This time, however, Kravitz isn't alone in his affinity to the maximalist accessory; scarves, throws and shrugs are being draped everywhere from the runway to the high street this season – and it's a look that carries a lot more polish than you might think.
Draped fashion is garnering 20 per cent more online traction this year compared to last, according to the search engine TagWalk which offers data on trends, collections, and designers.
It started with soft tailoring at The Row's autumn-winter 2023 collections: oversized double-breasted coats – crafted from fabrications like alpaca wool and brushed cashmere – featured integrated wrap-around scarves.
In other outerwear notes, bunched and layered swathes of fabric cocooned the models as they breezed past the front row with the kind of nonchalance that makes sense for a Mary-Kate and Ashley Olsen-founded brand.
Meanwhile, Daniel Lee took things in a more tonal direction for his debut collection for Burberry, where he reimagined the house code's check motif in novel colourways across deconstructed blanket coats and knits.
Francesco Risso's new season collection for Marni would beat a similar drum, as he returned to the house's roots to muster up bold prints like his chunky, tartan scarf which overlaid a grid-patterned coat and polka dot slingbacks.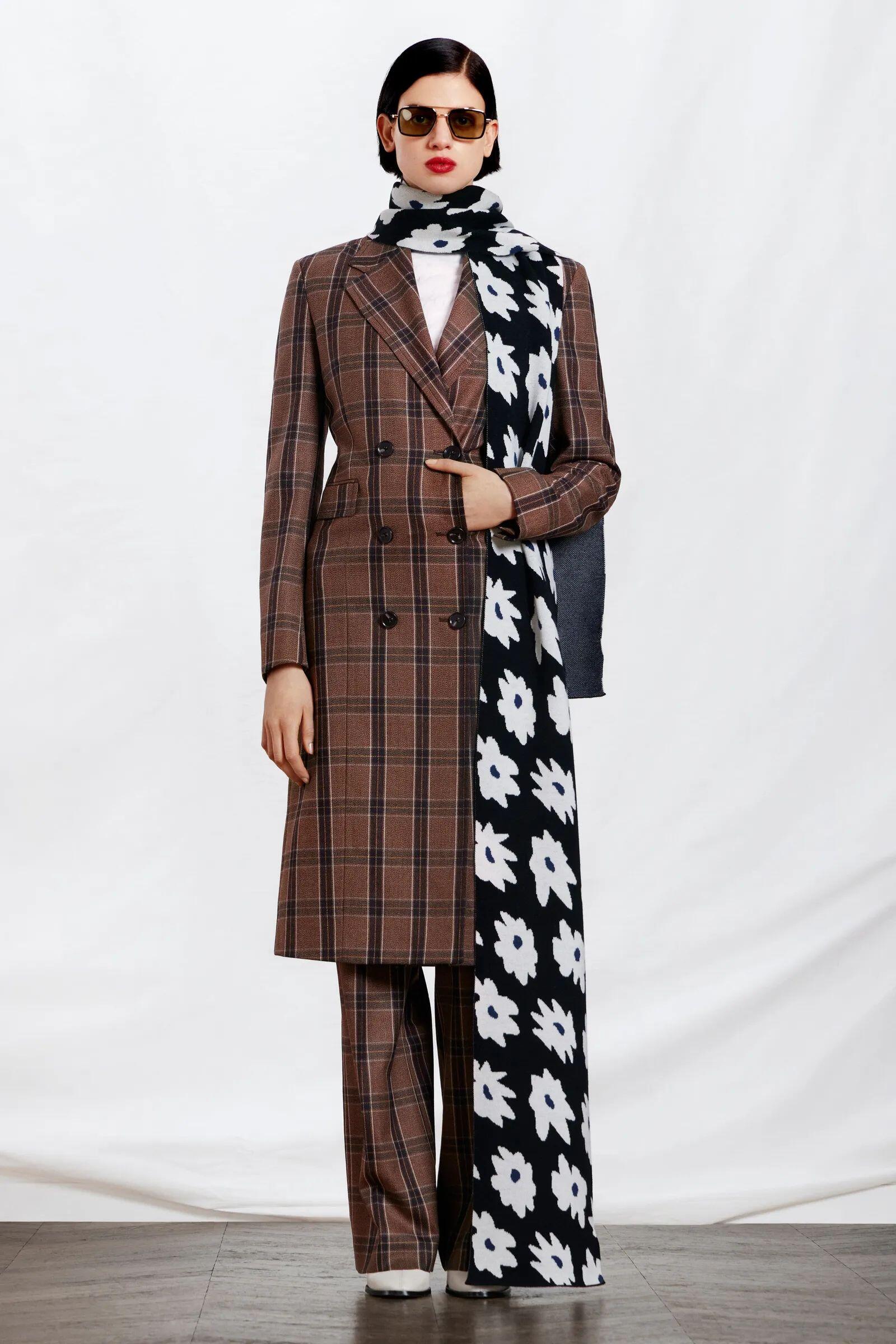 The luxed-up power shoulders of Saint Laurent were given an interesting accent too, as draped shawls were fastened on the shoulders of models and looped through a gold orb. From tartan to leather and houndstooth to tweed, the wraps were gloriously akin to a blanket in a way that could walk the line between comfort and class.
As for the most zeitgeist-defining styles, Toteme's embroidered scarf jacket in dark grey melange (for a cool €880) is decidedly the most duped piece of the year, while interest in Acne Studios' mohair checked scarf is up 20 per cent this month, according to fashion forecaster Madé Lapuerta, the creator behind Data But Make it Fashion.
But how does this translate to the high street? Brands like Cos, & Other Stories, Arket, and Mango are dreaming up scarf coats this season in cape, quilted, and wool forms at a much neater price point.
Ruched, draped, swathed, or gathered, the scarf coat is one we'll gladly rubber stamp – not least because it'll make the next cold spell that little bit more sufferable. And that's an add-to-cart justification, right?