Trends
Crisp and clean: why 'New Elegance' is the next act in party dressing
'New Elegance' is the thing we need after flipping between luxe loungewear and Covid Christmases, writes Marie Kelly, and it should be the alt text in your seasonal dressing
Fashion loves a hashtag, and Givenchy kindly complied when it defined its autumn-winter 23 collection as 'New Elegance'. But it's not the gently sculpted waistlines or soldier-worthy bold shoulders of creative director Matthew M Williams' designs that have come to define the current fashion zeitgeist. Instead, it's the pared-back style and make-up-free persona of former Baywatch actress Pamela Anderson that's being heralded as the embodiment of autumn's contemporary take on old-fashioned elegance. It's the fresh perspective our festive wardrobes need after years of ricocheting between the luxe loungewear of Covid Christmases past and last year's 'out-out' opulence.
Williams wrote in his notes for Givenchy's autumn-winter womenswear show that: "Today, we are looking for authenticity in what we wear…elements that make the ordinary extraordinary…" When Anderson arrived at Isabel Marant's spring-summer 24 show with naturally dewy, freckled skin and wearing an understated, fluid floral dress, she radiated confidence and authenticity. Rather than looking in any way ordinary, she cut an extraordinary figure among the styled-to-within-an-inch-of-their-lives celebrities and influencers we've become used to seeing on the fashion front row. The effortlessness, nonchalance and self-possession with which she presented herself was a refreshing palate cleanser after four fashion weeks of over-the-top outfits and paparazzi-pleasing poses, and it has struck a chord that's continuing to chime as we each decide who it is we want to be this festive season and beyond.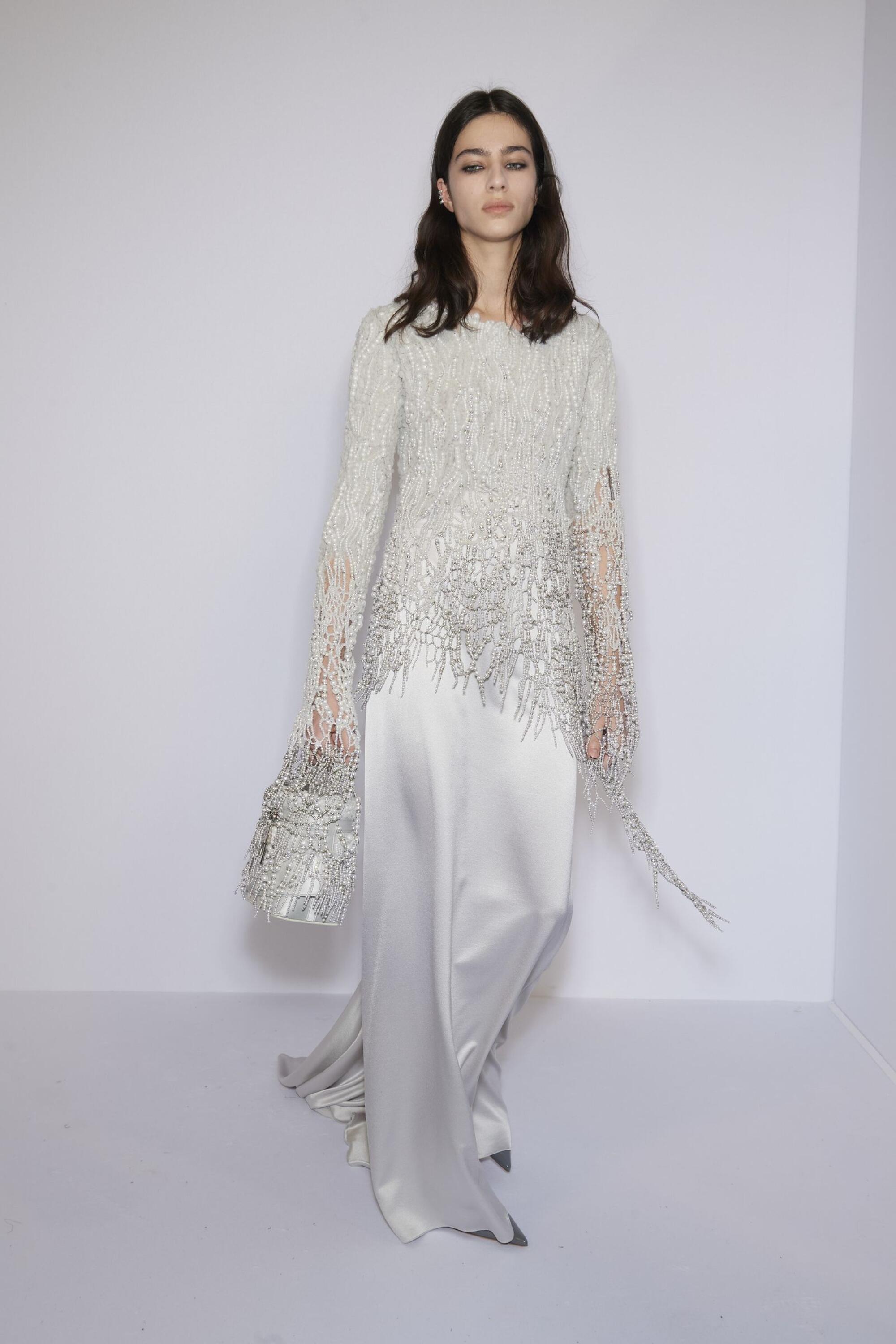 If, as Giorgio Armani once stated, "Elegance is not about being noticed, it's about being remembered", Anderson certainly hit the proverbial nail on the head. Dignified is another way of describing both Anderson's reinvention and the current fashion mood. Rick Owens, like Givenchy, championed a newfound elegance for this season. Referencing the Ukrainian war and "dignity in the face of adversity" in his show notes, he explained how he translated this dichotomy through a fresh formality, earnestness and simplicity. "Simplicity is the most elegant thing I can think of," explained the American designer.
New York-based Dubliner Laura Weber, founder of textile and embroidery studio LW Pearl – the atelier responsible for the exquisite embroidery on First Lady Jill Biden's evening inauguration outfit in 2021 – believes New Elegance is anchored in "Beautifully made fabrics with sharp and thoughtful pattern shapes." She explains it's as much about how a garment is made as how it looks. "It's French seams, purposeful tucks and top stitching articulated with care. A consumer of New Elegance is concerned with the making of a garment as well as the aesthetics," she says. Weber namechecks Loro Piana, The Row, Proenza Schouler and Khaite as go-to labels for New Yorkers in search of the quality, cut and character that define New Elegance and pinpoints Prada's Technical Fabric Midi skirt as its epitome.
Prada's show notes reiterated Weber's point of view, explaining, "Beauty here is determined not by aesthetic, but by action; garments are signs, representations of the beauty of care, of love, of reality." New Elegance is about more than just an end product. It's a perspective, a point of view that values the journey as much as the destination, and it's a long-term investment because you're paying for the time, care and attention paid to every French seam and top stitch meticulously delivered by each skilled artisan involved in the process. At Prada, this translated as eveningwear-worthy tailoring impeccably crafted and distinguished by gentle flourishes, such as embroidered details, origami flower embellishments and soft bows. It was style very much underpinned by substance.
Sartorially speaking, Christmas is a month as heavily influenced by spring-summer trends as it is by autumn-winter given it falls shortly after the September serving of new-season collections, but this time round several fashion houses, including Fendi and Stella McCartney, spun the same narrative, exploring concepts of elegance and authenticity in greater depth, and perhaps with more heart and soul for spring-summer. Kim Jones took the 2,000-year-old classical statues of Rome as well as mother and daughter duo Silvia and Delfina Fendi from the heritage brand of which he's creative director as inspiration for the simple, graceful, longline fine-knit dresses and silk-mesh hybrid tunics which casually kissed the curves of his models. He created the kind of simplicity that yields agency to the women wearing the clothes, and with agency comes freedom, something Anderson has discovered since ditching the standard glam squad required of celebrities during fashion month and "freestyling" it instead. "I feel like it's just a freedom," she declared.
Like Jones, Stella McCartney looked backwards to move forward, staging a show that drew heavily on her own personal and brand heritage within a 'street fair' that gave space and visibility to the makers behind the sustainable and innovative fabrics used in her collections. From Uppeal, the company that transforms apple waste into vegan leather, and Radiant Matter, makers of a BioSequin cellulose used instead of plastic sequins, to Keel Labs, pioneers of a material made from sea kelp, McCartney's presentation – her most sustainable to date, boasting 95 per cent sustainable materials – was, like Anderson's make-up-free appearance in Paris, utterly honest and devoid of any of the smoke-and-mirrors traditionally associated with fashion month antics – transparency may soon be the new black.
But if all of this sounds a little worthy for that one month of the year when excess and extravagance are acceptable, encouraged even, McCartney demonstrated beautifully that serious and considered subjects like authenticity and sustainability can still yield joyful, celebratory-worthy clothes. She delivered precision tailoring, but in dazzling metallic brocade; exquisitely cut waistcoats, dripping in (lead-free) sparkling crystals; and sensible bomber jackets, but in tactile (repurposed) silk taffeta.
London-based Niamh O'Donoghue, Global Head of Social at Stella McCartney, but up until October, Head of Social & Editorial at Victoria Beckham, returned from the Paris shows in September with a firm sense that "stripped-back" has become the new fashion sensibility. "Refined tailoring will bring an understated but considered polish to partywear that feels really modern," she explains. "The simplicity of an oversized feather peeking out from beneath a dinner jacket (as seen at Victoria Beckham's autumn-winter show) adds just the right measure of playfulness without undermining the ease and effortlessness of the aesthetic," she adds. Clickbait clothing this certainly is not. Party-wear for now is a much quieter proposition and Beckham decoded it perfectly ahead of her SS24 show when she described how the construction of her boxy blazers was "elevated into decoration". New Elegance is about what lies beneath; she and Anderson were singing from the same hymn sheet.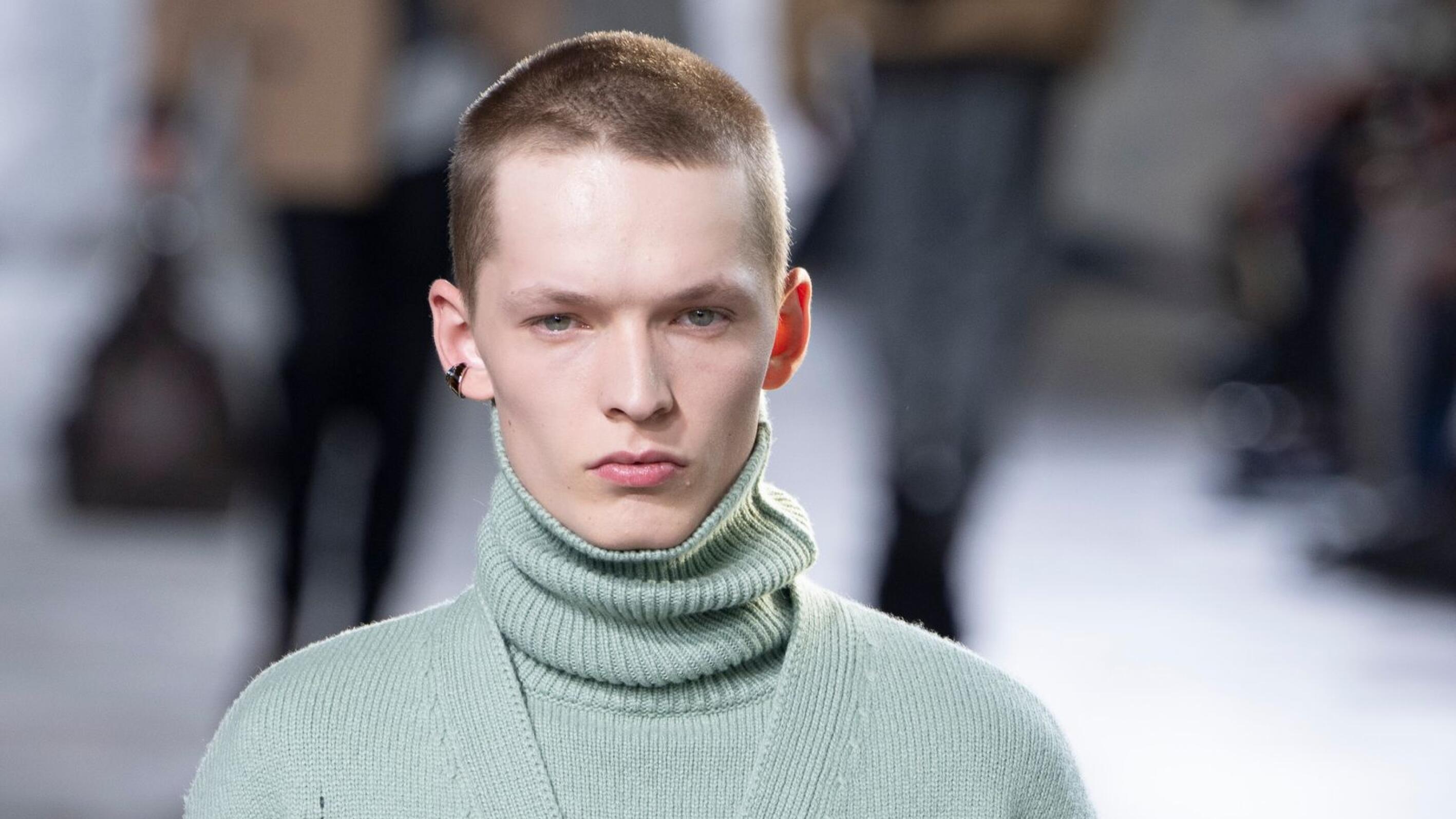 Menswear, too, has been refracted through the same elegant lens, with brands such as Miu Miu and Hermès bringing cardigans back to the runways, but not in their traditional grungy or grandfather guises. In keeping with the gender fluidity of men's and womenswear collections in recent years, they appeared as polished-looking twinsets evocative of the decorum and gentility inherent in the dress codes of our parents' and grandparents' generation. "Reductionist tailoring", meanwhile, was how Prada described its return to elegance for men, showcasing slimline suits with spearpoint collars as sharply defined as the cheekbones of the male model who opened the show.
Dublin-born, Manhattan-based writer Gavin Manley is a regular contributor to New York's Ac Magazine, where he writes about men's fashion and accessories. He agrees there's a shift towards a more classically refined look right now. "In contrast to previous seasons – when flamboyance was in its pomp – there's a discernible shift towards a quieter, more refined partywear look this year. Take Louis Vuitton's New Formal collection for men, which debuted in August, as an example. You can see the direction the fashion house is headed," Manley says. "Building on the brand's heritage of contemporary elegance, there's an understated opulence across the range. Subtle adornments and motifs are particularly evident on accessories like the LV Starry Night bow tie or the Graphic Dual Scarf."
Manley's office sits on Madison Avenue, a neighbourhood of auction houses, upscale boutiques and private clubs, and it's here he's also noticed a discernible shift in the footwear choices of discerning New Yorkers. "Trainers have been replaced by loafers and 'drivers', which are very much back in vogue, but there's also a resurgence in Chelsea boots, like those from Kurt Geiger, which are very affordable, or Berluti's beautifully crafted Caractère Capri leather boots," he explains.
With New Elegance comes a new formality – "an advancement of classics", as Matthew Williams described it – and it was embraced by brand ambassadors from YSL's Austin Butler and Dior's Robert Pattinson to Louis Vuitton's Felix from South Korean boy band Stray Kids during September's fashion month. The latter donned a white cropped tuxedo jacket and tailored leather trousers to the Vuitton SS24 show – a contemporary reimagining of classic masculine suiting where fabric and cut stole the show. Of course, if elegance is your end goal this festive season, be that 'New' or old-fashioned, then the only brand ambassador you need to look to is the original Givenchy muse, Audrey Hepburn. Simplicity, authenticity and dignity defined her sartorial and personal codes, and regardless of social media hashtags or fashion-month buzzwords, these qualities are always trending, just like Hepburn.