A costly trip to Blackrock fails to deliver the culinary goods
The owners of The Old Post Office have taken a big gamble by spending €1.6 million on fitting it out with chandeliers and beautiful crockery edged with gold. That all has to be paid for, though, and the result is a dinner menu where the cheapest starter is €11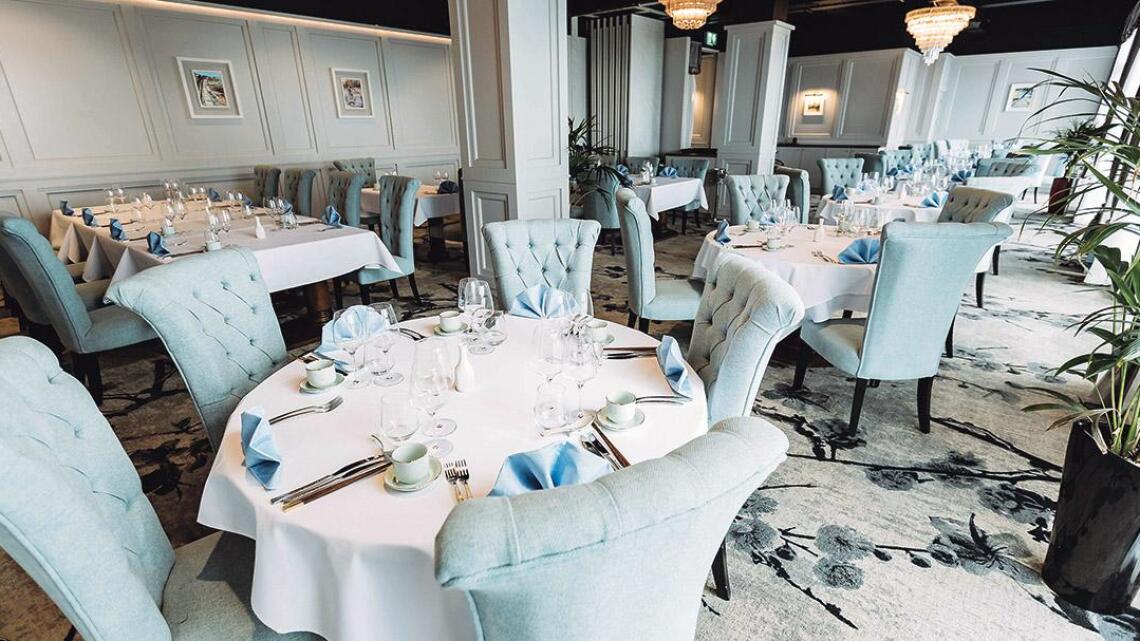 The Old Post Office
Main Street, Blackrock, Co Dublin
01-5559991
oldpostofficeblackrock.ie
Chef: Yu Shuchen
There's an old Billy Connolly joke I remember about a town where the main industry was the manufacturing of linoleum. The locals were thinking of renaming it What's That Fucking Smell, Connolly quipped, because it was the first thing everyone said when they got off the train there.
Based on this logic, I reckon The Old Post Office might as well rename itself Jesus It's Fucking Expensive now, to save a bit of time later on. That was certainly the first thing out of my friend's mouth when she opened the menu, and I'd imagine it's one of the main reasons why we were the only ones in the place for the first hour of our dinner.
The owners of this place have taken a big gamble by spending €1.6 million on fitting it out with things like chandeliers, plush carpeting, linen tablecloths and beautiful crockery edged with gold. That all has to be paid for, though, and the result is a dinner menu where the cheapest starter is €11 (for a bowl of soup), a vegetarian chow mein costs €22, and a fillet of beef is €42, not including rice or noodles.
You can – just about – get away with that kind of pricing if the food is brilliant. But the food is not brilliant. It's not even close to brilliant, and at times it's downright poor.
A good example of the latter was my mate's starter of marinated sea trout with black bean sauce, which cost €22. Served stone cold, it was about as tender as an old boot, tasted deeply unpleasant, and came with a parsley garnish – hello, 1988, I didn't think I'd be seeing you again.
Her main course wasn't much better. For €38, she got four scallops and a little dish of Sichuan sauce. We had presumed, given that we'd been had talked through the side dishes on offer and asked which one we'd like, that one came with each main course.
As a result, the lady with the scallops had chosen the spicy dandan noodles, which were tasty, but which were also a fiver extra – meaning her four scallops and a small bowl of noodles came in at €43.
To put that in a bit of context, you can get two courses from the table d'hôte menu in the Saddle Room at the Shelbourne hotel for €42, and three courses for €50. Figure that one out if you can.
Did I do any better? A little. My shui jiao dumplings filled with minced pork, garlic and shallots (€12) came in a pleasingly spicy soup and were pretty good.
My main of cornfed gong bao chicken (€32) was nice enough, with decent garlic and ginger flavours, but really it was just an instantly forgettable plate of chicken and cashew nuts (the traditional recipe uses peanuts, but these were definitely cashews). Oh, and the little bowl of fried rice I ordered with it brought the cost up to €37.
And so to dessert, of which there are three varieties: a pear and chocolate tart, a caramel and almond tart, and an apricot and apple tart (€9 each). We ordered one each of the first two.
The pear one comprised a shallow chocolate disc filled with chocolate sauce and little bits of pear. It sat on a pool of more chocolate sauce topped with a green dust which could have been made of pistachio, matcha, broccoli or grass. It tasted of nothing, so I couldn't tell.
The disc on the other dessert was caramel-flavoured, again filled with chocolate sauce, and topped with three caramel squares. This one came with a red dust, this time identified as raspberry, and a very good crystallised ginger ice cream.
With one pre-dinner drink at €15 each, a bottle of wine listed at €40 on the wine list on the website but which cost us €50, and two bottles of sparkling water at €6.80 each, our bill came to €225.60. This was laughably expensive for a meal that barely tipped into the 'good' category, and mostly languished firmly in the 'poor to mediocre' one. This is a beautiful room with lovely staff – our server was very friendly – but the pricing is, to me at any rate, utterly baffling.
The gamble on the decor may have paid dividends here. The gamble on food, alas, has not.
A total of three more people arrived to eat while we were there. I can't see those numbers rising any time soon until some sense prevails on the cost, and some improvements are forthcoming from the kitchen.
Breaking The Bank
Starter: panko-coated cod fillet with okra and Sichuan garlic sauce, €22
Main course: fillet of Hereford beef with a choice of black bean, garlic or house sauce, €42
Dessert: apricot and apple tart with rhubarb ice cream and fresh strawberries, €9
Wine: La Réserve de Léoville Barton, €125
Dinner for two:€271
Watching The Pennies
Starter: hot and sour soup with mixed cornfed chicken, soya bean, Chinese mushrooms and crispy rice noodles, €11
Main course: vegetable chow mein, €22
Dessert: pear and chocolate tart with vanilla ice cream and chocolate popping candy, €9
Wine: Harbour Bridge Milson's Point Chardonnay, €30
Dinner for two:€114
Tomás Clancy Rates The Wine List
The wine list here runs to around 50 offerings, plus five sherry and port offerings, three non-alcoholic wines and 32 wines by the glass. The wine selection is complemented by spirits by the glass and eight cocktails, all at €13, and two non-alcoholic cocktails at €6.50 each.
The list is split into classical red, white, dessert or sweet and sparkling-style categories and is eminently functional. The wine list itself is well structured, with all the popular wine regions and styles catered for including the benchmark New Zealand sauvignon blanc, here in the form of Arona Sauvignon Blanc, Marlborough, New Zealand at €42.
The reliance on reds and white from the same producers is a little disappointing, but is confined to the entry-level house wine-style wines such as the Harbour Bridge Milsons Point Chardonnay and the River Shiraz, both from Australia at €30 a bottle and €7.95 a glass.
Our white wine pick would be Domaine Zinck, Alsace, Pinot Blanc, France at €50, while our red is the Valdelamillo Rioja Crianza, Spain at €40 or €10.50 a glass.
Rating:***