Life
My kingdom for a camper van: The women embracing life on the road
In recent years, demand for camper vans has gone through the roof. Those familiar with the industry say it's mostly women who are buying them, as more and more discover the simple but empowering pleasure of buying an RV. A tight-knit community is growing across Ireland – and they say 'van life' is far more than an Instagram fad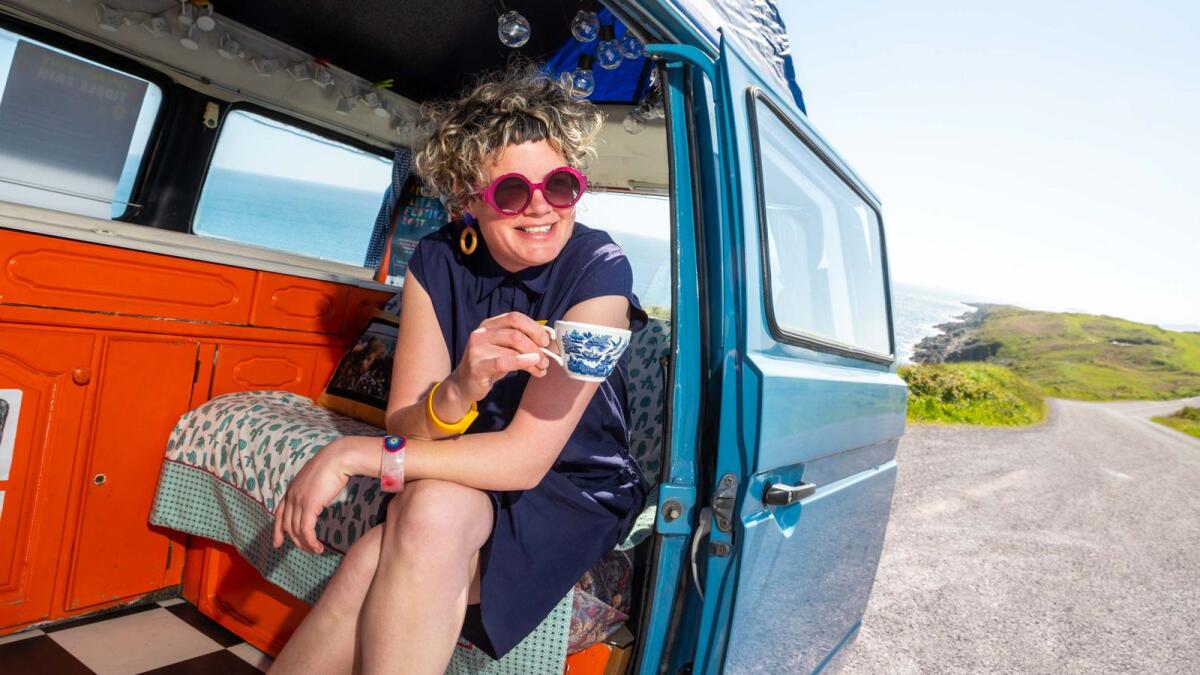 Ruth Medjber will never forget the day a doctor looked at her CT scan and told her she "would have died without a helmet". It was January, and she'd just had a really bad accident on her bike. In that moment, the Dublin-based photographer suddenly felt "aware of how short life is and how quickly it can be taken from you. And I just don't want to ever be sitting at home regretting things or thinking I could be doing something else".
Medjber's mind was made up: it was time to finally buy a camper van, just as she'd been hoping to do for years. While she was out for brunch for her birthday in February, she saw an ad on Done Deal for a van that seemed a good fit and called the owner.
"It was just really serendipitous that he was right beside the café that I was in and said: 'Don't move – I'll come to you and you can have a look at it.' And I just bought it."
It was an excellent purchase. "When I sit in the driver's seat of that van, I go into pure holiday mode. I forget everything," Medjber says. "It all just magically disappears when you turn over the engine. It's such a sense of relief – yeah, it's indescribable. I never thought I'd fall in love with it as quickly as I have."
Medjber is one of a growing number of women in Ireland who are buying camper vans and taking them around the country and beyond, often alone. In fact, Enda Reid, who owns Oldboy Campers, a Mayo company that specialises in camper van conversions, says his clients "tend to be more female than male".
In terms of the people who engage with his company's social media accounts, he says they are mainly "25 to 45".
During the last two years, Reid noticed an increase in demand. "Over the pandemic we were extremely busy. There was almost a two-year waiting list at one point – we were just solidly booked up for that amount of time with deposits paid and people eager to wait and willing to wait."
Although Reid has worked through some of the backlog, he says it's still quite busy at the moment and there is "probably a six to eight-month waiting list to start a job".
Reid acknowledges that the larger number of female clients he has may partly be down to the style of van he builds, which are "small homes more so than traditional camper vans". Nevertheless, he reckons there's "something that's very empowering for a woman to be travelling solo, whether they build the van or not, to go off and have their own kingdom in a van. It's their own thing, you know".
He also wonders if camper vans offer a good outlet to women "who haven't gone down the traditional road of having families earlier in life, or who're maybe more engaged with work".
"So they're quite busy in their job, it's quite consuming, and then the van is there to get away and have that peace or serenity and relax for a couple of days in their own space. That could be a large draw to it for a certain demographic."
Community support
Suzy McCarthy is a seasoned camper who's had her van – a blue Volkswagen T25 with a white roof – since 2007 and still loves it: "It's kind of amazing to see that even after all these years I still get such a kick out of driving the van." She's definitely noticed an increase in women owning campers.
"It's become a trend in recent years, I think, camper vans in general, but also women heading off on their own, feeling empowered and maybe having that community support of friends who also have vans."
McCarthy says it's great to be able to get a crew of women together: "And then you can all have your own freedom of your van, but you can also catch up somewhere, whether it be at a campsite or a festival or a party or whatever."
The internet can be a great way to find like-minded women who are into travelling around in their vans. McCarthy says that there are a number of helpful groups on Facebook, including the Women with Camper Vans Ireland group, which was set up in August 2020 and has grown to 2,800 members.
"It's amazing because there are so many different girls on it," she says. "And they'll recommend good places to camp. They'll often say: 'If you're on your own, I'm going to be in such and such a place if anyone else is around to catch up for a coffee or a pint.' There's a great community spirit and everyone's sharing different recommendations or experiences that they've had."
A sense of community is just as important offline as well as online. Saluting other van drivers is a real tradition on the road.
"If you ever see another van, everyone will kind of wave or beep. It's cool; there are good community vibes," McCarthy adds.
Ireland's climate is a little chilly for bringing the van out year-round, but McCarthy gets out regularly over the summer and takes her camper out for a weekly spin during the winter to keep the engine running. She also makes a point of parking beside other vans as a safety precaution at night, a practice she adopted after a disconcerting experience during one of her first trips during a dark February.
For that trip, she decided to stay by a certain beach which she thought was located just outside Kinsale. But when she actually followed Google Maps and arrived at the location, it turned out to be well outside the town, which she hadn't anticipated.
She couldn't relax all night: every time she heard a car or a dog pass, she was very conscious of being "in the middle of nowhere in the dark on my own". Although nothing sinister happened in the end, she still decided that "I'm going to have a bit more cop-on, I suppose".
Nowadays, McCarthy makes sure that there are other vans around when she sets up for the night.
"I've never felt in danger per se, but I choose to park in more public spaces with other people," she says.
For those who'd still feel nervous in that situation, she also points out that "there's a lot to be said for a campsite".
"You can park up and you can sleep and the facilities are also very handy with showers and toilets and so on."
Data from the Central Statistics Office shows that the number of motor homes licensed in the first half of 2021 was 79.3 per cent greater than those licensed in the same period in 2019. There were 753 motor caravans licensed in the first half of 2021, compared with 255 in the same period in 2020.
Wealth of resources
The increased interest and demand for camping vehicles in recent years may partly be due to their increased visibility online. Medjber says that YouTube offers a wealth of resources to the budding enthusiast.
"This is kind of the first time that we've had a tool like YouTube that can teach us how to do absolutely everything, from installing a cassette toilet to the mechanics of the van. So the information is there," she says.
But it's over on Instagram that the camper van craze appears to have really taken off. The popular phrase "van life" is attributed to photographer Foster Huntington, who coined it after swapping a job at Ralph Lauren for a life on the road in 2011. There are now almost 13 million posts with the hashtag "#vanlife" on Instagram. #Vanlifeireland has more than 16,000.
For solo females, posting about #vanlife is best done after the fact. Twenty-two-year-old Anaïs O'Donovan has been living off-grid in her van in Britain for about a month now.
"The reason I don't put up any photos of me in the van is because I don't want creepy people – I've got some horrific messages from people – to know where I am, where I'm living and what I'm living in. I would be quite sceptical about posting #vanlife if I wasn't moving on the next day," she says.
An Irish international freestyle kayaker, O'Donovan is currently in England training for the 2022 World Freestyle Championships. It was her involvement in sport that prompted her to get the van in the first place.
"With training, we're often up and down the country and towards the UK quite a lot, and accommodation for the World Championships was going to cost me €6,000. I've already spent thousands and thousands on accommodation just to be able to go places to train and compete.
"So I thought: if I had a van, it would open up more opportunities. It would mean I would have my bed with me the whole time, it would mean I'm not staying in hotels, it means I can actually cook proper food because I have an oven in the van as well."
Getting set up wasn't all plain sailing. O'Donovan's age, coupled with the fact that she had less than five years' driving experience, meant most companies wouldn't insure her. Although she got sorted in the end, she reckons she is one of the few people of her age to secure insurance for a van in Ireland.
"I don't really know anyone else who'd be my age who has tried to get insurance and has actually succeeded," she says.
O'Donovan has absolutely loved the experience of living in her van so far, calling it "the best night's sleep I've ever had". She plans to continue doing so as much as possible ("maybe five, six to seven days a week") when she returns home to Ireland.
Does she think camper vans are becoming more desirable among her age group, as well as among older people? "I think so. I think lockdown has put a big perspective in people's lives."
Since the pandemic, O'Donovan has seen friends who were more into going out and partying now start to appreciate and spend time in nature.
"I think lockdown has had a huge impact on the number of people getting vans and aspiring to get vans," says, pointing to Ireland's housing crisis as another factor which may be pushing people to buy vans.
"If you think of the people who are living in it full time, and think of how much you're spending on rent. What you're spending on the van directly would probably be a house deposit, but it [buying the van instead] gets you so many adventures. It's so hard to pay €800 a month in rent when you could buy a van for €10,000 and do it up yourself."
Housing woes
Medjber also reckons Ireland's housing woes could be part of what's driving the trend here. Although she says she's fortunate enough to have a small house herself, "a lot of my generation are not going to be on the housing ladder, and they are living with their parents".
"You can't be in your 30s and live with your parents and not want to escape every weekend, or as often as you can do, because you need a little bit of space to yourself," she says. "So a van is an affordable option to get that space away from a family home. Our generation needs a sense of freedom that's not afforded to us with our own houses."
The freedom travelling in a van offers seems to be one of its biggest attractions to women of all ages. Kay Dennehy, who will turn 70 in August, adores how 'Dinky' allows her to travel the country spontaneously. She never decides where to go in advance when she takes off on trips, going midweek to avoid the crowds.
"I just go down to the end of the road and I say, d'you know, I might go up to Sligo" she says. "Or I might go to Waterford – actually, I'm going to Waterford now, I'll do a trip down there instead. And then I just head off!"
It was her husband Liam's untimely death that prompted Dennehy to buy her van in the first place. She had never owned one before.
"I met my husband when I was 18, so we were together a long time and we had a fabulous family and everything. But then suddenly he wasn't there. And you know what happened to me? I wasn't part of a couple any more. And all our friends were couples. I found that very difficult – even for wedding invitations. They said: 'Kay and guest', you know? Horrible."
Losing the person she describes as her "rock" changed Dennehy's life completely. "Up to then, I hadn't even taxed my car. Liam did everything for me," she says.
Getting her van was a huge step: "This is wonderful now that I'm doing these things on my own, heading off."
Dennehy has found new purpose through travelling around in her van and she says it definitely helped her through her grieving process.
"Every time I go away, I think: 'Liam would love this, my Liam would love that.' And I'd say, if he is looking down, he knows that I'm enjoying it and that's what he'd want."
Although she has no problem travelling on her own, safety is something Dennehy is mindful of, and she doesn't do "wild" camping, opting instead to stay on sites. Her favourite place she's been so far is probably Eyeries and all around the Dursey coastline in Cork.
Does she have any advice for women who're thinking of hitting the road? "Just make sure you carry everything with you. Don't depend on shops or anything like that."
Dennehy carries a stash of pot noodles with her just in case. "You could be stuck, you couldn't find a shop or anything. Always make sure you have everything and be self sufficient in the van."
On the whole, though, she is just enjoying it all – so much so that she's adamant that "this is what I'm going to do until the day I die: I'm just going to travel".
"Van life" on Instagram has become somewhat synonymous with glossy images of women doing yoga poses at sunset, or pictures of retro vans artfully parked on golden sands. But does this reflect the reality of life on the road in Ireland?
Not really. For the increasing numbers of women around the country who are hitting the road, van life is, as Suzy McCarthy observes, "just what you make of it".