watches
Robbie Henshaw's favourite watch plus the other Irish artisan watch makers you need to know
While the homegrown watch market has historically been small, things are on the up with Irish-owned or led niche watch brands making an international mark
1. Sidereus Watches
Limited-edition and hand-built in Ireland, Sidereus Watches was created by Carlow-based Bryan Leech who trained as a product designer and has worked all over the world creating everything from ceramics and silverware to telephones and Apple keyboards. "As part of the Product Design Course I teach at South East Technical University in Carlow I began setting a 4th-year project to have my students design watches as I had always been interested in horology," Leech says. 'Sidereus' references Galileo's famous treatise on astronomy 'Sidereus Nuncius' (starry messenger) and the watches draw on Newgrange and ancient astronomy throughout their design.
New to the range this year is the Special Edition Sidereus Newgrange Moon Phase with a hand-engraved bezel featuring symbols from Neolithic rock art found in Cairn T at Loughcrew in County Meath. The metal-on-metal hand-engraving was done by Brian Dunne of Soul Engraver (soulengraver.com) and emulates the stone-on-stone carvings from over 5,000 years ago. Sidereus watches contain Swiss Selita automatic movements, are hand-built to order and are limited to 50 pieces per model. Each watch features a branded crown and buckle with a leather strap from Irish Dexter cattle or the option of a Magee tweed strap. Prices range from €2,800-€3,500). sidereus.com
2. Montmartre Watches
Robert Morrison is an architect by trade and in 2022 created a successful Kickstarter campaign to launch Montmartre Watches. Rob is based in Montmartre in Paris and his watch designs aim to evoke the creativity and nonconformist attitudes to be found in that part of Paris. "Montmartre houses a fiercely independent community of makers, designers, craftspeople and entertainers – a rebel settlement of cosmopolitan creativity on the edge of one of the world's great cities." The first releases were the MW3 and MW5 variations with a tonneau shape and a choice of five colours and a choice of Swiss and Japanese movements including Swiss Selita and Landeron movements and a Japanese meca-quartz chronograph option. New iterations of Montmartre watches are currently in development. montmartre-watchworks.com
3. 47Zero
The latest on my radar is 47Zero (instagram.com/the47zero/), established in the last few months by Irishman Cormac Hanley. Hanley is based in Annecy between Lyon and Geneva and took to watchmaking as a new career quite recently having formerly worked as a photographer. "We moved from Ireland in 2007 with three young kids and I began shooting national advertising campaigns for ad agencies in Paris and was really gaining some traction. Then in 2017, I got hit with a stroke aged 47, and it set me back to zero, I had to learn it all again – speech, movement, walking," says Hanley. "I regained most capacities back to varying degrees and found myself in need of another challenge so I re-trained full-time for 18 months in Annecy as a watchmaker. This led to the creation in December 2022 of 47ZERO."
Speaking about his unique designs Hanley says: "There's plenty of tool watches out there for action men, but I'm more drawn to designing a watch with a quirk or a story. I've incorporated asymmetric beauty as the guiding design tenet in recognition of the second bite at the apple fate has gifted me, and I want to offer something more playful. For example, the dial on the 'Date-Dorée' has a 24-carat gold date marker that moves daily to remind the wearer that every day can be golden." The 'Le Cognative' has an image of Einstein's asymmetric brain which is a reference to Hanley's stroke, while 'Date-at-Eight' has the date at the 8pm mark. "I don't think I've ever seen the date at this dial position before, it feels more natural to me (maybe I'm the first to do it?). But it's more than that, this dial story is the anticipation of the most important meal of the day. The dial starts to change from 5pm on and the anticipation and hunger builds."
Hanley makes all the dials from raw sheet metal (usually brass), and hand finishes and assembles the watches in his atelier in Annecy. The designs cost €1,250 incl VAT and shipping and include Casebackwatches.com/products/47zero Spec: Stainless Steel 39mm case, sapphire crystal and screw-down crown and containing an automatic Swiss-made STP1-11 – a clone of the legendary ETA 2824-2 movement. A 36mm version is in the works. 47Zero.com
4. McGonigle Watches
Ireland's two best-known master watchmakers are Stephen and John McGonigle, who are originally from Athlone but have spent most of their working life in Switzerland. The two brothers trained in the Irish/Swiss Institute of Horology (sadly now closed) and between them worked at haute-horlogerie brands such as Audemars Piguet, Bréguet and Christophe Claret before setting up their own brand McGonigle Watches. John has since stepped away from McGonigle Watches and returned to Ireland to set up Oileán Watches (oilean.watch and @oilean_watches on Instagram). This leaves Stephen in charge of the McGonigle brand which focuses on haute-horlogerie pieces such as the Sétanta Tourbillon and the Ceol minute repeater which can cost over €100,000.mcgonigle.ch
In 2021 Stephen also set up his own accessible brand called Magon Watches (magonwatches.com) which are considerably more affordable. The first watch is a sport-themed chronograph in titanium costing €9,800, which is less than an Omega chronograph in the same metal. The Fórsa Titanium Chronograph has some subtle nods to Stephen's love of rugby and if you spot Robbie Henshaw out and about, he is likely wearing his one.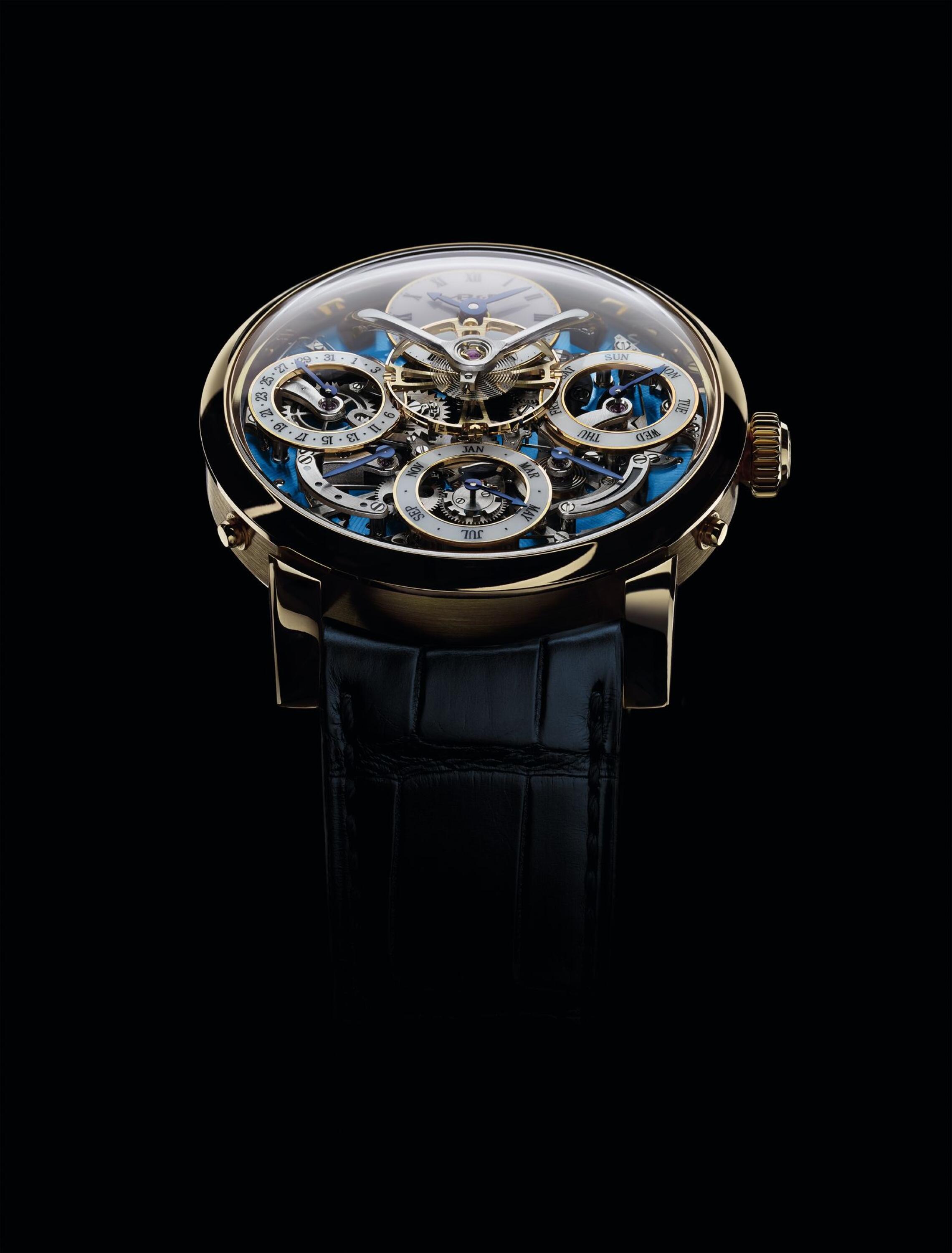 One more Irish master watchmaker to know about is Belfast-based Stephen McDonnell who has worked with Bremont and with MB&F, for whom he created a revolutionary new movement for their Legacy Machine perpetual calendar. mbandf.com
Sign up to the Watch Club by Irish Tatler here and receive exclusive watch content, the Watch Club newsletter and first access to private events and previews.