Design
New Irish T-shirt collaboration launched to support refugees
Irish social enterprise We Make Good has facilitated a partnership between refugees in Ireland and Dubliners who come from inner-city marginalised communities to create a new line of t-shirts
"Good for people and the planet" is a phrase businesses often use to sell their green credentials – and sometimes, on closer look, that's not always the case. For Irish social enterprise, We Make Good, however, the opposite is true.
Founded in 2018 by Joan Ellison and Caroline Gardner, We Make Good teams some of Ireland's best designers with people facing social difficulties, to support them to develop valuable skills and gain employment in their craft - whether it is homewares, interiors, accessories, or clothing.
This allows them to become a skilled makers and can change the trajectory of their life – and that of their families and communities. We Make Good champions sustainability in the process too, with all products made using sustainable and local materials with a focus on reducing waste and travel miles.
Its latest project is a collaboration between refugees who have come to Ireland to seek safety and Dubliners who come from marginalised communities in the inner city. In a textile studio in Mountjoy Square, they each designed and produced a line of T-shirts with a single, powerful message: 'Refugees Welcome'
Hand-printed in both English and Irish, the T-shirts – which launch today – are made from organic cotton and available in colourways like black, white, pink, and green.
"At first our stories seem different," says Mariam, who came to Ireland as a refugee four years ago. "But once we get to know each other, we learn that we have so much in common. Now we are a community – we support each other to reach our goals."
"I'm learning about different cultures,' says Nadine, who has overcome addiction. 'There is no discrimination here, no labels. We work as a team. It's the family I always wanted and it's my safe haven."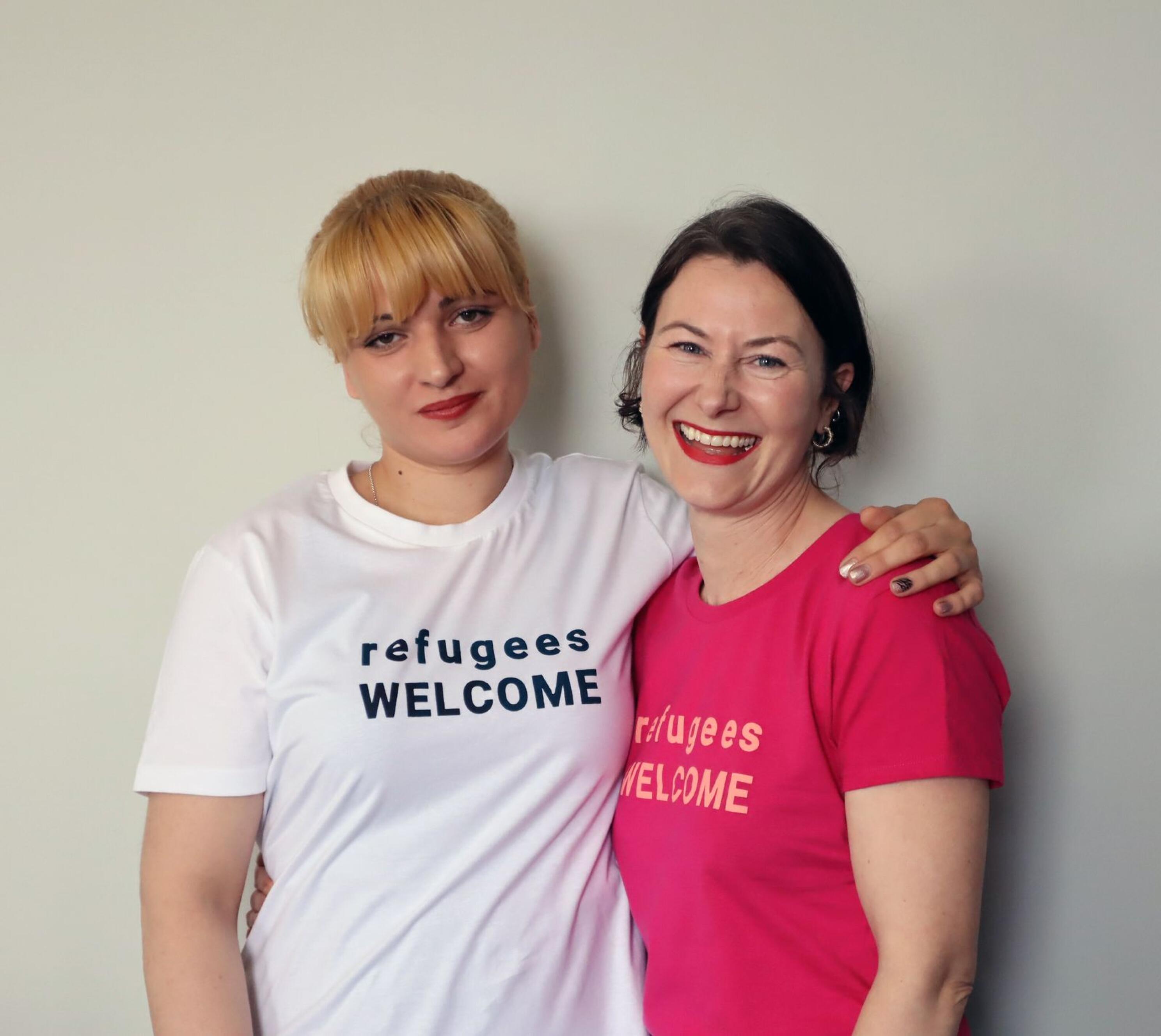 "We believe that refugees have so much to offer Ireland. Research shows that migrants support economic development and with a long history of emigration, this is a message close to the hearts of Irish people," Gardner said.
The new line of T-shirts is available online (€42) now at wemakegood.ie