Partner Content
Innovation: This next level water flosser has the power to revolutionise your oral health
Spotlight Oral Care's new and improved Water Flosser with UV Steriliser promises healthier teeth and gums, and is especially suited to those with dental work such as crowns and implants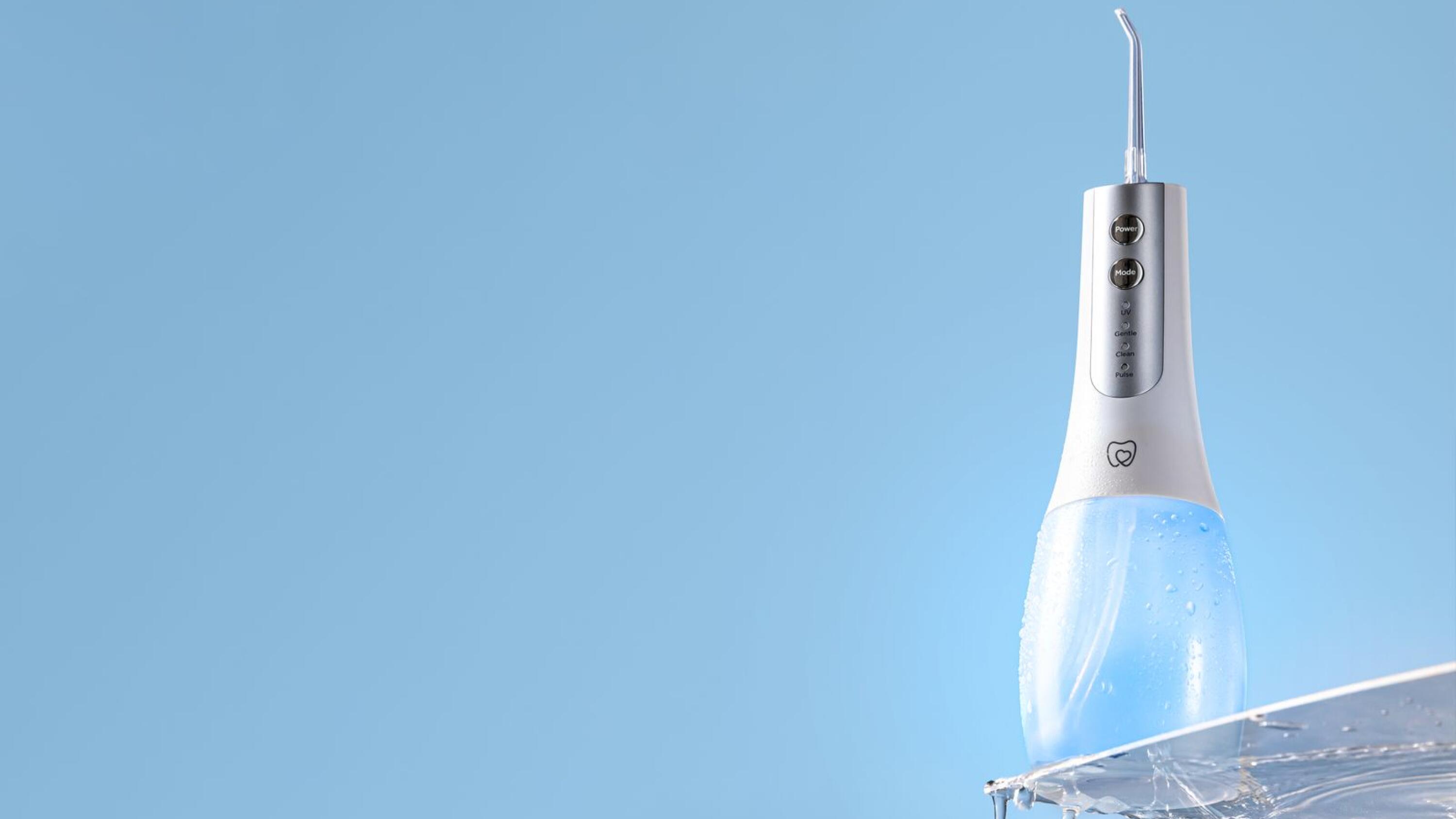 'How often do you floss?' It's a question we know to expect at every dentist appointment. And, if we're honest, 'almost never' is the typical response.
This common oral care omission is reflected in the numbers, too, with an overwhelming majority of people finding it difficult to floss daily or feel pain when flossing, according to Irish oral care brand Spotlight Oral Care.
Irish company Spotlight Oral Care has built a stellar international reputation for innovation in oral care. The brand founders, sisters Dr Vanessa and Dr Lisa Creaven are passionate dentists for whom oral health and hygiene is paramount, meaning each market-disrupting product launched by Spotlight Oral Care is the result of substantial research, investment and testing.
Their latest development, a Water Flosser with built-in UV steriliser, is a welcome solution for those who struggle with traditional flossing methods. The much-anticipated device is a game-changing addition to anyone's dental routine, and consists of a hand-held 400ml water tank attached to a rechargeable, settings-based tip.
And, while it may sound complex when compared to age-old flossing, the premise is quite simple: you fill the tank with lukewarm water and seal it shut. You can then choose between one sterilisation mode (which uses UV technology to eliminate up to 99.9 per cent of harmful bacteria in the water in just one minute), and three operating modes with varying water pressures. The 'gentle' mode allows a sensitive and thorough cleaning, the 'clean' mode is a continuous spray that removes plaque and food residue with deep-cleaning features, and the 'pulse' mode massages gums and cleans between the teeth.
With each setting, you position the tip inside your mouth, aim at your gum line, and work your way from your back teeth to your front teeth. Paired with the settings are four different tips you can use to maximise the cleaning: the orthodontic spray tip, periodontal pocket sprinkler, tongue scraper, and classic jet tip. Spotlight Oral Care's previous version of the tool included a 190ml water container and didn't offer a UV sterilisation function. The new and improved flosser has bumped up to a 400ml tank (based on customer feedback) which allows for a more efficient clean, free from water-refill interruptions.
Other features of the water flosser include a hydro gravity ball which allows for a 360 degree flossing experience and a cordless, textured grip for comfortable use. The results you can expect include a deeper cleaning and removal of plaque, debris, and bacteria around your teeth, deep between the teeth, and below the gumline, where traditional brushing and flossing may be more difficult to reach. The variation of settings stimulates the gum tissue to improve blood flow and circulation, and, as a gentle alternative, it is less likely to cause gums to become irritated or bleed. Other benefits include reducing bad breath, maintaining a white, bright smile and improving your gum health by reducing bacteria below the gumline. Given that 50 per cent of decay starts on the side of the tooth where a toothbrush or toothpaste doesn't reach the case for flossing is always a strong one.
While this tool can be added to anyone's daily dental regime, those with dental work such as braces, bridges, crowns, implants, and periodontal pockets may find it particularly beneficial as it works to remove plaque build up and bacteria on those often more susceptible areas.
Roz Purcell on her flossing routine
What was your approach to flossing before the Spotlight Oral Care Water Flosser with UV Steriliser?
My flossing routine was a lot more sporadic before the Water Flosser came along. I used Spotlight Oral Care's original water flosser and this definitely got me into a routine of flossing. The new Water Flosser with UV Steriliser is great as it holds more water and it reaches every angle, so it makes the routine easier.
How do you use the Spotlight Oral Care Water Flosser with UV Steriliser and what benefits have you seen?
I like to use it at night time, at the end of the day to really get that clean feeling before bed. I use the Water Flosser before brushing, then I brush with my Sonic toothbrush so my toothpaste doesn't get washed away. It's also got me into a regular routine of using normal floss as well cause I love the feeling of how clean it makes my teeth feel.
The main benefit I have found is my gums have become more resilient – it sounds strange but when I used to floss sporadically they were sensitive and I've noticed particularly there is hardly any build up of any plaque at the back of my teeth since I do it daily now.
What's the advice you'd share with others who have challenges around oral hygiene/ flossing?
For me, It's like anything you need to prioritise, it needs to be built into another routine you never forget to do. For example, brushing your teeth before bed and taking your make up off. With any new habits I have to pair them with an old habit I never skip so it's almost just making my routine longer than adding something else in to my day. I also find that the clean feeling you get after using it definitely makes you want to do it everyday.
Why would you recommend the Spotlight Oral Care Water Flosser with UV Steriliser and other products from Spotlight Oral Care?
They're an Irish brand made by dentists. They're creating products they use themselves and they know work, by using active ingredients and creating products to help people successfully keep on top of their oral care . As someone who neglected flossing a little bit more than I should have a few years ago, the Water Flosser with UV Steriliser definitely made it more enjoyable and a fun step in my routine. Also, I'm always surprised at what comes out, it really gets right in there!
Spotlight Oral Care Water Flosser with UV Steriliser, RRP €120, is available now in pharmacies nationwide and eu.spotlightoralcare.com