Sponsored
Changing the balance both in the boardroom and in women's lives
Inaugural Public Sector Women in Leadership Conference hears how addressing the gender gap requires change from within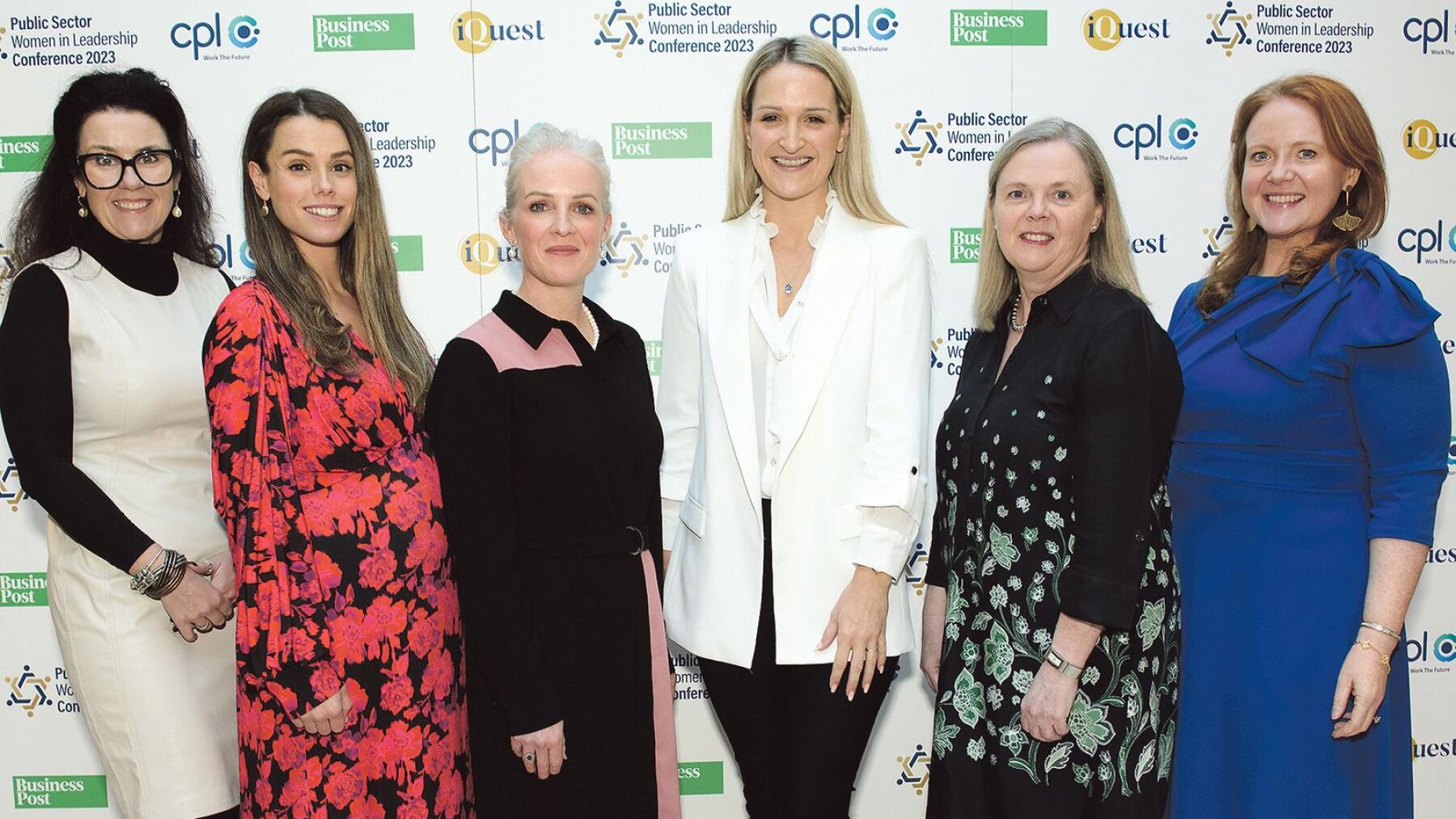 The first ever Public Sector Women in Leadership Conference 2023 saw a full attendance engaged and eager to hear from the best and brightest women in the field.
In the Radisson Blu Golden Lane, Dublin, on Tuesday November 14, the day covered the progress made and the challenges faced in addressing the gender gap.
The delegates were welcomed by conference chair Elaine Prendeville, editorial director of Magazine Brands at Business Post Media Group, who highlighted that at 23 per cent, Ireland ranks 101st in the world for female representation in national government.
This quickly progressed to a conversation with Sinéad Gibney, the chief commissioner for the Irish Human Rights and Equality Commission. Explaining how the commission looked into both paid and unpaid care and its relationship to gender equality, Gibney said unpaid care underpins the Irish economy and is a feature of women's lives.
She also stressed the importance of empathy and the challenges of getting people to understand your position.
"What I learnt was you must understand people's perspectives if you want to build a workplace for everyone," she said. "I'm not disabled, I'm not a Traveller, I'm not a migrant, I don't know what that experience is and will never know, but what I can do is listen, engage and understand in meaningful consultation what those experiences are like and build policies that work for those women."
Next up was the first panel session of the day, looking at how to attract more women to the public sector, featuring Dr Salome Mbugua – chief executive of AkiDwA and chairperson of the equality, diversity and inclusion project board at publicjobs.ie – and Siobhán McKenna, head of equality, diversity and inclusion at publicjobs.ie.
Of the many topics touched upon in the panel session, Dr Mbugua highlighted the importance of being given opportunities. She said that many of the opportunities she'd been given came about through people who identified her potential and helped her.
McKenna mentioned the challenges facing working parents, how there's a fatherhood penalty and a motherhood penalty, and how only one in three men opt for paternity leave because they get paid less for taking time off.
She also mentioned that while there's no shortage of talent, serious barriers were preventing women – especially those under-represented in industries, like women of colour – from realising their potential.
"Those attitudinal barriers and structural barriers, with attitudes, we'll get there, but it's the structures we need to dismantle," she concluded.
Previous
Next
Next up was another conversation session, this time facilitated by Catherine Noone, strategic partnership lead and corporate social responsibility director at Business Post Media Group, who spoke to Jacqui McCrum, secretary general of the Department of Defence.
McCrum said that getting to top positions is tough, nobody is perfect, and a support system is crucial.
"What you need is your tribe around you; you need good colleagues and good friends to support you and help," she said.
Before the lunch break, the final panel session looked at the reality of attracting more women into politics and the measures taken to retain them. Noone was joined by Alison Cowzer, chairperson of Women for Election and co-founder of East Coast Bakehouse, and Damien English TD, former minister, and Fine Gael spokesperson on finance.
On the subject of gender quotas, Cowzer said that, while imperfect, quotas can be necessary at times as a means to ensure that more women stand for election.
"What they do is challenge the system with a short shock that changes it from a systemic perspective," said Cowzer. "It doesn't need to be there forever, but needs to be there for it to be normalised."
Cowzer mentioned that there is no quota for local elections, despite the general election requiring 40 per cent of candidates to be women.
Being the change
Helen McEntee, Minister for Justice, opened the afternoon sessions with her ministerial address, highlighting the many measures the government has brought in to help achieve gender equality and how getting there requires everyone to play an active part.
"There are barriers to bring about change we all need to address," she said. "I know there's so much we can do, which for every one of us is to consider what can you do in your work every day to try and improve the work environment more generally, and improve your situation . . . and encouraging women to be in leadership to ensure more gender-balance and equality."
The next panel session looked at the different approaches to diversity and inclusion in the private sector, and what can be learned from them. Prendeville was joined by Lorna Conn, chief executive of Cpl, Gillian Harford, country executive of the 30% Club Ireland, and Joanna Murphy, chief executive of Taxback.
Harford advised the room not to fall into the trap of believing they'd be recognised for just doing the work.
"We believe if we keep our head down and do a really good job, we will be rewarded," she said. "Those of you who gave yourself permission to be in the room today, you do need to look up and think about it; if you are doing an incredible job and if you're irreplaceable, you're not promotable."
After that panel session, Prendeville was joined by Nóirín O'Sullivan, former Garda Commissioner, who spoke about her many experiences and learnings from them.
Recognising that those who step into high-ranking public roles will be judged differently, and the attendant challenges, she said that for change to happen, everyone has to stand up to hate speech.
"It's having the courage of our convictions," O'Sullivan said. "If we allow our political system and public system to be demeaned and undermined and we don't all speak up and challenge the narrative . . . if we don't mobilise to do that, we're going to fail ourselves as citizens of a very progressive society and also fail our public service and political system."
Previous
Next
Noone returned to facilitate one last conversation, with United States ambassador to Ireland, Claire Cronin.
When talking about how much harder it is for women to ask for what they want or deserve, Cronin gave the example of wanting to ask for a car that others in her firm had when she was a young lawyer. After planning what she would say and the potential arguments, she found out that the firm thought she already had one.
"You can ask, and the worst thing is you get 'no', so it's having the guts to ask," she concluded.
The final panel wrapping up the conference featured three men championing change and setting an inclusive culture through engagement. Prendeville was joined by Aongus Hegarty, co-chair of Better Balance for Business, Brian Sheehan, chief executive of Women for Election, and Alan Phelan, chief operating officer of Teagasc.
Sheehan mentioned that change is as much about perception as anything else and that if people can't see women in leadership roles, they will assume it's because they're not qualified or talented enough.
"Putting more women in changes the leadership for everyone else," he said. "We never had a female taoiseach or minister for finance . . . it has been social welfare, or arts, and without that visibility in being seen at the top in government, our voters are going to take the sense of 'we're not there yet'."
Concluding the conference, Prendeville summed up the day's central themes, saying that balance in boardrooms is impossible without balance in home lives and in women's lives.
She also referenced McKenna's earlier comments about the difficulty of leaning into a system that isn't designed to help them, and said that we all have a role in bringing change.
"The framework needs changing, and it's difficult to lean into a system that doesn't work," she said. "It's about getting in there and working on changing it."