Sustainability
Irish designer Maria McManus on moving fashion's sustainable dial
The New York-based Irish designer counts Christy Turlington and Gwyneth Paltrow as fans of the brand – but beyond the hype, she cares most about creating meticulously designed clothes with the lowest environmental impact
A designer by trade but an environmentalist at heart. It's a phrase that has been used to describe Maria McManus in the past. Dialling in over Zoom to her Tribeca apartment in Lower Manhattan, New York, I ask the designer to weigh in on the description in her own words.
"Yes. That's true," the Dubliner-turned-New Yorker says with an almost-bashful smile. "I usually spend from 5am until 7am most mornings reading up on environmental affairs.
"I'm also part of a climate book club. Yes, it's a nerdy group of women, but it's a nerdy group of very accomplished women who are either journalists, sustainability-focused entrepreneurs or venture capitalists investing in sustainability. We're constantly reading about how we can possibly save the Earth in how she exists right now. However difficult that may be."
It's 10am in New York (3pm Irish time) when we speak, and McManus is incredibly fresh-faced – not a fleck of makeup on, the screen framing her pinned-back hair and the recycled cashmere beige sweater she wears (from her debut collection, since I asked). "I'm sorry, I didn't really dress up for this. But my nine-year-old daughter said I looked nice, which is a huge compliment coming from a tween," she says, laughing.
McManus, who grew up in St Margaret's in north Dublin and moved to New York after college, founded her eponymous luxury label in 2020 following a 20-year stint in the industry, primarily as a brand director and visual merchandiser. She earned her stripes at labels like Tory Burch, Ralph Lauren, and Edun (Bono and Ali Hewson's now-defunct socially-conscious line), a timeline which coincides with the amping-up of fast fashion and the evolution of a system that most now recognise as broken.
"I started to see myself as part of the problem. I was becoming less interested in making lots of products that are sold at markdown, and more interested in the socially-conscious space. How companies like Patagonia have successfully scaled, for example. There was a lot of talk about brands becoming more sustainable, but I hadn't really seen many brands actually do it, so I felt compelled to try it myself."
Previous
Next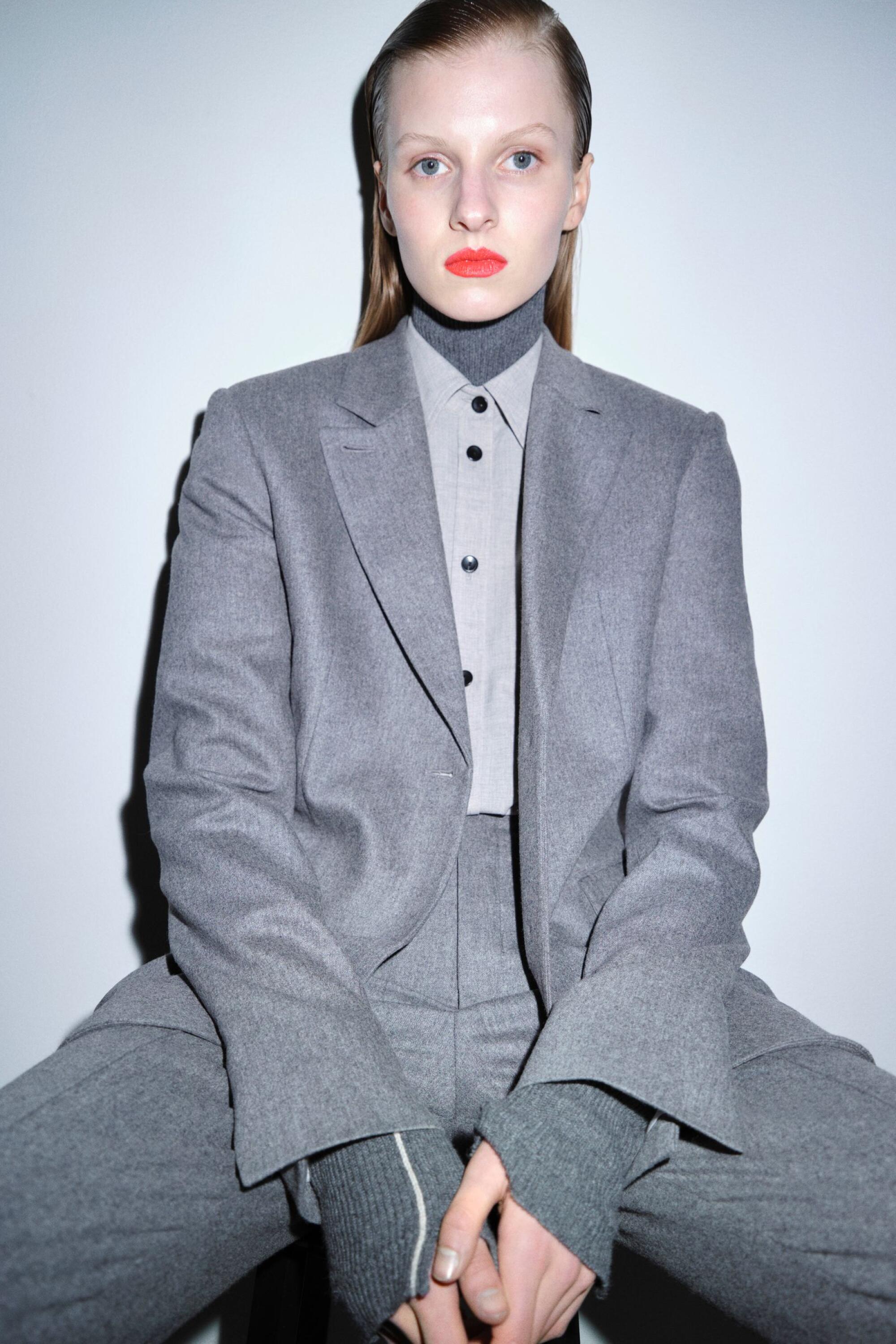 And though McManus' label was born from a place of passion-meets-profession, few designers in the industry – sustainable or not – have had said of them: "this Jennifer Lawrence-approved brand is the epitome of quiet luxury," as British Vogue described the designer's work in April.
It's on this point that McManus' brand moves the dial: her designs have a pointed appeal. They are rooted in tailoring, precise cuts and classic silhouettes. Every collection since her debut spring-summer 2021 presentation still feels relevant. And though her brand's aesthetic is important, and very on the money right now as 'quiet luxury' has racked up 172 million mentions on TikTok off the back of Gwyneth Paltrow's courtroom fashion and HBO's Succession, it's sustainability that matters most to McManus. If she couldn't lead something that was first and foremost sustainable, you get the sense that she wouldn't hold the mantle at all.
Almost every piece of fabric used in her line is rigorously certified as recycled, organic, or responsibility farmed. Her recycled cashmere is certified by the Global Recycled Standard; her organic cotton is certified by the Global Organic Textile Standard; and her viscose is certified by the Forest Stewardship Council (FSC). Certifications are a solid step in building a more sustainable label, but they merely scratch the surface of the task that's at hand – something McManus acknowledges.
"It's incredibly difficult to create a truly sustainable brand. When I started and we had our fabrics, I thought 'we're 80 per cent of the way there, wonderful'. But the more I learned about the fabric, packaging, labels, lining, buttons and stitching, the more I realised that we were only 30 per cent of the way there."
Drilling down into the minutiae of sustainability is something the minority of designers are willing to do – because it's mired in complexities. For instance, have you considered that most lining is made from petroleum-based polyester? Or have you ever wondered about what buttons are the best alternative to the plastic or shell-based kind? It's corozo buttons, derived from the nuts of the Tangua palm tree, something McManus knows because these are the questions she asks herself daily.
Not to mention that certifying your fabrics will cost you at least 25 per cent more, and it will take up to three times longer to produce the garments, she explains. Considering fashion's mass waste problem – we discard around 110,000 tonnes of textile waste a year in Ireland according to the Environmental Protection Agency – I ask whether she's contemplated if it's worth it at all: "100 per cent," she says without hesitating.
"I'm such an anomaly. But there are three things that can enact change: people, policy and technology. The reality is that people have not cared enough; Extinction Rebellion is inconveniencing people by creating traffic jams, but people don't want to sit in a traffic jam to save the planet.
"Saving the planet is inconvenient. It's an inconvenient truth as Al Gore [the former vice president of the United States] said. It's way easier to flick on the television, order your takeout in a plastic box, switch your brain off and not read the papers that tell you that July was the hottest month on record in the US."
These inconvenient truths are ultimately her catalyst: "because we have to try. We can't give up." Her latest breakthrough is the addition of a fabric called Naia Renew to her autumn-winter 2023 collection. It's a biodegradable silk-like material, 60 per cent of which is made from FSC-certified wood pulp and 40 per cent from recycled waste which would ordinarily go to landfill. It's made in a closed-loop system too, meaning the water and chemicals used are recycled, instead of going down the drain.
Highlights from the collection include an Aran knit with McManus' signature slit sleeve detail, perfect grey suit separates, and a buttery yellow knit dress and sweater that breathe life into quiet luxury's oft uniform ways.
And among her customers, McManus counts Christy Turlington, Gwyneth Paltrow, Jennifer Lawrence, and Phoebe Bridgers. Is it ever cause for imposter syndrome? "It's not something that distracts me. We live in a celebrity-driven culture, and it's incredible to have amazing women wear my designs, but I'm most excited by the organic shopper – the customer from Portland who comes back to shop again."
Previous
Next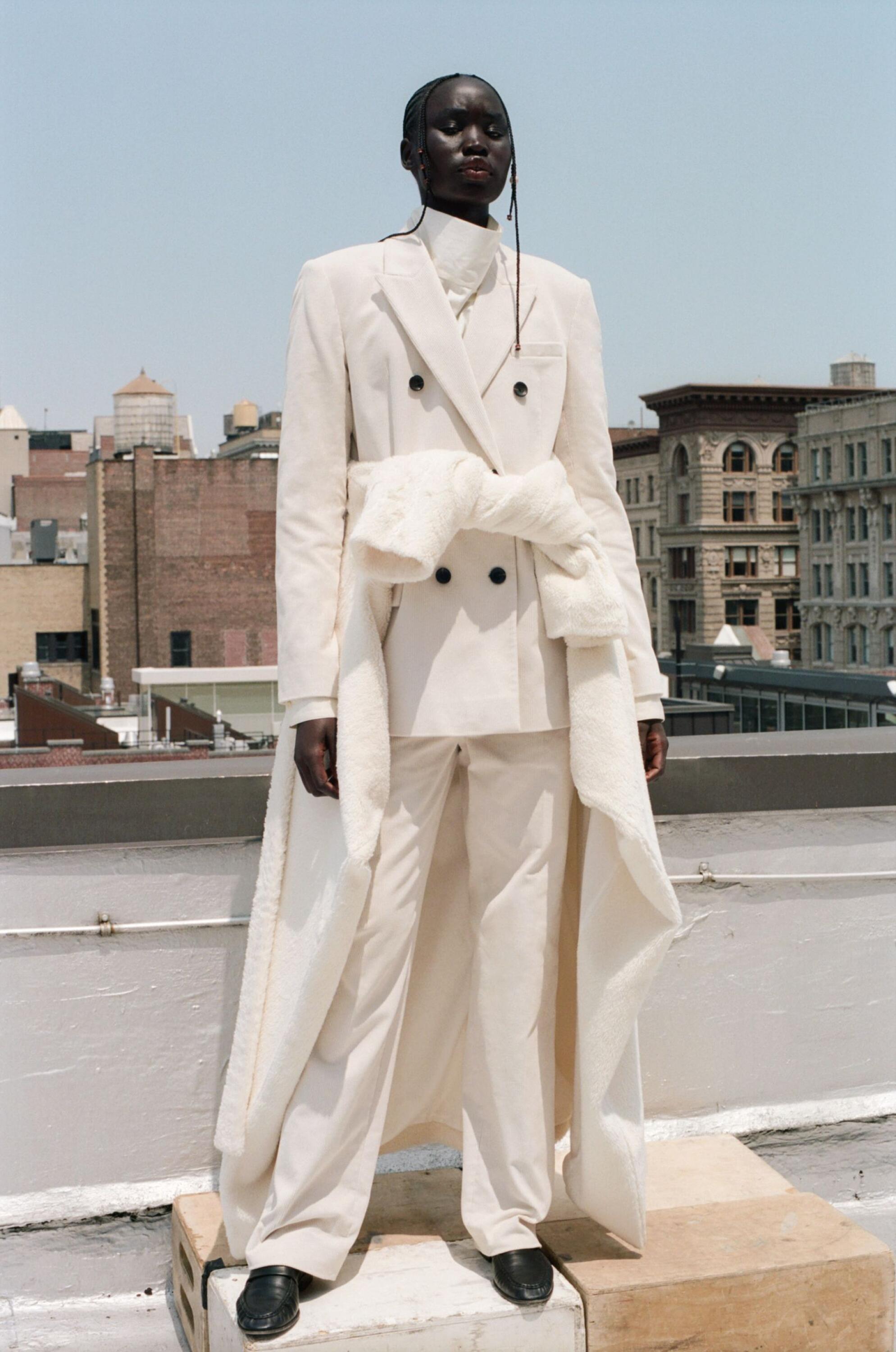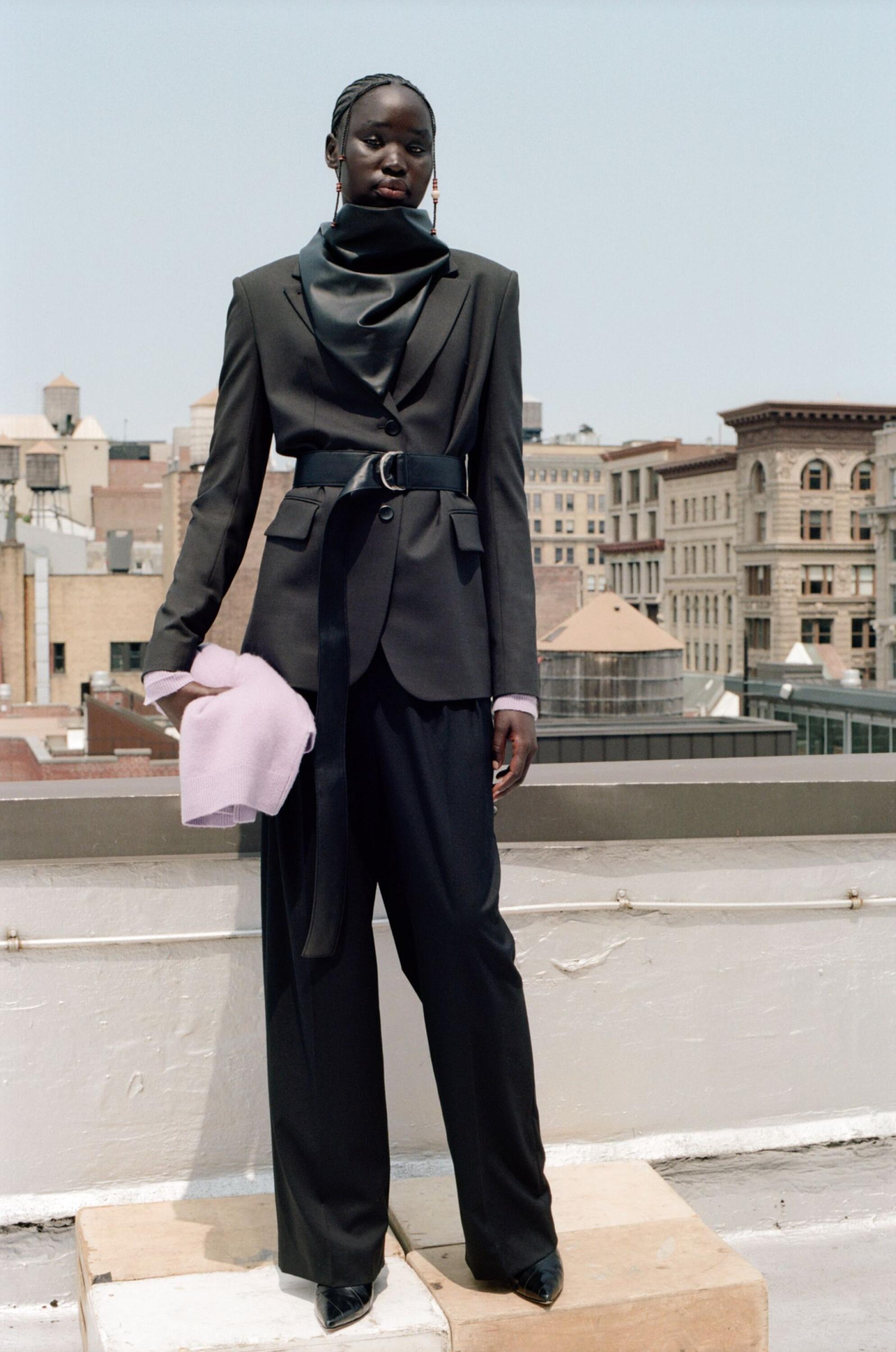 Our conversation shifts to McManus' ambitions for the brand: opening a store in New York, focusing on creating closed-loop garments, and most notably, B Corp Certification are all on her radar. B Corp certification is the international gold standard for an environmental and socially-conscious business, and it's difficult to achieve – for good reason. "My team is very small, so we couldn't embark on that now, but it's something we would love to do in time," she says.
Constantly educating herself is a forever objective too – Speed and Scale by John Doer is one of her favourite climate book club recommendations – but her hopes for the industry itself is that her success story is a message.
"What I'm doing is so tiny. But it's a message. If you can prove that a business that doesn't harm the environment or its inhabitants is one that is viable and stays in business, then it says something very clear to the industry."
You can now shop the Maria McManus autumn-winter 2023 collection at mariamcmanus.com