Media
Net gains: How a tech giant tracks the action at Wimbledon
When you see a stat flash up on your screen during this summer's tennis showpiece, it has come directly from IBM's operations centre in London's SW19, as its sports partnership lead Kevin Farrar explains
Kevin Farrar doesn't remember the match, but he remembers the moment. A query was posted on social media by a fan questioning whether an ace was really an ace during last year's Wimbledon tournament. The fan was convinced they'd heard something, possibly contact with a racket, so his colleague behind him in IBM's operations centre at SW19 got to work.
One check of the super slo-mo later, Wimbledon's official account had replied, stating there definitely was no contact and it was an ace. That's the type of interaction which Farrar, who is sports partnership lead for IBM in Britain and Ireland, is trying to cultivate.
Now in the 32nd year of its partnership with the All England Lawn Tennis Club (AELTC), the key development this year from the tech giant has been on providing fans with easier access to more data.
"The club is always about continuous innovation, striving to improve. Their motto is 'In pursuit of greatness' and we're helping them to achieve that," Farrar told the Business Post.
Deep in the bowels of the media centre, through a basement tunnel, IBM has multiple teams creating data for players, broadcasters and fans. It's fabulously nondescript until you enter one of the rooms. Large screens dot the walls with a mixture of feeds from the courts and key statistics from the day's action, while every staff member is working on multiple smaller screens and addressing the swathes of data coming their way.
"It's a whole world under Wimbledon that the people don't see, a warren of passages and corridors," Farrar said.
"Our job is to work with the client and bring innovation each year. It's a year-round programme, and it's really about transforming mountains of data into meaningful and engaging insights for fans around the world."
The amount of data gathered through every match is enormous. Even smaller courts such as Court 6, where fans strolling by could get close enough to hear Daria Saville of Australia complain that "I'm cramping my arse off", are dotted with cameras collecting information that is fed back into the operations centre.
"At the heart of it is data," Farrar said. "The championships generate a huge amount. Every stroke is collected and stored. All of the tennis stats are combined with other data sources, such as Hawkeye which does ball tracking. Throughout it all, the ball and players are tracked and we use that to create insights.
"Everything has to be processed quickly and accurately. The main driver for that is the TV broadcast. We need to get graphics out with updates to be distributed around the world. When John McEnroe's pulling out stats [on the BBC], that's coming from our data."
The approach taken towards digital platforms is relatively standard for any major event. There's a website that adapts to any browser and apps for all platforms. The difference Farrar seeks to make is in the experience when users engage.
One development brought in for this year is the IBM Power Index, which ranks players based on their momentum from their performances in the lead-up to and during the tournament.
"It looks beyond their results, but also at their media buzz. It's updated every day through artificial intelligence and it highlights players to watch, or where there might be upset alerts," Farrar said. "That's one of the factors that goes into our 'likelihood to win' prediction. For every singles match, there's a preview sheet of what to look out for."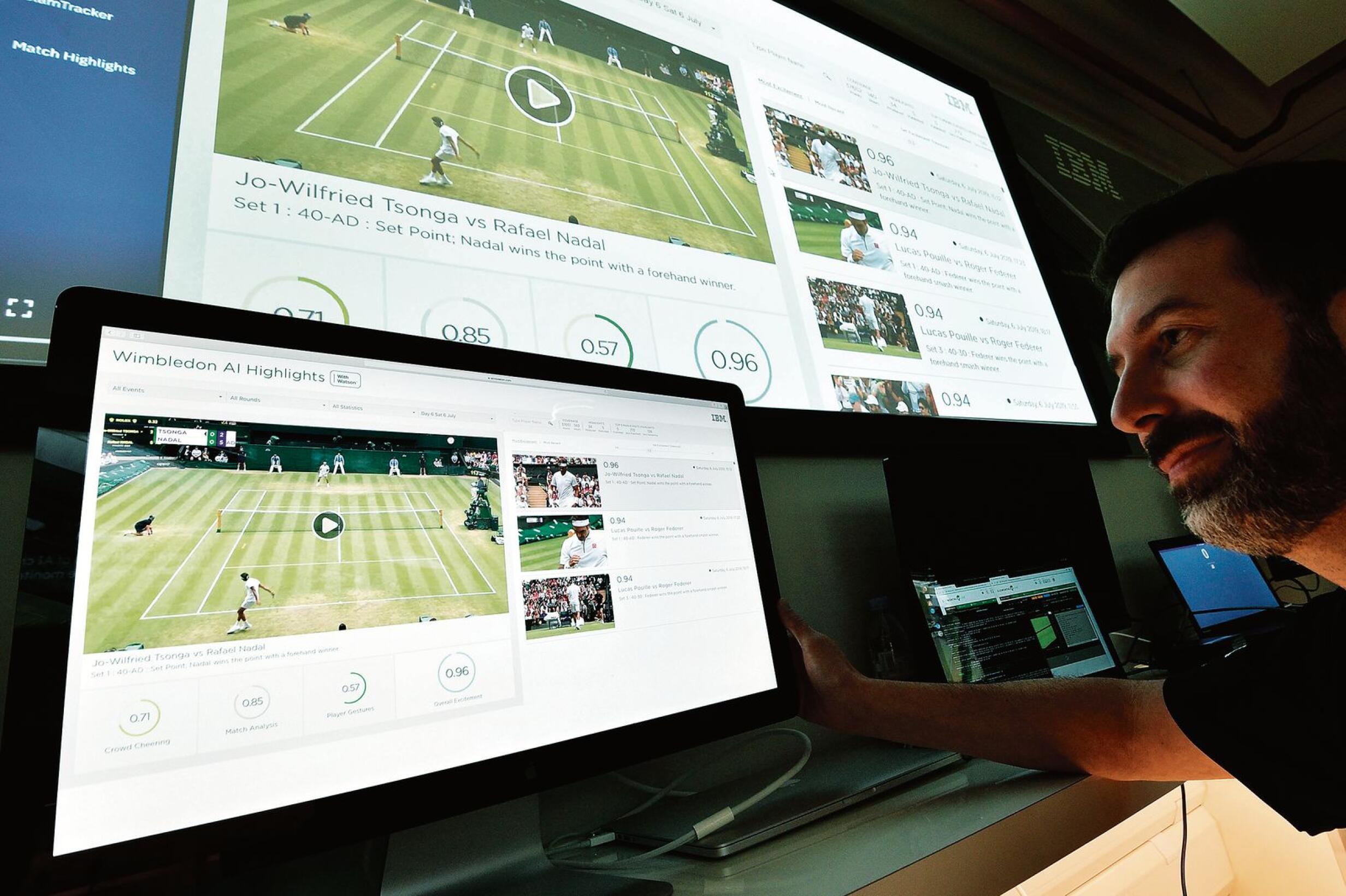 Translating that data into more fan-friendly content has been a key goal for this year. Every match comes with bite-size information based on the data gathered in order to let fans know what to watch out for in a particular match, especially if it involves a player they are not overly familiar with.
"Some fans want the real detail and stats, while others just want a high-level view. We're trying to serve all of those different audiences, so we provide a high-level summary and then drill down and go under the covers a bit more," Farrar said.
"The whole purpose of doing this is that sports fans love debate. The club wants to engage with existing tennis fans but also those that just watch Wimbledon. This helps spark that debate and gives them the opportunity to see where the action is happening and why."
The work is being done with an eye towards how IBM can adapt its technology for other clients beyond the AELTC.
"We bring our clients down here to tell the story. It's a showcase for IBM's capabilities around consulting, AI, cloud, security, and automation. It ticks all the boxes and we can translate how it is relevant to the customer's industry," Farrar said.
There's a good chance you've already interacted with some of IBM's AI-generated content. The short highlight packages of games that Wimbledon shares across its social channels are completely AI-generated, with humans only joining the process at the end to decide which videos get shared.
"The AI takes a combination of stats, it looks at the video, it listens to the sound of the crowd reactions, and it works out what to put together. It's augmenting and assisting humans," Farrar said.
"The distribution of data is very much about collaboration with the club. We work together to work out which content will work with which audience. The club wants the platform to be sticky so that fans return and it grows the global audience."
While the main focus is on improving the entertainment experience for fans, Farrar's team has to be increasingly mindful of securing the AELTC's systems. With Russian players barred from Wimbledon this year due to Vladimir Putin's invasion of Ukraine, there is extra reason to be wary of hackers.
"Like any global sports event, there's going to be unwanted attention. We've got world-class security teams and products that are prepared. We're conscious of the situation, but the team is preparing as diligently as it would any year," Farrar said.
"We have a number of security products deployed including one that does triage, a layer of filter that allows our security team to focus on what really matters. They are constantly being provided with insights to assist them in understanding the nature of each threat, and how to deal with them."