Sport
World record-setting Irish sailor Pam Lee on preparing for her biggest transatlantic sail yet
Greystones sailor Pam Lee is preparing for a 20-day transatlantic sail of 4,350 nautical miles – which she is competing in as the first female Irish skipper
There are few guarantees that Irish offshore ocean racer Pam Lee can afford herself when setting sail in the north Atlantic ocean. They include severe winds, unpredictable waves, and biting cold. Making crucial decisions when "fatigued, stressed, cold, and hungry" is amongst them too. After that, it's dabbling purely in the unpredictable.
From her base in Le Havre, a port city in northern France, Lee speaks to Irish Tatler just five days out from her biggest offshore sailing race yet. She is competing in the Transat Jacques Varbre, a 20-day race of 4,350 nautical miles, leaving from Le Havre and arriving at the Caribbean island of Martinique. Lee and her French team-mate Tiphaine Raganeau will set sail on October 29, competing against 96 other boats, just three of which are female-only teams. This also makes Lee the first Irish female skipper to compete in this transatlantic race.
"Part of the craziness of the 20 days at sea is that you know you will face immense lows and highs, difficulties and small wins – you know these things are ahead, you just don't know in what form and when," Lee tells Irish Tatler.
Lee recorded her ninth crossing of the Atlantic recently, and to date, she has competed in and won races such as Around Italy, The Round Ireland, and The Rolex Fastnet. Most notably, though, in 2020 Lee alongside her co-skipper Cat Hunt set three world records by sailing around Ireland double-handed, with an all-female crew, on a yacht of less than 12 metres. Finishing in Greystones (where Lee is from) after 92 hours and 30 minutes, they beat the record for men as well – coming in at 102 hours.
But what kind of preparations are necessary for a race of such scale? "There's a personal, mental, and physical side," Lee says. "It's quite hard to train for it physically – I've been working with a personal trainer to build different combinations of actions that try to mimic the movements that I'll do on the boat and also the timings of manoeuvres – one sail change might take five minutes, for example, so that informs when I should start preparing for the change."
"I work with a mental coach too who guides my short-term and long-term goals for the race. Obviously, I'm visualising crossing the finish line, but it takes lots of short-term realisation of goals to get there – grounding practices and breathwork are important here too."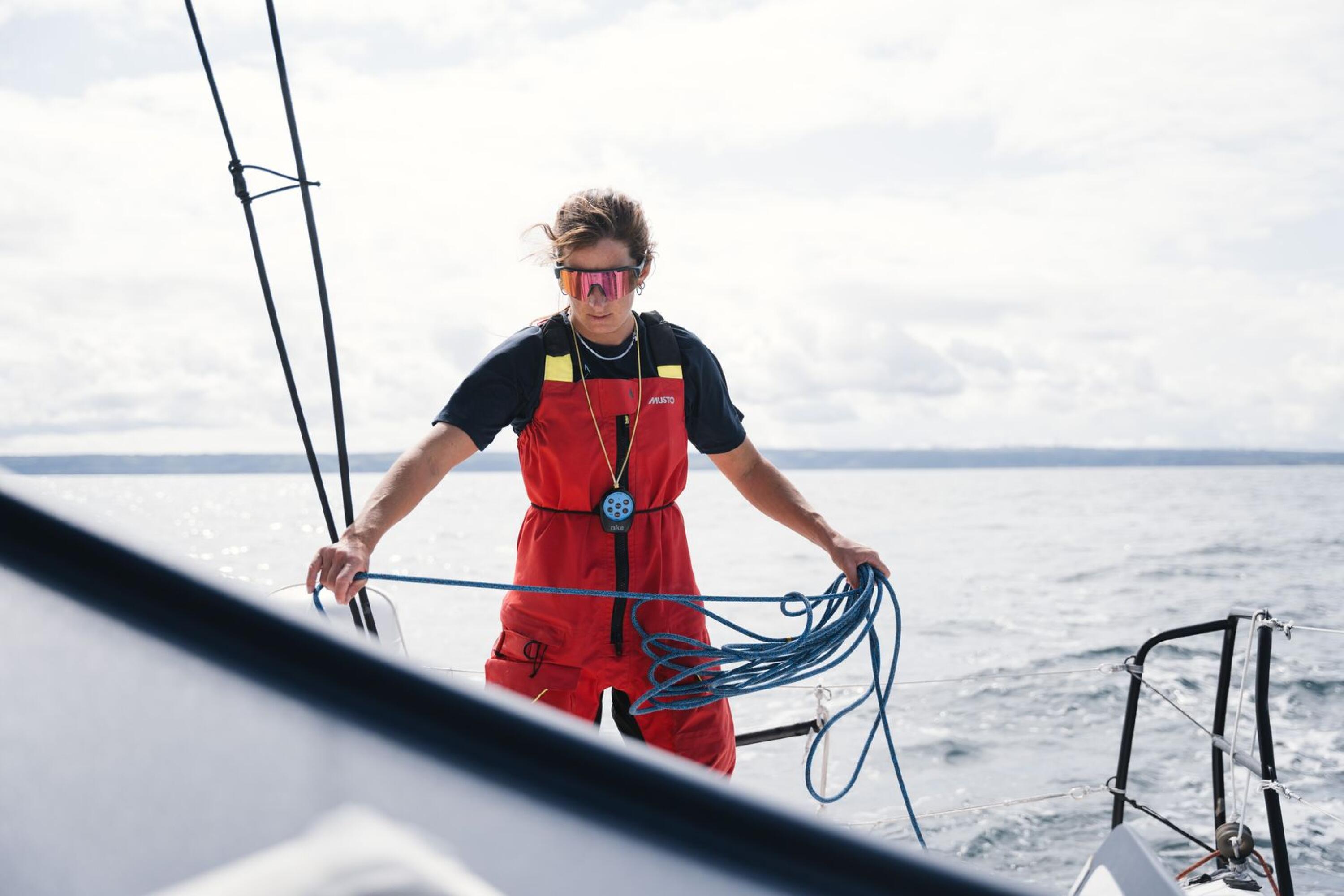 One such win includes reaching Cape Ford in the Timor sea, for instance: "When we finally get that far south and get to turn right, or west, and head towards the Caribbean, hopefully that'll be a high moment for us. But there's also a big fear factor here; when we get there we're supposed to have the trade winds and be able to put up our spinnaker sail, but that might not happen because the weather might not play ball.
"I think that will be the toughest point. It will be 10 days before we hit that far south so there's plenty of cold weather and physical challenges before then. Mentally, I have to think about how to manage my expectations, disappointment and stress. It's a weird feeling to be standing on the precipice of a wild adventure."
And while it might seem trite, you can't win a race unless you finish it – something that's not always guaranteed in this extreme sport – so navigating the technical preparations of the boat is key. Lee has a boat captain, technical team, and project manager who marshal the boat's mechanical logistics in the lead-up – from the motor and electronics to the sails, fuel, hydraulics, and networks. "As a sailor, I have to understand meteorology theory to navigate the course conditions – it's a whole other tier to the race preparations," Lee says.
Lee has been in the offshore sailing game since 2013, after she quit her "land job" in communications and public relations, and her focus since has married her professional growth, naturally, with her passion to encourage female participation in offshore sailing. She has pioneered a Ripple Racing programme to create opportunities for women in sport – starting with offshore sailing, putting it into action by championing an almost female-only team of technicians for her major races – which for the world of sailing, is "quite unusual".
The concept of 'you have to see it to be it' certainly applies here too: "There's been a push for more initiatives to encourage female participation in sailing. More visibility means younger sailors will see it as a viable career across both technical and sailing teams," Lee says.
It's not lost on her either that she bears some level of responsibility by representing a minority in what is a male-dominated sport. "To be at the starting line is pretty insane. We were awarded the Cap Pour Elles Bursary which supports a team of two female skippers who haven't competed in this race before – so we have somewhat of a platform and it's a good opportunity for me to share my story and activate some positive change for women in offshore sailing."
The Transat Jacques Varbre 2023 race departs on October 29th. You can follow Lee's and Raganeau's journey on @pamybefree