Sustainability
The Thoughtful Shopper (beauty) gift guide
Your seasonal guide to the best sustainable beauty gift sets this Christmas
Pestle & Mortar Nourishing Kit, €31.50, Kilkenny Design, kilkennydesign.com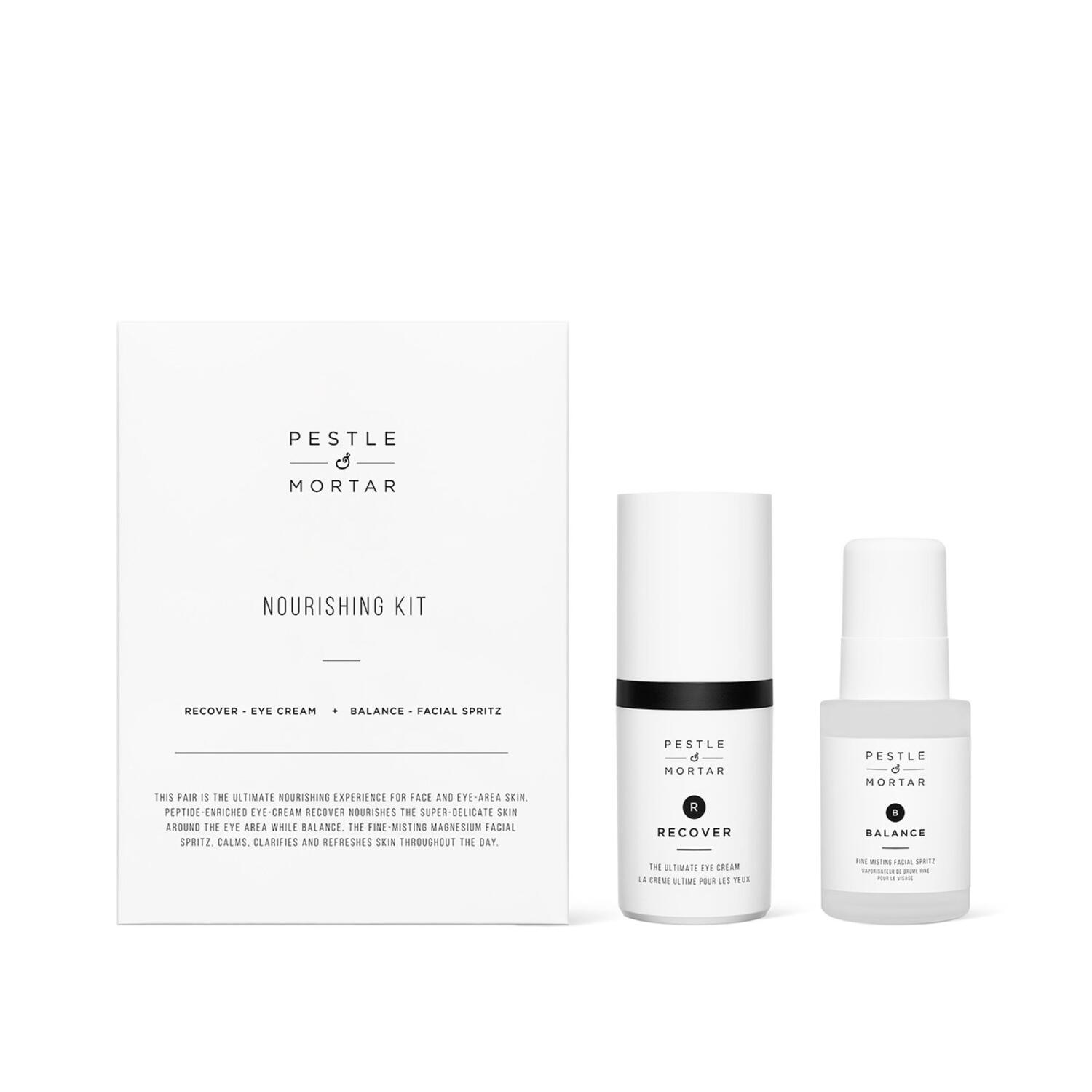 This Pestle & Mortar gift set contains Recover Eye Cream (15ml) and Balance Facial Spritz (30ml). The eye cream comes with active ingredient palmitoyl tri-peptide 5 and Irish moss extract, which works on fine lines as well as skin texture and reduces puffiness and dark circles around the eye area. The fine-misting facial spritz hydrates and refreshes with calming Irish magnesium, amino acids and natural plant extracts to balance skin.
Nunaïa Ground & Glow Gift Set, €127, Kilkenny Design Centre, kilkennydesign.com
After winning the 'Green & Organic' category award at the Cosmoprof Awards 2023, this Tipperary brand's skincare gift sets are as feelgood as it gets, with high-performance regenerative skincare and an innovative regenerative business model that leaves the communities and ecosystems it works with better off. Designed to nourish and restore, it features a 100 per cent compostable and biodegradable box made from mycelium technology for a really sustainable skincare set.
Codladh Bath Salts 100g, Medium-Sized Gift Bag, €15
The gift of a good night's sleep is a true gift indeed and Cork's Ground's Wellbeing Codladh Collection works. Pick from bath salts, a Mini Sleep Pillow Spray in 10ml or The Sleep Ritual gift set with the Codladh Body Oil 30ml and Pillow Spray 30ml (€35), or the Sleep Sound set which includes the Codladh Body Oil in 100ml and Sleep Face Balm 60ml (€72). groundwellbeing.com
Green Angel's Wellness Wonder Gift Set, €59 worth €90, greenangel.com
Handmade in Wicklow, Irish skincare brand Green Angel's products deliver, and their Wellness Wonder Gift Set gets most of their hero creams in an eight-piece limited-edition gift set complete with cosmetic bag that includes their Cleansing Lotion 200ml; Facial Toner 100 ml; Collagen Face Cream 30ml Face Mask 30ml; Facial Scrub 30ml; Hand Cream and 10ml Cleansing Pad.
Because You're Amazing gift set, €45, The Handmade Soap Company, handmadesoapcompany.ie
Always a crowd pleaser, this lemongrass and cedarwood combination is a sensory gift to anyone's shower routine. The shower gel is full of essential oils, with a nourishing body lotion to hydrate and revive your skin. All are free from parabens, SLS, petrochemicals and other synthetics, are cruelty free and vegan friendly, with the bottle made from 100 per cent recycled materials and a box made from FSC Certified sustainable card from managed forests.
Spotlight's Star Buy Gift Set, €55, Boots stores and boots.ie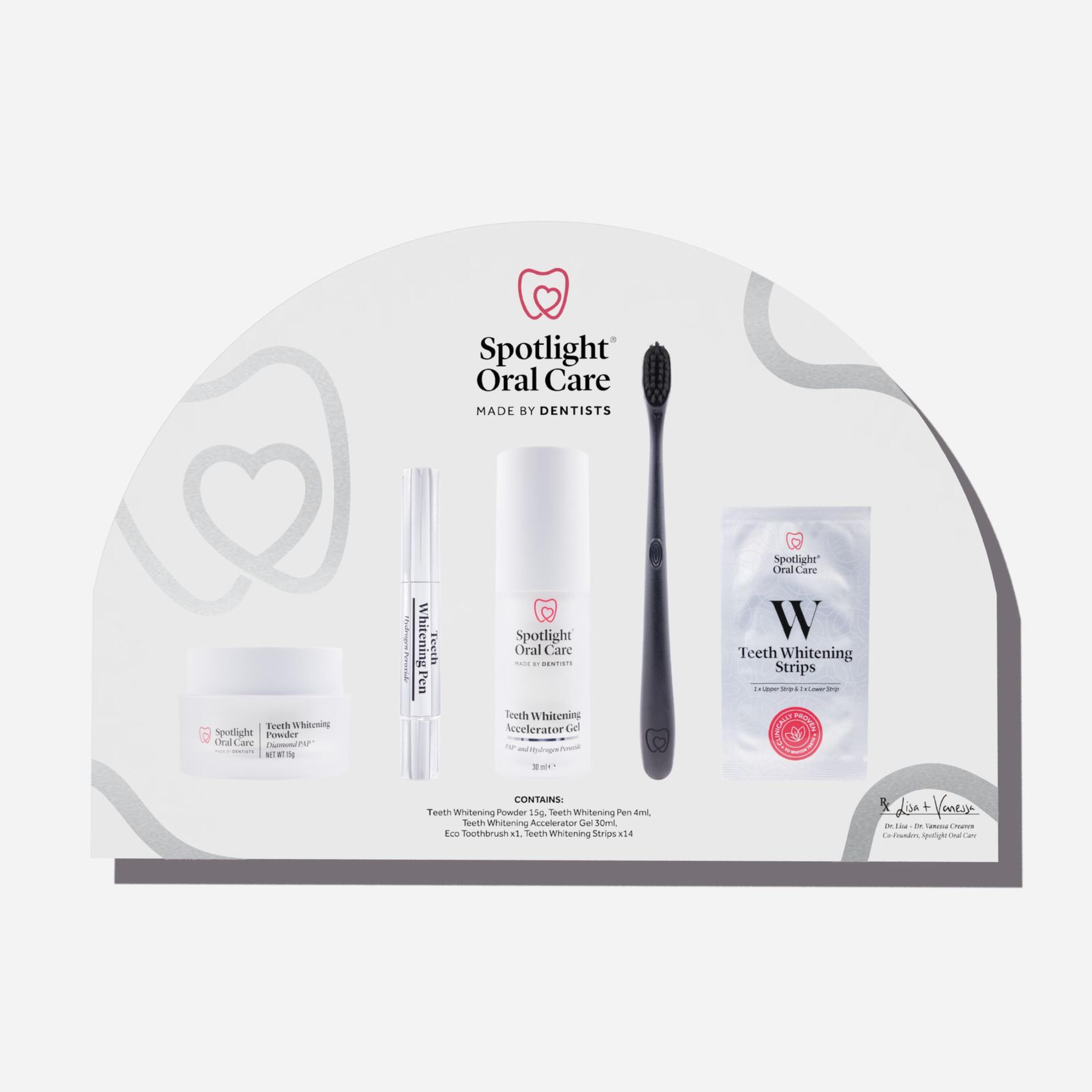 Irish oral care brand Spotlight's Star Buy Gift Set this year brings together its bestsellers all in one pack, with full-sized products which include a 14-day supply of their award-winning Teeth Whitening Strips, Teeth Whitening Accelerator Gel, a limited-edition deluxe size Teeth Whitening Pen, the Diamond PAP Teeth Whitening Powder and a manual toothbrush. The value of the set is €138, but is retailing in store and online for €55. All Spotlight's products are vegan and cruelty-free, with toothpaste tubes made from sugarcane, a fully renewable resource. Available exclusively in Boots stores nationwide and Boots.ie
Mission Fig limited-edition three-wick candle, La Bougie, €140, Brown Thomas
Irish artisan perfumer La Bougie's signature Mission Fig candle comes in a limited edition three-wick version this season and is set in a jar decorated by La Bougie Founder Lucy Hagerty's mum Sarah Balmer. It depicts a watercolour of the Tuscan landscape painted by Balmer – a celebrated artist who has lived in Tuscany for over 30 years. The three-wick candle weighs 750g with a burn time of approximately 120 hours and combines woody notes with delicious fig-leaf aromas.