Partner Content
Super Sonic: Introducing Spotlight Oral Care's new 'gold standard' toothbrush
Spotlight Oral Care co-founder Vanessa Creaven explains why its new Sonic Pro Tootbrush launching today is a long-term investment worth the price tag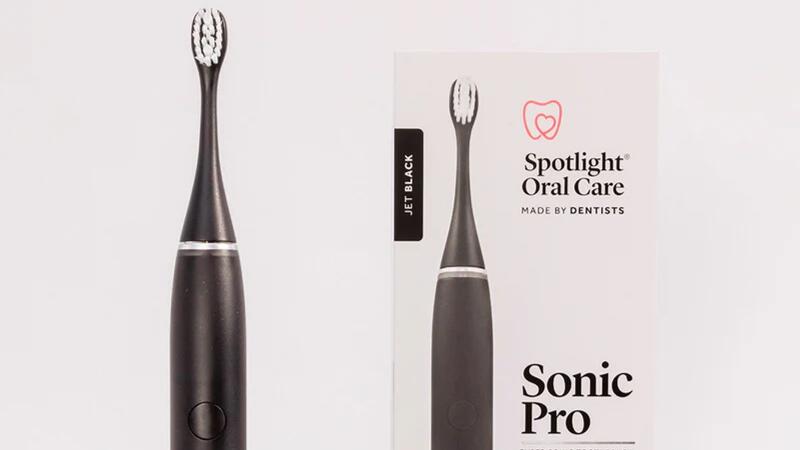 Tell us about the new Sonic Pro Toothbrush; why did you want to create it?
Creating our Sonic Pro Toothbrush has been a labour of love, and as dentists, we feel it encompasses everything you need in a toothbrush and it's what we consider the gold standard. Our concept was to create a market-leading toothbrush so we did a deep-dive into our customer and patient base to discover what features they wanted, while challenging ourselves to innovate our existing Sonic Toothbrush with new qualities.
What makes it new and improved?
There are four new key updates to our Sonic Pro Toothbrush: a pressure sensor that warns against overbrushing; an extra polishing mode that targets stains while polishing and brightening your teeth; a micro-pointed tongue cleaner that removes bacteria build-up; and a visual quadrant timer that guides you to effectively brush the four quadrants of your mouth.
Can you tell us about the four settings?
The Sonic Pro carries the three settings of our existing Sonic Toothbrush with the addition of a fourth polishing mode. Firstly, the gentle mode vibrates at 30,000 reps per minute and is specifically designed for sensitive teeth, or anyone who is new to sonic technology.
Next is our cleaning mode, which is a solid all-rounder for everyday cleaning and vibrates at 40,000 reps per minute. Third is our whitening mode, at 45,000 reps per minute, which is for intense surface stain removal. Lastly, our new polish mode is for intensive cleaning, brightening, and stain removal at 50,000 reps per minute – the most powerful setting on the market.
Why is the built-in pressure sensor important?
Brushing with excessive pressure is the biggest cause of gum trauma. Gum recession in particular is one of the biggest issues for our patients and it's really difficult to treat in practice, so we felt the addition of a pressure sensor was crucial for oral health. The pressure sensor on the Sonic Pro will flash red and pause should you be brushing too hard, so there is both a visual and tactile indicator.
How does the visual quadrant timer work?
To effectively brush your teeth you should divide your mouth into four: top right, top left, bottom right, bottom left. Our visual quadrant timer represents this division through a four-part band of light around the toothbrush. The band will flash with one white line when you're a quarter of the way through, then half of the band will light up when you're halfway through, and so on until you've reached two minutes of brushing and the band is fully white.
Can it really match the dentist effect at home?
As a dentist I always encourage people to visit their hygienist or dentist every six months for a professional cleaning. There will inevitably be a layer of calculus (mineralised plaque) that will have hardened on the teeth and you can't physically remove that yourself. However, 98 per cent of your oral care is achieved at home; your everyday routine will make the most difference, and when it comes to maximising it, the Sonic Pro is a smart way of doing it.
What differences should one notice when they start using the Sonic Pro daily?
Two weeks is a good benchmark for noticing changes to your oral health: your gums should feel stronger and you should experience less sensitivity and bleeding. And using the micro-pointed tongue cleaner on the back of the brush, you should notice less bacteria build-up – this usually appears like a white film on the tongue – which is the most common cause of bad breath. When you return to your dentist or hygienist for check-ups, you won't require the deeper cleaning you might have previously. The biggest benefit though, is the improvement to your overall oral health: the Sonic Pro is a long-term investment in your oral health.
The Sonic Pro Toothbrush, €149.95, launches today September 25 on spotlightoralcare.com and selected retailers nationwide