Partner Content
Star of the sea: 'Our passion for green living has been instilled in us since we were children'
As Irish lifestyle brand VOYA launches its Celestial Glow collection, founders Mark and Kira Walton give Irish Tatler an exclusive sneak peak into the makings of one of the world's best-known organic luxury brands
Science, sustainability – and seaweed – are in Irish lifestyle brand VOYA's DNA. This week marks the launch of its spectacular Celestial Glow festive collection with the first drop (the Earth Light Organic Hand Care duo; the Lunar Bathe Nourishing Sleep Ritual set; the Tranquillity Night Revitalising Bathing gift set; and the Nova Scented Soap and Cleansing Bath and Shower Mitt) now available to shop.
Irish Tatler caught up with VOYA's founders Mark and Kira Walton to discover the inspiration behind the collection, and to get an exclusive sneak peak into the makings of the one of the world's best-known organic luxury brands.
Can you share a little background on VOYA and why you founded it?
Our business is part of a life choice and it was very organic. Having both had careers in the city, at a certain point we wanted to come back to the sea. The beauty and coastline along the west coast of Ireland are so breath-taking and its resources are unparalleled.
Seaweed bathing is an ancient Irish indigenous therapy and is something that runs in our veins. In the part of Ireland where Mark's family is from, historically there were many bath houses and his father was one of the original forces behind the organic farming movement in Ireland. We saw an opportunity to innovate when the customers of the bathhouse in Strandhill, Co Sligo wanted to replicate the experience at home. That is how the brand VOYA was born.
Was there a sustainability and organic focus from the start?
Our passion for green living has been instilled in us since we were children, and we started our business before there was even organic standards for cosmetics. In fact, Mark was involved in developing and championing organic aquaculture (seaweed) standards for the European Union, which he will always be super proud of doing.
His late father Michael Walton will also never be forgotten for this. We have always adopted organic and sustainable ways of creating our products – but this gives additional credibility to our work and is independent verification of our actions as a company and the calibre of our product.
Previous
Next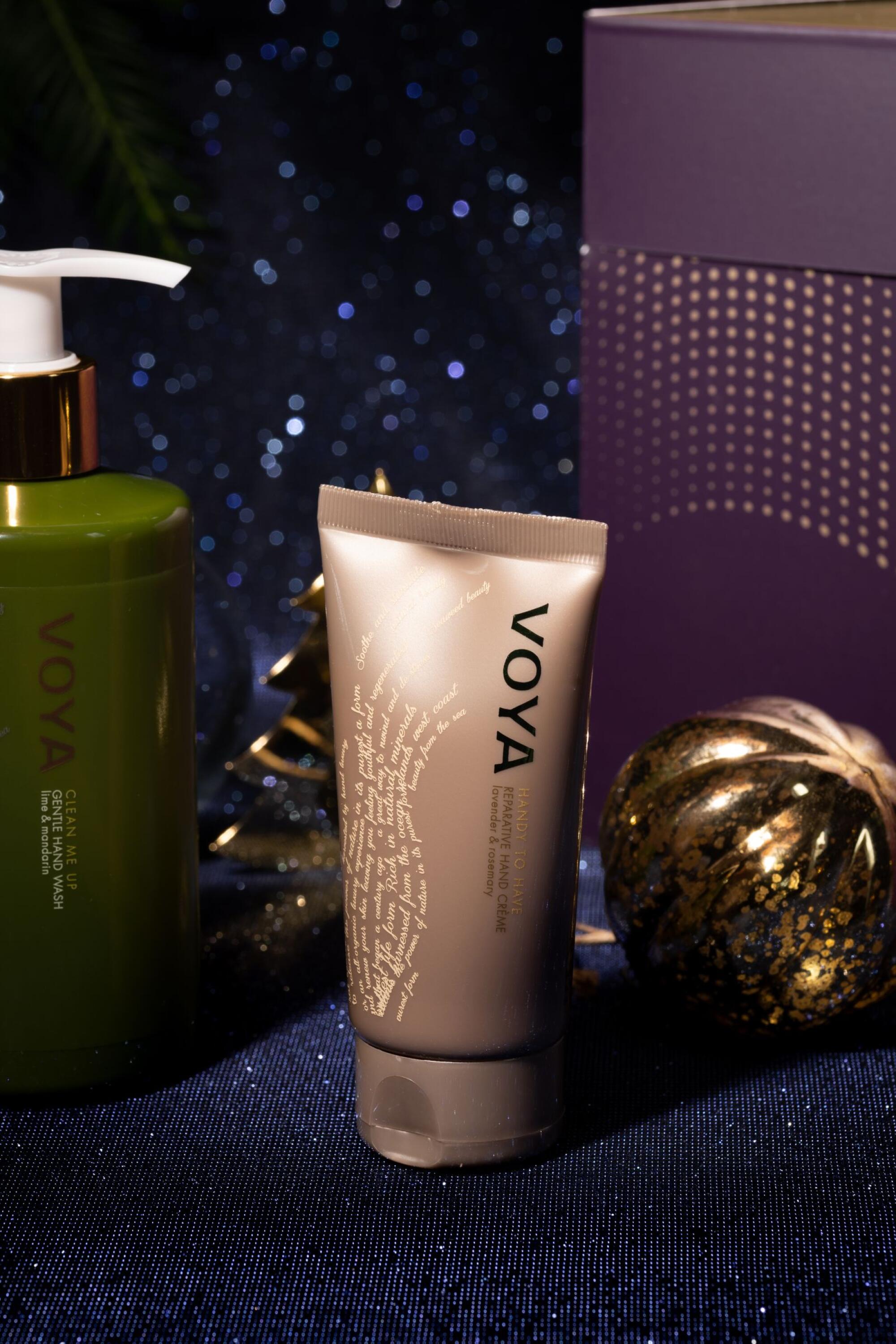 Celestial Glow collection: Earth Light Organic Hand Care duo, €34
Why is Irish seaweed such an effective ingredient in skincare?
Seaweed naturally absorbs its nourishment from the sea and over 80 per cent of the seaweed plant is made up of essential minerals, vitamins, and other bioactive compounds. The success of our Lazy Days Detoxifying Seaweed Bath inspired us to think about how the seaweed could be beneficial in skincare products. By working with independent scientists and researchers we were able to understand the myriad of potential benefits and we then developed a full suite of face and body products.
VOYA was a front-runner in terms of sustainability and effective, organic products – what are some of the innovations that you are most proud of?
We are proud to have made several commitments as part of our Ocean Steward partnership with Plastic Bank and we have pledged to help stop the equivalent of over two million single-use plastic bottles from entering the ocean. This is equivalent to over 45,000 kg of plastic and means for every VOYA product sold, we help to prevent three plastic bottles from entering the ocean.
We are also committed to carbon-balancing greenhouse gas emissions from energy consumption associated with our general operations and business travel to support the World Land Trust, and we are proud to voluntarily submit our products to be certified by both the Soil Association COSMOS and the Irish Organic Association (IOA).
Celestial Glow collection: Lunar Bathe Revitalising Bathing gift set, €60
What has surprised you most about the huge success of the brand?
How surprised people are when they discover VOYA abroad and internationally. It brought a tear to Kira's sister's eye when she came upon it on at the EDITION Hotel in Tampa Florida. People are truly surprised at where they experience VOYA. From the Ice House in Mayo and The Peninsula in Hong Kong, to the Hotel del Coronado in California and first class on Emirates flights; if you can tip toe your way to first class.
The VOYA festive offering is always a thing of beauty. What can people expect from this year's collection, Celestial Glow?
Every year, the team take a lot of time to create a selection of gifts that shine a light on the essence of VOYA. Inspired by starry nights over the Atlantic Ocean and capturing the serenity of a calm sea, this year's gift sets are carefully curated with organic products that nourish the body and enliven the senses.
Celestial Glow collection: Tranquillity Night Nourishing Sleep Ritual set, €50
Celestial Glow collection: Nova Scented Soap and Cleansing Bath and Shower Mitt
The collection includes VOYA best sellers, gifts for those who need to relax after a busy festive period, and a deluxe candle set. For a taste of VOYA, this year's stocking filler is a Christmas cracker; the perfect treat for a natural skincare lover.
What are your favourite VOYA products?
Mark: I must admit, I have always loved our Invigorating Seaweed Soap Bar. It's a great product and it's one of my favourite fragrances. I am also a huge fan of Buoyancy Luxury Body Butter – it's a luxurious body crème and has been an instant success since its launch, alongside our new Indulgent Sea Marine Bath Salts which are a real treat, particularly on a cold winter's night.
Kira: Buoyancy is my totally favourite. We have always wanted to have a body butter in our range and we have developed a body product that is lavish and luxuriating. After a season of sun, to wrap your body in Buoyancy every morning or after every shower is very indulgent. A little goes a long way.
What would you recommend as a gift for the VOYA devotee? And the 'must buy' that will convert anyone into a VOYA fan?
Mark: One of my must-buys is an oldie but a goodie: My Little Hero. It's all in the name – a luxurious facial oil that I feel you can use post-shower or pre-bedtime after a long day – though I do also love the Bio-Retinol Concentrate Serum we launched earlier this year as my skin gets a lot of abuse in the sea. Of course, I would pair these with the Lazy Days Seaweed Bath, it's the original and the best.
Kira: If you are already a VOYA devotee then you are in for a treat; our new Renewal Eyes 100 per cent Organic Seaweed Eye Masks are actual seaweed under-eye masks. They are a beautiful treat, whether you are travelling, at home having a bath or just watching Netflix. I honestly think they are well worth the money – a bit of the Best of the West to renew tired eyes and hopefully relax a busy mind too.
The first drop of VOYA's Celestial Glow Collection is available now. To buy online or find your local stockist, see voya.ie. Follow VOYA on Facebook; Twitter; and Instagram.