Culture
'She is the artist of my life': reflections on how Beyoncé has reclaimed Black narrative
Freelance arts and culture journalist and co-founder of the GALPAL Collective Ashley Chadamoyo Makombe charts the significance of Beyonce's Renaissance album as it celebrates a year on the airwaves
"Alive, I feel alive," were the exact words my friend Patrick used as we walked down the hill of the Olympic Stadium in Barcelona.
We were part of the exodus of Beyoncé fans who flocked to European cities to see the superstar perform in lieu of any Dublin concert taking place – crippling insurance costs in Ireland drive many artists away according to Alliance for Insurance Reform – and there was a marked presence of supporters (from New York to South Africa) who made the trip to the Spanish city. Coincidentally, if you haven't seen the viral TikTok video of enthused Ryanair passengers flying to Beyoncé's London concert, it's a pretty good marker for her Irish fanbase.
But subscribing to Beyoncé as a 'fan' means more than just liking her music: yes, the first CD I ever owned was B'Day. My go-to karaoke song is Irreplaceable. And I have a picture of this woman on my vision board. She is the artist of my life. But it's her ability make noise (beyond good music) in her Renaissance album – which celebrates a year on the airwaves this weekend – that gives her status beyond a musician.
With multiple number one hits under her belt, and 120 million records sold worldwide (not including the 60 million she sold during her time in Destiny's Child), it is abundantly clear that one thing the singer can do is make hits. And she has multiple: Single Ladies, Love on Top, Deja Vu, Baby Boy, Drunk in Love – you get the jist.
But Beyoncé has made a very obvious career shift in the last decade. Taking a similar trajectory to that of the legend Michael Jackson, Beyoncé has gotten older and wiser in the industry. Her music has become more culturally and politically charged, with her last large bodies of work Black is King and Renaissance examples of this.
Long gone are the days where she was just concerned with making good music; now she intends to make a more lasting impact with her legacy, while still giving us classic dance hits.
At the time, the similar release dates of both Renaissance (July 29th 2022) and Black Is King (July 31st 2020) seemed surprisingly coincidental. But, if like me, you are a member of the Beyhive (the singer's online fanbase), you would know that Beyoncé never does coincidences; she is a woman at least 10 steps ahead.
And while it may be easy to view these two bodies of work as being polar opposites, there is a strong undercurrent. While Black is King is made with the songs from 2019's The Lion King (in which Beyoncé voiced Nala and curated the companion album), there is also a retelling of music from and inspired by African artists across the diaspora.
Renaissance, meanwhile, is an electronic album based on 1980s disco and house music era with samples from Black Queer disco legends from Chicago, Detroit, and New York. However, what both of these pieces of work have in common is ta sense of community and tribe-finding.
Why? Well, both of these works came at a significant cultural and political crisis point. I remember during summer 2020 how difficult it felt to just exist and be Black while the world served you daily reminders of how unwanted you are.
The deaths of Breonna Taylor, Geroge Floyd, Ahmaud Arbery were incomprehensible. And the losses of Kobe Bryant, Chadwick Boseman, Bill Withers, Little Richard and Bettie Wright felt like blow after blow for a global community. Similarly, this past year has seen a time where LGBTQ+ rights all over the world have become so threatened, especially those of our trans brothers and sisters.
And in the midst of these two global struggles, Beyoncé makes a statement without it being forced or tokenistic. For an artist of her influence to celebrate Blackness and Queerness so unapologetically is vital.
For example, she sampled Queer Ballroom legends on Renaissance, and when the album won best Dance and Electronic album of the year at the 2023 Grammy's in February, they were part of that win. In her historic acceptance speech, she made this known: "I'd like to thank the queer community for your love and for inventing the genre," Beyoncé said in her speech, while also thanking her uncle Johnny who passed away due to complications with HIV/AIDS. She previously described him as her "godmother and the first person to expose me to a lot of the music and culture that serve as inspiration for this album".
So often when we see depictions of Black women and people in arts and media, there is this focus on the pain and suffering we go through. However, through Afrofuturism, Beyoncé offers an alternative view (afrofuturism is a cultural movement that combines science-fiction, history and fantasy to explore the experience of the Black diaspora).
While she doesn't try to sugarcoat, hide, or erase the very real hardship and trauma Black people have been through, she allows us the opportunity to reimagine ourselves through it. She takes away those societal boxes that we are so often placed in and encourages us to view our future in a way that is connected to and inspired by our past. As she so beautifully put in Black is King: "History is your future".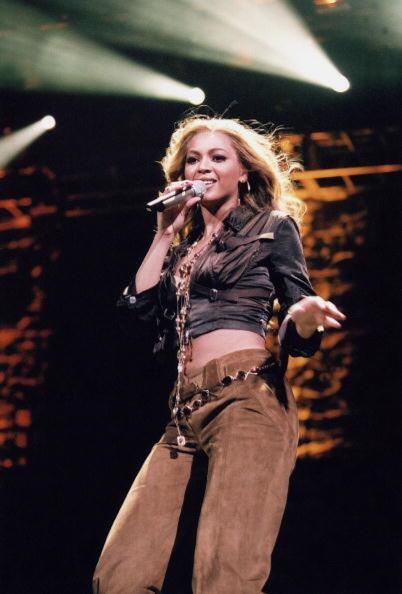 Beyoncé manages to do this in a way that meshes the personal and political: she has never shied away from her roots, and from that southern-inspired hip-hop of her Destiny's Child days to the New Orleans Creole-inspired visuals from the Formation music video (a homage to her mother's French Creole heritage).
This is coupled with the disco western-inspired aesthetic of her Renaissance album cover, and the album's dedication to her uncle Johnny. Her music and everything that accompanies it is introspective enough that with each project she puts out, we begin to understand her as a person.
But her work mirrors her fans and political motivations too: just as she is on this journey of self discovery, she encourages us to find ourselves in our history and our communities on a personal, local, and global level. While the messaging is often aimed at specific groups (Lemonade is for Black Women, Black is King is for the African Diaspora and Renaissance for Black Queer folk), the themes somehow still feel universal.
And while her live performances unify this, they never lose their thrill-of-the-now appeal: concert-goers (like me) spent months planning their outfits, memorising all the words and even learning the new choreography before the tour date.
It is hard not to acknowledge her legendary status, and view her in a class ahead of the rest. There are few artists in this world who manage to create music that can get people moving in the club, and yet give a voice to those who feel so voiceless, and create space for us to be seen.
Ashley Chadamoyo Makombe is a freelance arts and culture journalist and co-founder of the GALPAL Collective; a community dedicated to supporting the creative works of queer folk, POC, migrants, and women in Ireland. She is a member of the National Youth Council and Women of the World's Young Leaders Directory, which is a community of young activists, leaders and campaigners