Spa and Wellness
Irish Tatler Spa Guide 2023
From the newest techniques and skincare science to redesigns and innovations, this is the Irish Tatler guide to some of the best new spa treatments
1. THE BEST SKINCARE INNOVATION
The Castle Spa at Dromoland now offers exclusive treatments from aesthetics expert and anti-inflammatory pioneer Dr Barbara Sturm, known for its skin-healing philosophy and for delivering non-surgical, anti-ageing treatments. The treatments are the latest addition to the new 320-square-foot spa, which, while still nestled deep within the historic stone walls of the Castle now has six treatment rooms including a twin suite, an Amber and Quartz Crystal Bed, and a new relaxation space, The Whisper Room, all created in a natural palette that emulates the Castle's history, particularly that of one of its most revered guardians, Lady Ethel – an innovative thinker who believed in the power of nature. The new Dr Barbara Sturm treatments are designed to provide hydration, nutrition and a regenerative glow with the products free of synthetic fragrances, and sit alongside two new other brands introduced to the spa, Irish marine skincare line Seabody and the cellular-focussed facial skincare brand Oskia London. dromoland.ie
2. BEST NEW WELLNESS TREATMENT
Exclusive to Sheen Falls Lodge, GROUND Wellbeing has developed a menu of what they term Face Rituals. Adopting what they call a "Forward to Basics" approach to Skin Wellness, the focus here is on hands-on massage techniques, plant-based aromatherapy, and breathwork with the rituals guided not only by skin type but also by how the individual feels. The Mindful Face Ritual, for instance, is designed to comfort the skin and calm the mind, while the Awakening Face Ritual uses nutrient-rich botanicals and lymphatic drainage to stimulate the skin with the aim of triggering the skin's natural function. Sheen Falls have also added Ground's Massage Rituals to the treatment menu, including The Balancing Ritual targeted at those experiencing hormone change, especially during perimenopause and menopause, and the Restorative Ritual for de-stressing the face, head, neck, and scalp.
Face Rituals by Ground Wellbeing, €145 for 60 minutes. sheenfallslodge.ie
3. BEST NEW LUXURY FACIAL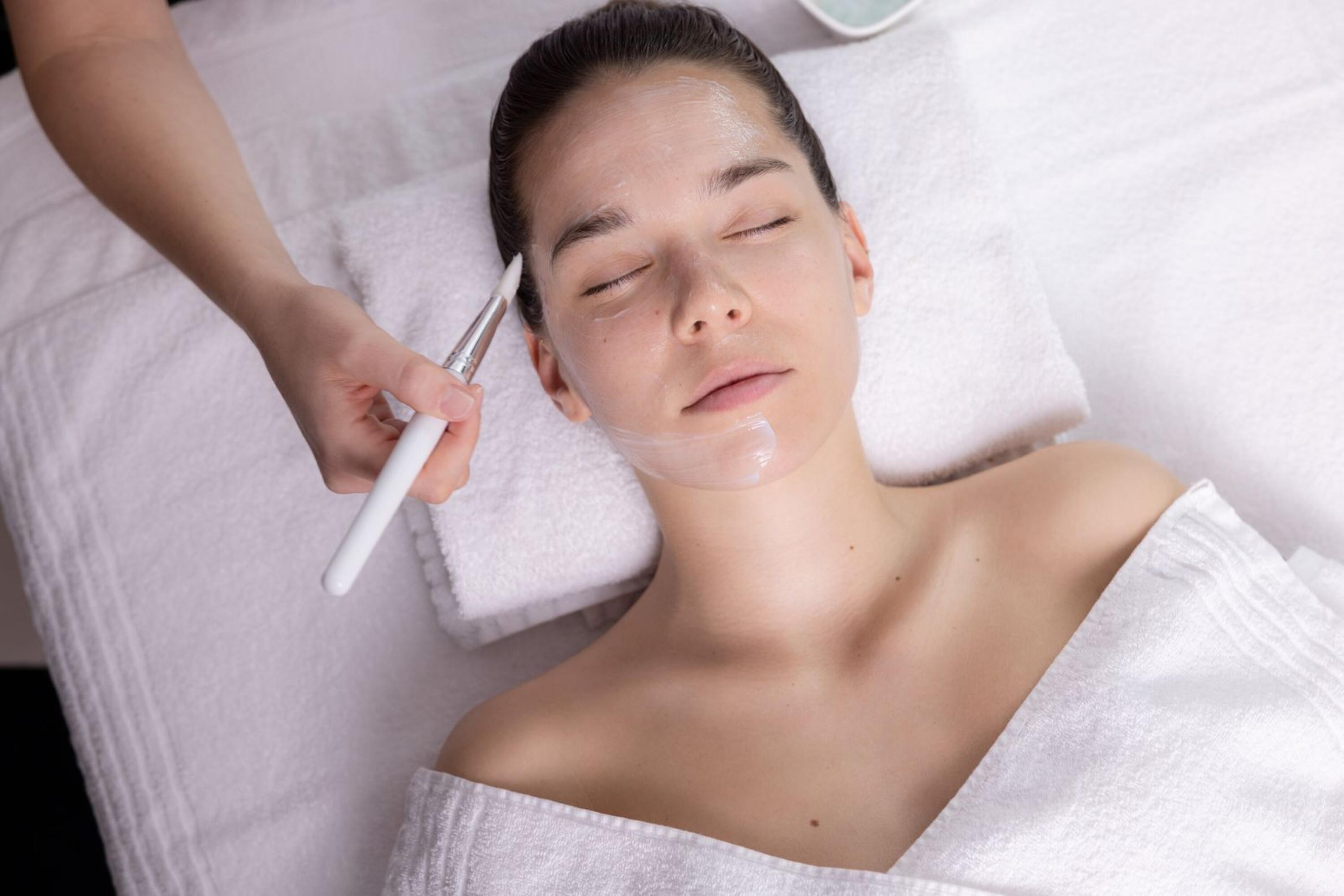 Launched in February this year, The Spa at The Shelbourne was the first to introduce the Swissline luxury skincare brand to Ireland. Founded over 30 years ago, Swissline harnesses some of the brain power and personnel from its Swiss sister La Prairie and is one of the earliest skincare lines to focus and work in cellular therapy. This 90-minute comprehensive treatment is for stressed, dull or ageing skin, and concentrates on getting as much of Swissline's high-tech ingredients – ones that are now increasingly found in non-invasive aesthetic procedures – into your skin, combining it with therapist techniques that bring an extra level of indulgence to the experience. Using pure native collagen, marine collagen, peptides technologies, pure silk and plant-based growth factors, all combined within the facial that aims for instantly visible results including firmer, more toned, brighter and healthier skin. But while the scientific nature of the ingredients is what most want, and is definitely reflected in the price point, what makes this treatment is its focus on massage, using lymph flow regulating movements, as well as the much-touted Kobido Japanese facial massage technique, beloved by the style set to reboot skin after back to back parties during Fashion Weeks.
Le Grand Soin Au Collagène Pur, €265 at The Spa at The Shelbourne. theshelbourne.com
4. BEST NEW SUSTAINABLE FACIAL
The Spa at The Johnstown Estate introduced the professional-led independent skincare brand Medik8 as their lead facial brand back in March and it was a great addition to the spa offering here. Cruelty-free, 100 per cent vegan and sustainable, Medik8 was created in 2009 in the UK by scientist Elliot Isaacs and is centred around what the brand calls the CSA Philosophy, which advocates using vitamin C in the morning, followed by sunscreen, then vitamin A in the evening. While stocking the full range of Medik8 products, The Spa at The Johnstown Estate's facial treatments from Medik8 include the brand's signature facial, the Medik8 Platinum Facial (€135 for 60 mins), a high-performance, results-driven facial featuring Medik8's Scientific Mushroom Thermal Exfoliator and exclusively using their Age Defying Platinum Mask, it aims to visibly lift, rejuvenate and firm the skin for a more youthful appearance. Other facial treatments offered include the Medik8 Deep Hydration Facial (€135 for 60 mins), a multi-level hydration treatment for intense nourishment for dry skin, and the Medik8 Brightening Platinum Facial (€135 for 60 mins), a power-packed facial with an intense hit of brightening actives including vitamin C, to boost skin and help enhance cell regeneration. Medik8 treatments at The Spa are also available for the body and include the Medik8 Purifying Back Ritual, (€135 for 60 mins) and Medik8 Skin Rejuvenating Ritual (€135 for 60 mins), a topto-toe treatment experience which uses finely ground bamboo particles and exfoliating acids to exfoliate and invigorate the body.
5. BEST NEW BODY TREATMENT
'Après-Soleil' is a treatment designed to help speed up the skin's repair process, which Velvære in Dublin have just introduced and includes a 60-minute signature body massage and a 30-minute iSClinical SOS Hydration facial. The Signature body treatment is a full body massage combining the use of oil and a technique targeted to each zone. Depending on your preference, you can choose from relaxing, draining, slimming or muscular relaxation, followed by an application of one of their targeted body serums with the body massage ending with a head and scalp massage. After your massage comes the iS Clinical SOS Facial, which begins with a consultation with one of the Velvære therapists to choose an option for your skin type and finishes with a Déesse Pro LED Therapy mask to stimulate facial cellular rejuvenation. The treatment price includes access to the Thermal Suite area with Hydrotherapy Pool and a post-treatment recline in the Relaxation room with iced tea.
'Apres Soleil', €190, velvaerespa.ie
6. BEST NEW HOLISTIC TREATMENT
Specially created by Carrie Cann, the spa manager at Spa Salveo at Knockranny House Hotel, the Harmony Ritual combines her favourite techniques and sequences of massage to for a head-to-toe intensive massage. The treatment is designed to ground the senses and uses unique techniques such as the Lomi Lomi Hawaiian wave, and Chinese tui na. Avail of one of the ten treatment rooms where you get a one-on-one consultation with your therapist to identify which Kerstin Florian Body oil (lavender, grapefruit or Neroli) will best suit your needs. Starting at the feet, the treatment begins by breathing in your chosen oil, whilst your therapist uses the Kerstin Florian energy balancing ritual to relax and soothe you as well as to open the lymphatic system. The massage starts on the leg to the glute, using the Hawaiian wave, followed by the Hawaiian effleurage massage technique which starts at the tips of your toes to the tips of your fingers. The treatment concludes with a pressure point face and scalp massage using either Kerstin Florian Neroli facial oil for hydration or Kerstin Florian anti-stress oil for rejuvenation. To top it off, a herbal tea is chosen based on the oil used during the massage to rebalance you.
Harmony Ritual at Spa Salveo, €155 for 90 minutes. knockrannyhousehotel.ie
7. BEST NEW INNOVATIVE BRAND
Joining a number of exclusive hotels including Nobu Hotel in London and Equinox Hotel in New York, The Montenotte Hotel's Bellevue Spa is the first hotel spa in Ireland to partner with Grown Alchemist, the Australian skincare brand that specialises in scientific formulas and natural ingredients. The Montenotte's in-house Bellevue Spa – available for local residents, hotel and day guests – already has a list of body and holistic reiki treatments which Grown Alchemist facial therapies and massage treatments have been added to. Known for its three-phase system of cleanse, detox and activate, Grown Alchemist's products focus on the skin cell function with treatment highlights including the Body Release Massage, a release and rebalance full-body treatment that stimulates lymphatic drainage, improves posture and flexibility with added detoxification, as well as the Urban De-Stress therapy which includes a system of soothing and pressure point massages, lymphatic stimulation, and myofascial release. Facials feature the Regenerator, an anti-ageing, customised treatment based on individual concerns, as well as the strength-boosting Defence, a revitalising and reenergising facial that uses energising massage movements to improve the skin's natural defence. themontenottehotel.com
8. BEST NEW BOUTIQUE SPA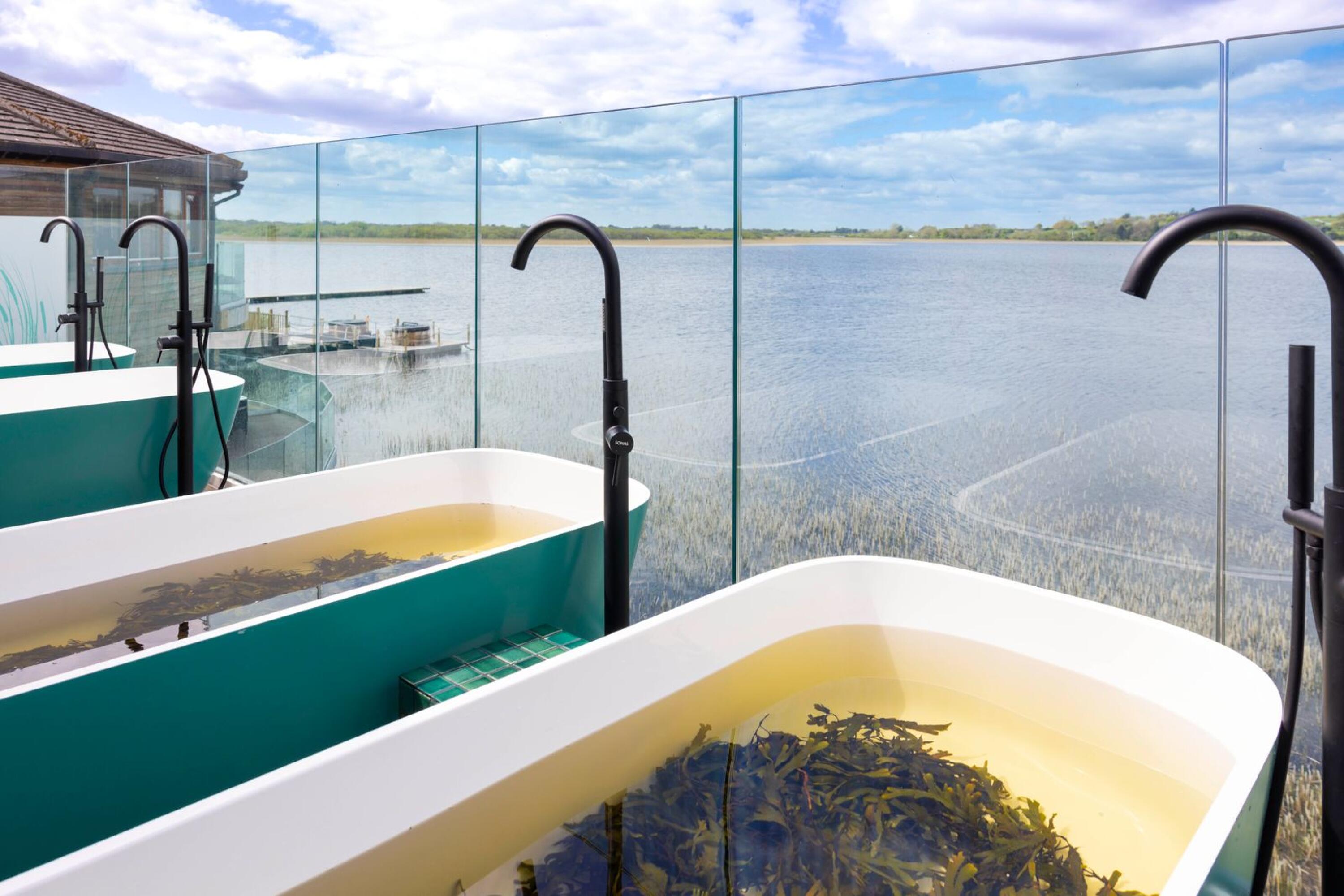 Built over two floors, the Cedar Spa at Wineport may be small but it is perfectly formed. The lower floor houses an infinity pool where the water is so close you can almost reach out and touch it with shoulder massaging jets and lounging seats, this 35-degree pool is almost unique in its aspect in terms of the Irish spa experience. On the lower floor, you find recliner beds in the relaxation room in front of full-length windows, which open up completely on warmer days. Up on the next level, four outdoor seaweed baths are lined up on an open balcony, with full views of the lake. Here you can enjoy the deep tubs, filled with piping-hot water and organic, hand-harvested seaweed, courtesy of Voya, and the Atlantic Ocean. If seaweed isn't your thing, warmed spiced mud and relaxing aromatherapy oils are also on offer. On the same level, you'll find a mani-pedi space, and then treatment cabins beyond. The treatments on offer include Swedish and hot stone massage and a range of specialised facials using either Voya or the French brand Yon-Ka while out on the lake itself, there is a floating pontoon which is home to two hot tubs, with each soak inclusive of a glass of prosecco (with a non-alcoholic sparkling wine available) and is definitely worth the trip when you are blessed with clear skies and a full view of the sunset.
Seaweed baths cost €55, hot tubs cost €25pp and treatments start from €60. wineport.ie
9. BEST ORIGINAL TREATMENT
Inspired by ancient Irish heritage, The Heart of Ireland treatment at Aqua Sana Spa at Center Parcs at Longford Forest aligns the power of touch and the healing properties of quartz crystal with the detoxifying and naturally hydrating benefits of hand-harvested wild Atlantic seaweed. Starting with an exfoliating facial massage and cleansing seaweed mask, this is followed by a calming foot ritual and seaweed wrap for the feet, and finishing with a scalp massage to release any tension or stress. As part of the treatment, during the day you can enjoy exclusive use of the Forest Spa and explore the sensory spa experiences which are many, from hot to cold, herbal to meditative.
The Heart of Ireland treatment at Aqua Sana Spa, €159 for 90 minutes, aquasana.ie
10. BEST ALL-ROUNDER FOR REBALANCING
Using aromatherapy oils, VOYA's Spring Tides Face & Body Ritual at Ice House Hotel & Spa was created to particularly support those experiencing menopause or a period of stress and anxiety. Starting with a grounding foot reflex massage, this treatment also includes a specially created tummy massage aimed at easing bloating and aiding digestion. There is also a back massage with the treatment finishing with a hydrating facial to cool and calm skin, topped off with a scalp massage.
VOYA Spring Tides Face & Body, €140 for 75mins. icehousehotel.ie