Trends
How to do quiet luxury for summer
Gwyneth Paltrow's 'stealth wealth' has stripped the gloss off anything as in-your-face as summer's hotly-tipped neon. So as temperatures rise, how do you channel this year's sleeper trend?
If Gwyneth Paltrow's infamous ski trial was running in tandem this month with season two of And Just Like That...,which leading lady's wardrobe would win social media supremacy: Paltrow's 'quiet luxury' or Carrie Bradshaw's bold eclecticism?
Despite a post-fashion-month buzz in March that fizzed over the prospect of silver metallics, painterly prints and acid green for the spring-summer season, Paltrow's 'stealth wealth' or 'billionaire chic' has stripped the gloss off anything as in-your-face as neon.
Instead, the 50-year-old's khaki and ecru ensembles have garnered her more respect than her 1998 Oscar win and initiated a fashion 'moment' of some magnitude. This was perceived as the actor-turned-entrepreneur's finest performance, with the multi-millionaires "courtcore" style – as The New York Times dubbed it – generating more online attention than her often aspirational wellness ideas.
But April is a slow fashion month: the shows are over and so is awards season. It's transitional fashion territory. Was Paltrow's perfect cocktail of pared-back power pieces just a one-month wonder, or is quiet luxury now the only trend you need to pay attention to this summer?
Paltrow didn't pioneer this elevated but understated look. Sienna Miller's character, Sophie Whitehouse, in Anatomy of a Scandal had 'courtcore' nailed last year, and Sarah Snook's alter ego, Shiv Roy, of Succession fame, had viewers marvelling at her polished sophistication long before Paltrow took to the stand two months ago.
All three women are a vision of how less can look like so much more. The common denominator in all three wardrobes is a simple combination of quality and cut and this winning formula defined many of the spring-summer shows this year, especially in New York, where Irish journalist Freya Drohan, who has lived there for eight years and is fashion director of the print and digital publication, Daily Front Row, says quiet luxury is the anchor of most New York women's wardrobes.
"From what I see, 'quiet luxury' items, such as strong coats and boots that can take you any place, wear-with-anything handbags and great-fitting jeans or trousers, have been, and continue to be, the holy grail for most busy New York women." For anybody travelling to the fashion capital this summer, Drohan advises: "Never look like you're trying too hard." The vibe, she explains, is "cool, casual, yet sharp" – the epitome of Paltrow's perfectly pitched cashmere sweater and chic pants aesthetic.
On the catwalk, Tory Burch's streamlined looks captured beautifully the mood of stealth wealth. Unfussy but interesting, pared-back but provocative, the collection reflected the designer's desire to give women freedom of movement, and it's anchored around specially developed stretch fabrics. "The city is much more about speed and efficiency," explains Drohan, "and that feeds into what people wear. I think most New Yorkers' wardrobes are rooted in practicality."
Tibi's spring-summer show, meanwhile, was heralded by the opening verse of singer Peggy Lee's version of 'Is That All There Is?' – an appropriate introduction to a collection that went all out to deliver pared back.
Silhouettes were clean, tailoring precise, but with the same nonchalance with which Paltrow breezed through that Utah court. She exuded a firm 'there's nothing to see here' vibe, yet we couldn't keep our eyes off her daily serving of refined separates, which added up to so much more than the sum of their parts.
Similarly, Tibi's played-down perfection was enthralling. Blazers, shirt-dresses, simple knits and perfectly cut pants were the cornerstone of the collection. Colour was present, but black was omnipresent, something Drohan has particularly noticed this season.
"It's all about black, black, black, and dramatic textures of black, which have a subtle sexiness to them – call it 'quiet luxury, after dark' if you will." Khaite exemplified this zeitgeist with a roll-out of strong but restrained pieces. The look was super-polished but with attitude. Quiet luxury is as much about a mood as an aesthetic, after all – think Paltrow's imperious, but not haughty, expression when she was being cross-examined.
Milan, Paris and London also made stealth wealth statements. Jil Sander, Miu Miu, Bottega Veneta and Hermès, among others, demonstrated what Daniel Lee of Bottega Veneta once described as "a timeless elegance, an almost quiet confidence, which I think is the opposite to all the noise we see around us".
Even Carrie Bradshaw nodded to the already slow-burning trend toward quiet luxury last year in the initial outing of And Just Like That... "I thought it was interesting that one of Carrie's standout looks from that first season – the outfit that had everyone talking – was the burgundy Tom Ford for Gucci suit she wore to a picnic in the park with Charlotte and Miranda," remarks Drohan.
"It's the kind of 'if you know, you know' piece a longtime fashion maven who's now matured would still reach for to feel her best self," she adds. The Dublin native believes that since leaving home almost a decade ago, there's been a noticeable evolution in Irish women's style – "the ante has definitely been upped in Dublin," she admits.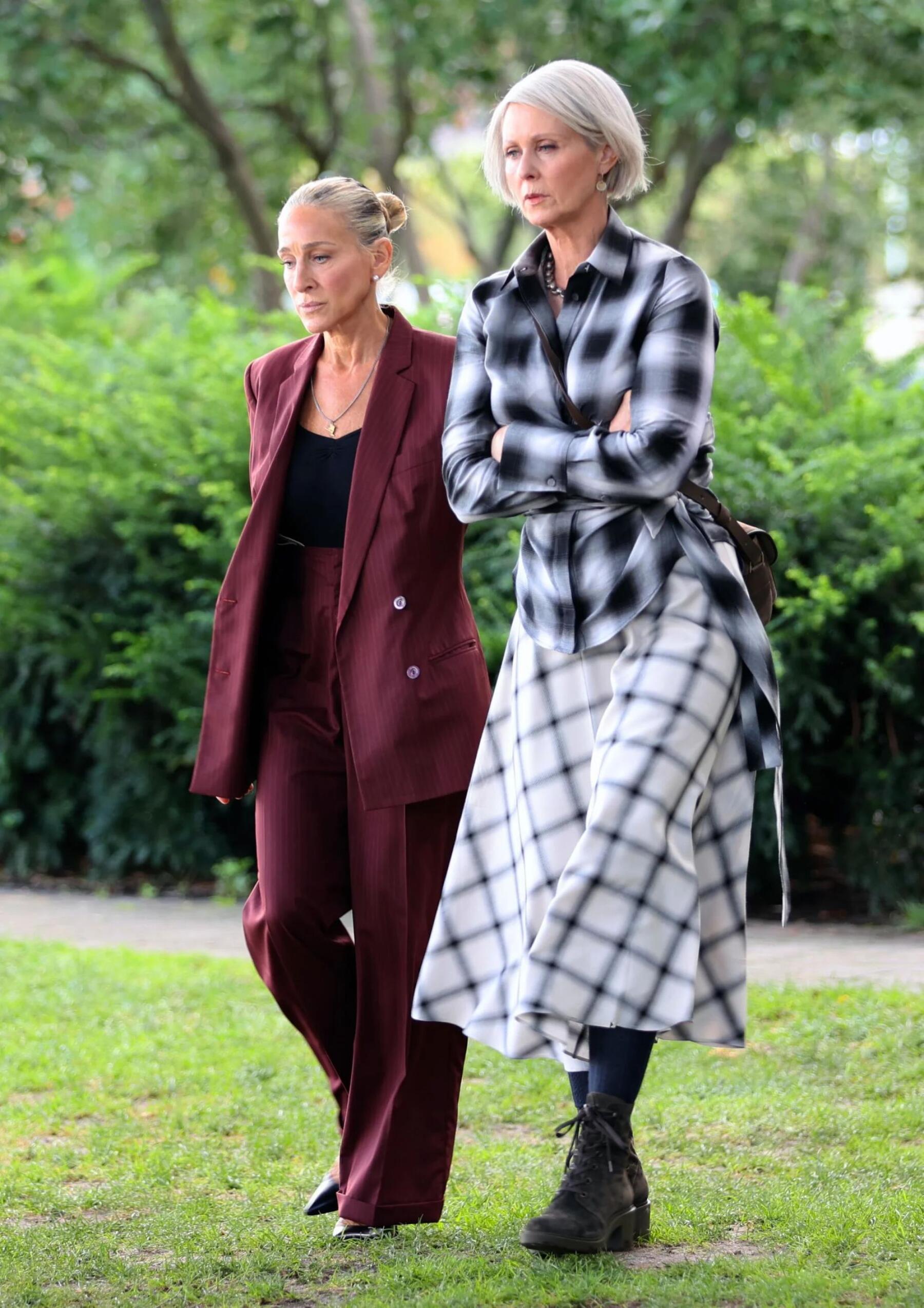 This is in part due to slow fashion designers such as Aoife Rooney, who focus on quality, sustainability, and wearability rather than fashion trends or Instagram fads, giving Irish women who are keen to buy local direct access to a curated edit of quiet luxury pieces.
The cost of Paltrow's daily outfits sat somewhere in the region of €3,000, with the exception of day one when she arrived at court wearing a moss green coat by the Row which by itself cost just under €4,500 – other labels included Celine, Prada and Lorna Piano.
Given that quiet luxury is built upon quality, it's tricky to recreate on a high-street budget, so designers like Rooney are providing a pricey but not prohibitively expensive offering, translating quiet luxury from a generic catwalk term into something tangible with a uniquely Irish identity.
The designer explains: "It was important that our ready-to-wear collection championed luxury Irish heritage fabrics and local communities, utilising both to create immaculately cut tailoring in an authentic Irish colour palette."
Any one of these pieces would sit seamlessly in Sophie Whitehouse's wardrobe: an impeccably tailored structured knife pleat skirt, but in Celtic-complexion-friendly shades of chocolate brown and earthy emerald blue; a subtly sumptuous collared shirt; a ruched midi dress in molten shades that caresses the body as butter does toast.
What distinguishes this quintessentially Irish iteration of quiet luxury is that it's less benign than Paltrow's under-the-radar ensembles, and easier to wear, because streamlined separates in a muted palette are by no means a foolproof approach to great style. Without the correct balance of texture, shade and shape, quiet luxury can look as lavish as lumpy porridge. Like winged eyeliner and contouring, it's only simple when you know how.
Rooney's collection, however, has just enough personality to distinguish it from the ubiquitous global brands pedalling stealth wealth, but it offers the same sartorial discretion.
There are no tricks required to don these pieces – no clever calculation of ivory to ecru ratios, or expensive alterations to ensure the fit is as exacting as the aesthetic demands. Rooney's pieces do all the work for you.
She says of the collection: "These investment pieces will work with your current wardrobe and seamlessly blend with each other. Nothing is overstated. There are no large logos. Instead, we mindfully think about the real-life needs of our customers because we want to make their lives easier and more comfortable. We are designing for longevity."
The Kildare-based designer's background in architecture has informed her approach to fashion design. "I design clothes the same way I would a building; with lines, textures, colours, movement, structure, strength, longevity and functionality."
She explains that the inspiration behind the collection was "to show women as strong, victorious, feminine, beautiful and not to be messed with." This is certainly the attitude Paltrow was harnessing with her soft and tactile tailoring.
One of the most quietly luxurious aspects of Rooney's collection – and the one which many global brands can't lay claim to – is its circular model. Owning an ethical wardrobe is the height of good taste and understated opulence these days.
If you're struggling to visualise how Paltrow's courtroom style can translate into a warm-weather aesthetic, begin with breathable linens, fine-knit cashmere, organic cotton and recycled fabrics.
Irish labels such as Castanea, Kindred of Ireland, Colin Burke, Stable of Ireland and The Landskein have all succeeded in creating a distinctly Irish but authentic brand of quiet luxury. Kindred's Balloon Puff skirt – in the spirit of Khaite's bubble skirts, which trended on social media for a week after debuting on a New York runway – paired with one of Castanea's very fine knit cashmere crewnecks exudes a chic and discreet sophistication.
Quiet luxury is a head-to-toe commitment though, so think about investing in something like New York-based, Irish designer Eileen Shields' exquisite leather ballet flats, which are handcrafted in Tuscany. These aren't summer shoes, they're seasonless staples.
We're prone to associate summer style with vibrant colours and bold prints, perhaps because of the unapologetic euphoria that hits when temperatures rise above 18 degrees in Ireland.
Can quiet luxury's inconspicuous aesthetic satiate our need for a sartorial celebration during those few precious weeks the sun comes out and stays out? Well, if silence is golden, we'll all look positively radiant in this subdued new non-trend trend, while living vicariously through Carrie Bradshaw of course.
Shop the edit