Partner Content
Hermès horology and 1940s diamonds: these are the fine jewels and gems worth the investment at Dublin's next auction
Ahead of Adam's Auctioneers' upcoming fine jewellery and watches auction on May 16, Director Claire-Laurence Mestrallet gives an insider's guide to the key pieces going under the hammer
Three times a year, Claire-Laurence Mestrallet examines and values hundreds of fine jewels and rare gems from consignees, for potential sale in Adam's Auctioneers Fine Jewellery and Watches auctions.
The head of Adam's jewellery and watches department, and a director of the Dublin-based auctioneers, Mestrallet ensures that the final pick of jewellery to go under the hammer is the finest mix of antique and contemporary pieces.
And she is well placed to guarantee this: having begun her career with Christie's in New York and Geneva, and later moving to Bonhams in London and valuing pieces for auctions in countless European cities, her expansive network brings an impressive continental mix to each Dublin auction.
But her objective has always been to dispel the common misconceptions about auctions, namely that they are exclusive, intimidating experiences, reserved for the rarified few.
"People think auctions are intimidating, so I really try to make myself as approachable as possible, so that people understand I can advise them. They can come and just learn about the jewellery, it's open to everybody," Mestrallet previously told Irish Tatler.
Another common misunderstanding, according to Mestrallet, is that auctions are expensive. The opposite is true; items are often valued and sold for almost half of their retail price.
And while Adam's may be a smaller auction house than those in the UK or New York, its established reputation and a knowledge bank spanning decades – it has been in business in Stephen's Green since 1887 – makes it an Irish leader recognised in an international market.
At Adam's next Fine Jewellery and Watches auction, on May 16 at 4pm in store, you can expect the same premium offering, favourable prices, and experts on hand appeal. Below, Mestrallet gives an insider's guide to the key pieces you can expect at the auction.
1. An important diamond bracelet, circa 1940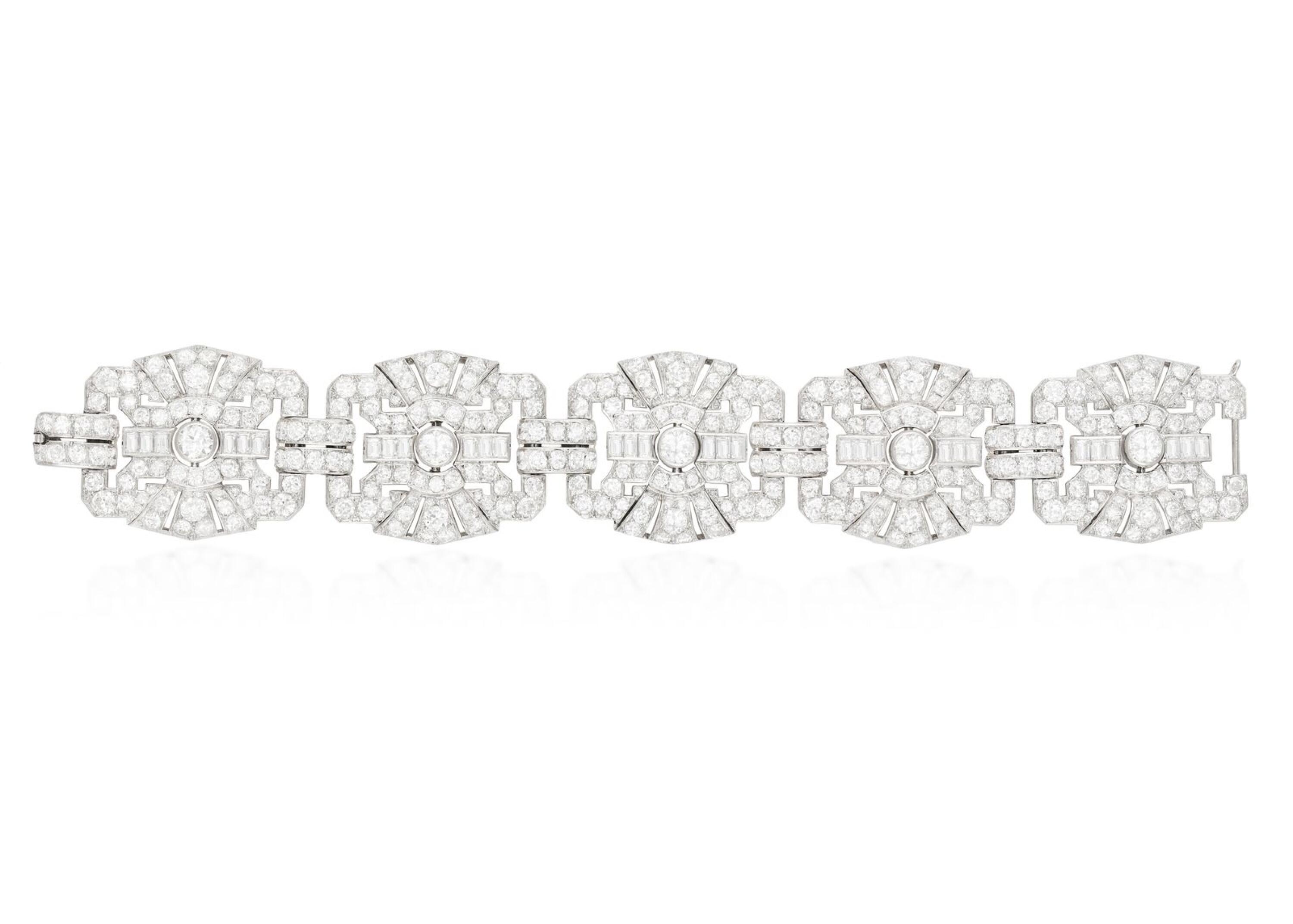 This bracelet is designed as a series of five openwork geometric links. It is set with European and baguette-cut diamonds between European-cut diamond connectors, and it is mounted in platinum and 18k gold with diamonds of approximately 25.00cts in total.
Estimate: €8,000 - €10,000
2. A diamond single-stone ring, by graff, 2018
The brilliant-cut diamond of this ring weighs 2.09cts. It is mount pavé-set with brilliant-cut diamonds throughout, and it is mounted in 18k gold. The remaining diamonds are 1.11ct in total, and it is signed by Graff, with a maker's case and outer box. It is accompanied with the original invoice from Graff Diamonds in Geneva. It retailed for €50,000 in 2018.
Estimate: €15,000 - €20,000
3. A fine diamond bracelet, by Kutchinsky, 1967
The articulated strap of this bracelet is set with brilliant-cut diamonds between textured gold borders with foliate detailing. It is mounted in 18k gold and diamonds of approximately 6.00cts in total. It has the maker's mark for Kutchinsky, the English hallmarks for London 1967.
Estimate: €8,000 - €12,000
4. A sapphire and diamond dress ring
The oval-shaped sapphire in this ring weighs 13.38cts, and it is placed within a four-claw setting that is accented with brilliant-cut diamonds. The baguette-cut diamond shoulders are mounted in 18k gold, while the remaining diamonds are approximately 1.20ct in total. The ring is accompanied by a gemmological laboratory report stating that the sapphire is natural and has not been treated.
Estimate: €18,000 - €22,000
5. A cultured pearl torsade necklace with diamond clasp, by Jean Schlumberger, circa 1960
This torsade necklace is composed of twenty-eight strands of cultured seed pearls measuring approximately 3.17 to 2.31mm. The clasp of bombé design is set throughout with brilliant-cut diamonds and gold lace detailing. It is mounted in platinum and 18k gold, and the diamonds are approximately 5.50cts in total. It is signed by Schlumberger.
Estimate: €12,000 - €18,000
6. A stainless steel Arceau, Le Temps Voyageur wristwatch, by Hermès, 2022
Retail price new: €21,000
Estimate: €8,000 - €12,000
Adam's Fine Jewellery and Watches auction takes place on Tuesday May 16 at 4pm in store on 26 St Stephen's Green, Dublin 2. For more information, contact the store by phone on 01 676 0261 or email jewellery@adams.ie. You can follow the Adam's jewellery & watch department on Instagram: clm_adams_auctioneers