Partner Content
Fashion journalist Sarah Macken on subverting get-dressed expectations and the colours that bring her joy this summer
Macken's days are spent covering the freshest fashion trends and attending the latest launches. She lives by the sea in Monkstown County Dublin with her husband and Ragdoll cat, Bert. Her style has a laid-back yet polished Gallic feel: "It's all about that zing of something unexpected."
I'm most at ease in an outfit that nods to the high-low way of dressing. The result is that I often tend to be underdressed for a big occasion and overdressed for an everyday occasion: maybe one day my wardrobe will be more in balance, but for now, it's a way of dressing that I enjoy.
Slim-flare jeans, a romantic blouse, and a pair of classic leather clogs is my go-to look at the minute. I'll trade the blouse for a crew neck jumper and the clogs for Birkenstocks if I'm looking to be a bit more relaxed.
I like to upend get-dressed expectations and wear a slick of red lipstick with a casual jumper, or undone hair with a voluminous midi-dress: it's all about that zing of something unexpected.
A typical day for me is a mix of writing, going to meetings, or attending fashion launches, so I crave clothing that's easy to wear but makes me feel like my best self. Flat shoes are key for dashing around town.
The days spent at my desk writing for deadlines involve a significant amount of loungewear. I have been trying to upgrade my at-home pieces to feel a bit more plush. I recently invested in navy leggings by Sweaty Betty and a matching bodysuit which, I like to think, is the kind of item a salubrious French woman would wear to ballet barre.
The stores at Kildare Village that best chime with my style include Claudie Pierlot, which is perfect for that undone Gallic girl-about-town look. (Though I wish I was wearing the pieces on a trip to the Musée Rodin or Monet's garden at Giverny.) American Vintage satisfies the flip-part of my style personality: laid-back, polished essentials like great denim and easy-to-wear jumpers made for slouching. BA&SH is elegant and polished, and satisfies the part of me that wants to dress like a grown-up (albeit a voguish one!).
I find I buy less impulsively with each year that passes. 'Wardrobe staples' is almost a hackneyed phrase at this point, however, there is truth in having those few pieces that anchor your wardrobe each season – but they don't have to be boring. My version of a spring staple has been a multi-coloured print quilted cropped jacket or a pair of loafers in shocking tomato orange.
I try to restrict impulse buys purely to those pieces that grab you because they are so perfectly part of your aesthetic – in other words, so 'you' – rather than unrealistic to your look or lifestyle – it's more mindful.
I got my colours analysed recently and one of the shades that warms my skin tone is lilac, and it was a lilac linen suit by Claudie Pierlot that I wore for the shoot. I gravitated towards the colour immediately. I styled it so that it was a little more undone – I tied the belt at the back but kept it loose, giving the blazer a boxy shape which feels current for now. For shoes, I went for a pair of patent LK Bennett heels with a horsebit detail on the toe, they remind me of 1970s Gucci – it was love at first sight.
This summer, I'll be reaching for the knitwear at American Vintage which stocks pastel shades of purple that are soft but sophisticated. Furla has a lipstick-red leather bucket bag that would pair beautifully with a Breton top and light-wash jeans. LK Bennett is a go-to for classic tea dresses and I currently have my eye on a mustard one with an XL collar.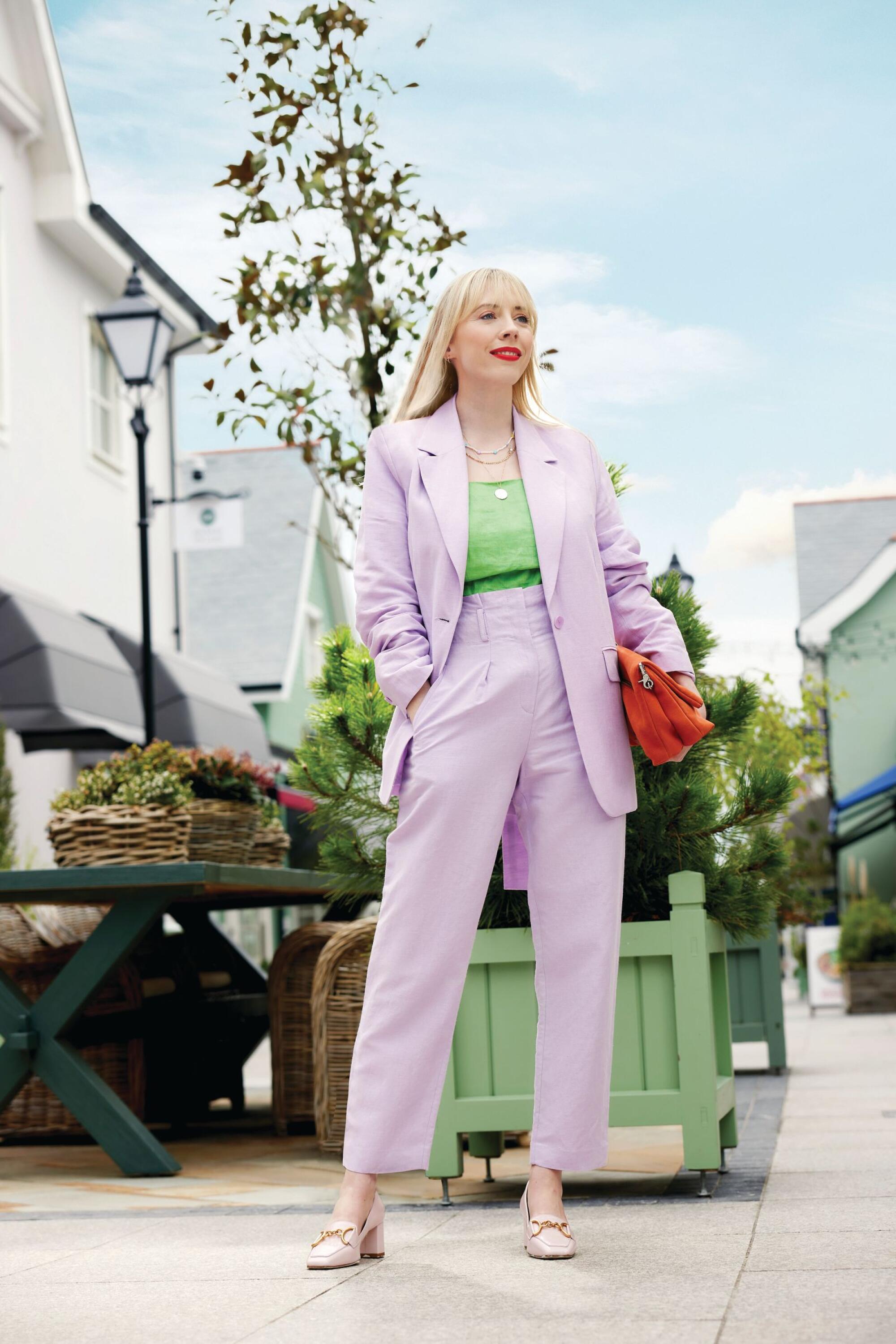 The idea of wearing 'too much colour' is entirely subjective: I would advise everyone to know their boundaries. For some, a swirl of magenta, ochre, and hot tangerine is only the tip of the iceberg. For others (like myself) I like to clash two statement colours – it's just the right side of maximal for my liking.
On my wishlist for event dressing this summer, is a pair of LK Bennett's wedge espadrilles, which are a perfect nod to dolce vita dressing. I'll wear mine with straight-leg jeans and a puff-shoulder blouse. I dream of a pussy-bow blouse that's meticulously crafted in Irish linen by Linen Shirt Company (get it at Curated by Design Centre). And I'm looking forward to checking out Emma By Jane's new pop-up, her delicate jewellery is the final flourish to a dressy look for a wedding or big event.
Gaining access to incredible brands at excellent prices in Kildare Village will never not appeal. I don't agree with the idea of only liking something because it's 'in season' – if you are comfortable with your sense of style then you will gravitate towards the same things – shapes, hues, tailoring – year after year.
Hopefully, as fashion becomes increasingly democratised, thanks to social media and the amount of inspiration we have at our fingertips, we will step into the idea of consuming less and investing in those pieces that will perennially appeal.
Sarah Macken discovered the thrill of the new at Kildare Village, which is home to more than 100 boutiques of the world's most exciting designers. Discover luxury shopping, exquisite eateries, and five star guest services including hands-free shopping, virtual shopping, and reserved parking.
Now is the perfect time to embrace colour at Kildare Village. With the Perfect Palette experience at Kildare Village you can enjoy a 45 minute consultation with a Kildare Village Style Expert, and discover the colours you should wear to take your style to the next level. Consultations are priced at €100 per person; to arrange your appointment phone 01 453 4930 or simply email PersonalShopping@KildareVillage.com
See www.thebicestercollection.com to explore the latest offers from iconic designer brands at Kildare Village and to plan your visit: fashion, food, and five star services, all less than an hour from Dublin.
Kildare Village, Nurney Road, Kildare Town, Co. Kildare, Ireland. Eircode: R51 R265