Fashion News
Celine's iconic Ava bag gets a new season style update
The Ava Triomphe is the latest iteration of Celine's original crescent-shaped Ava shoulder bag and is part of the brand's autumn 2023 collection
Celine's coveted Ava handbag – the one you've seen slung over the shoulders of celebrities like Kaia Gerber – now comes in a fresh new style for the new season ahead.
The Ava Triomphe is the latest iteration of the brand's original crescent-shaped Ava shoulder bag and is part of the French fashion house's autumn 2023 collection. In keeping with the original design, a simple structure and clean lines with minimalist hardware characterises the style, while its embrace of Celine's iconic Triomphe monogram on the bag's flap defines the decoration.
The Ava style was relaunched in 2020 as part of the brand's Triomphe Canvas Collection spearheaded by creative director Hedi Slimane.
Slimane dug into the archives of the couture house's historic monogram– a link motif inspired by the chain encircling the Arc de Triomphe – which first debuted in 1972. The Triomphe Canvas Collection is a re-imagination of the emblem, and has been a staple collection of Slimane's direction at Celine.
The latest Ava Triomphe comes in black, tan, and a monogram-printed option, and is crafted from soft leather, suede lining, gold finishings, and a magnetic closure flap. It retails for €2,000 – coming in more expensive than the original Ava bag at €1,300.
Since its launch, it has been shown off by South Korean band BLACKPINK star Lisa Manohban, who has represented the fashion house as a global ambassador since 2020. The campaign shoot is fronted by French actress Suzanne Lindon.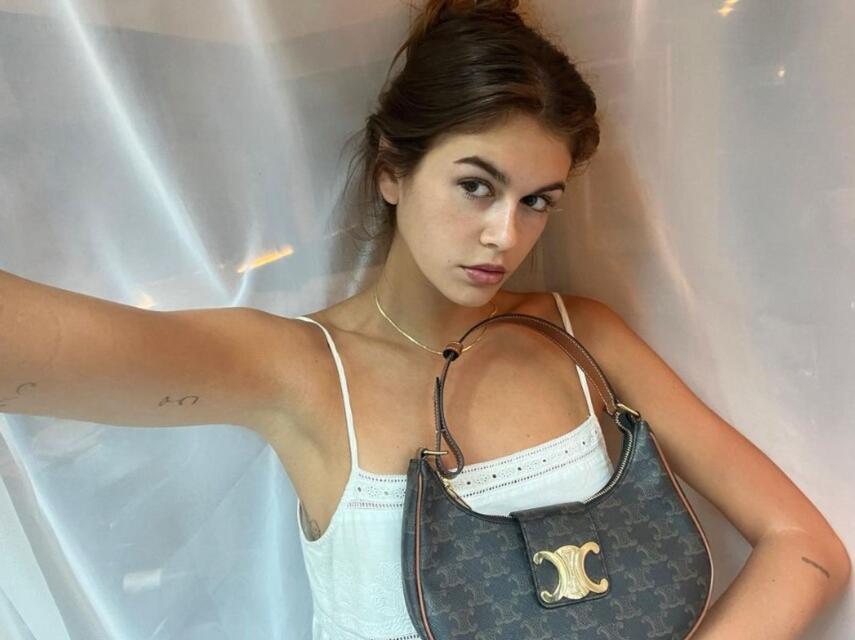 Kaia Gerber followed in Manohban's footsteps in a recent Instagram post promoting the bag's launch. Gerber has regularly fronted Celine's season campaigns (including its latest winter campaign) and modelled for its runway shows.
The brand's partnerships with Gen Z favourites like Gerber comes at a time when Slimane has doubled down on the younger market in recent collections in response to their interest in the luxury house.
You can shop the new Celine Ava Triomphe bag online at celine.com.