Sponsored
Platinum winner McAree Engineering keeps the family business thriving
From making a feed silo for a local college to employing 180 staff, the founding vision shaped through the generations still persists today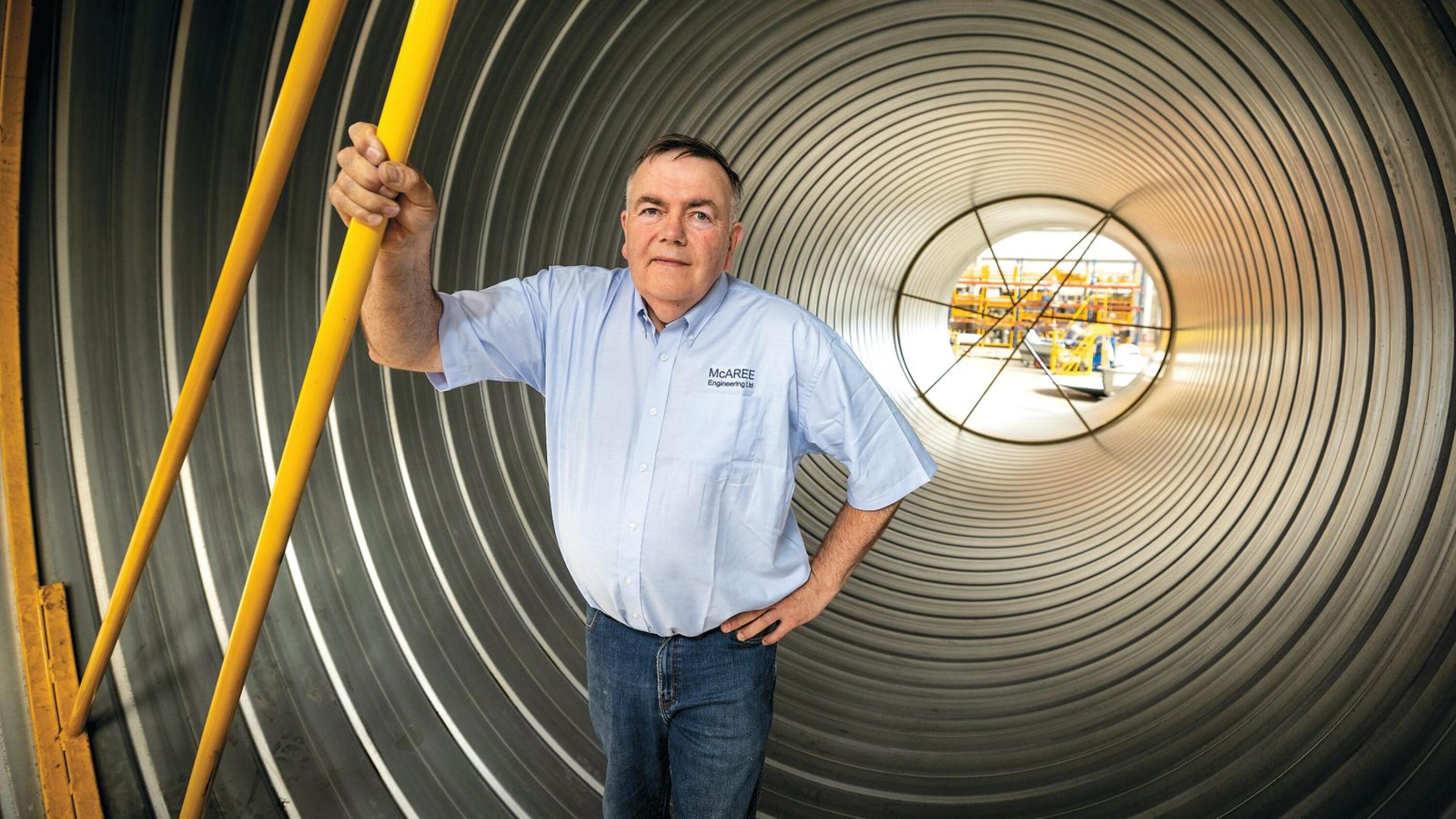 Started in 1946 by Vincent McAree, the engineering company bearing the name is still going strong today with son Brendan at the helm.
McAree Engineering Ltd began when its founder made a feed silo for the local agricultural college. It also began selling spare machine capacity, a first foray into sheet metal fabrication.
When Brendan McAree took over in 1999, he started to grow the business. Now the contract manager firm specialising in large fabrications has more than 180 staff across three factory units in north Monaghan and is a key supplier in the quarrying, screening and materials handling OEM sector. Offering a full service from design through to fabrication in Ireland and the UK, its projects division specialises in large scale, bespoke metal fabrication projects.
It is still very much a family business, with the next generation also holding senior positions and focusing on future success. It was this long-range thinking which led them to look at the Ireland's Best Managed Companies programme eight years ago, as they had already achieved ISC Certification and felt that the 'best managed' award would recognise what they were doing as a management team.
Programme benefits
"To be honest we found the initial certification process very thought provoking as we were being asked questions we hadn't really thought about, but needed to, so that was very beneficial," said McAree. "Since we became part of the programme, the company has expanded rapidly in a planned way, probably beyond our expectations.
"There are a number of benefits of the programme and we have availed of all the learning opportunities which come through the annual symposium. Every year, we send a cross-functional team to see what's going on and take back snippets of advice that we implement. It's always a great opportunity for our team to hear from leading and global experts about areas which matter to them.
"We also take a lot from the recertification process and always pick up advice from our advisers. Inevitably, the discussions we have are on areas that we haven't fully thought through or there are areas within our plans that we haven't fully considered. We always have a lot more clarity around these areas after our discussions."
McAree attributes the award to a "go-ahead" attitude and willingness to adapt.
Professional team
"I think that when the programme team got to us and saw that behind the factory wall in a rural part of north Monaghan was a business run by a very professional, enthusiastic team, they could see that we are a wee bit different," he said.
"We have a clear willingness to embrace change, to learn and make things happen – and the coaching team from Deloitte have seen that in action every year. It's the constant development and progression which brings us to the level of our peers.
"It's interesting to see that every year, more of our customers, suppliers and competitors are participating in the programme. This has been great for us because as we pitch for new business, alongside the usual ISO certifications we also highlight our Best Managed Companies certification. And more often than not, we end up having a conversation about it with prospective customers. We are seen as being part of an elite group."
Learning opportunity
According to the chief executive, participation in the BMC programme should be 'embraced as a learning opportunity', and he would encourage any other companies planning on getting involved to get as much out of it as they can.
"If you are participating just to get the designation, then you probably won't get a whole pile from the programme," he said. "Our team use it as a learning opportunity and consciously extract every drop we can from the symposium, network opportunities and the certification audit itself.
"We are very comfortable raising problems or concerns and having very open discussions about what the coaching team have seen before which may be of benefit to us — and we act on it."
'Heart transplant'
Over the past year, the business has been "pivoting further into the contract manufacturing sector and increasing the share of spend it gets from customers by supplying fully finished fabricated assemblies".
"This will continue with us dedicating more space and resources to make this happen," said McAree. "Our customer delight programme was further supported over the summer holidays as we have installed a new 6m, 12KW Trumpf 5060 laser which, along with a new Trumpf 5320 press brake, is increasing our capacity considerably.
"In addition to this, we have implemented an entire new layout to improve the flow of material through the factory – all designed to reduce lead times and improve the customer experience. Coinciding with this, we are implementing a new ERP system which will go live at the start of November. So, in many respects you could say we have completed a heart transplant in the business while keeping everything alive.
"We also have a large green agenda we want to get through over the next few months: reducing our carbon footprint by installing our own nitrogen-generating plant (which fuels our lasers); installing a solar farm on-site; and continuing to replace energy-hungry machines with more energy-efficient options.
"The next one on the list is our compressed air system, which will be replaced by the year end. There's also the small matter of a new surface preparation plant, so the change continues."