Beauty
The Treatment: The 'hair facial'
A recently opened salon is pioneering a new hair technique that is getting amazing results. It's part of a fresh approach to treatments and products by its owner Stephanie Maher.
"The Sober Colourist is a second chance," says Stephanie Maher, founder of one of the newest hair salons to open up in Dublin's inner south city. "It's the second part of my rebirth."
Maher, who previously had a successful salon, struggled with addiction throughout her 20s, which eventually took its toll on her business. While the first salon didn't survive, her drive did, and after getting sober just before Covid, she used the pandemic to reskill and plunged into online learning.
"I did colour chemistry, which literally goes right back to the foundation of understanding colour and I fell in love with hair again."
While working freelance Maher ended up one day on a shoot with Gareth Bromell, the Limerick-born session stylist to the stars. Bromell was looking for a colourist to head up his new salon at Harvey Nichols and so a great partnership began. "I was able to hone my skills there, and I learnt so much from him." Two and a half years later, she felt it was time to venture out again on her own.
And so the Sober Colourist was born, a salon on Dublin's Crumlin Road that might be far from the more traditional hairdressing streets of South William Street and the city centre, but nestled in an area that is rapidly changing. It wears its heart on its sleeve in terms of its connections to the community (Maher grew up nearby) but also brings something new.
"I wanted to open a shop where I'm from," Maher says, "and bring a premium experience. I wanted something authentic, and a space where people feel happy and taken care of."
With a floor-to-ceiling window, it is a completely open space flooded with natural light, full-length mirrors and modernist design touches. But its what's underneath that counts, and with Maher's direction, the salon has quickly gained a reputation for its modernist Steel Magnolias experience, part hairdressers, part feelgood therapy session.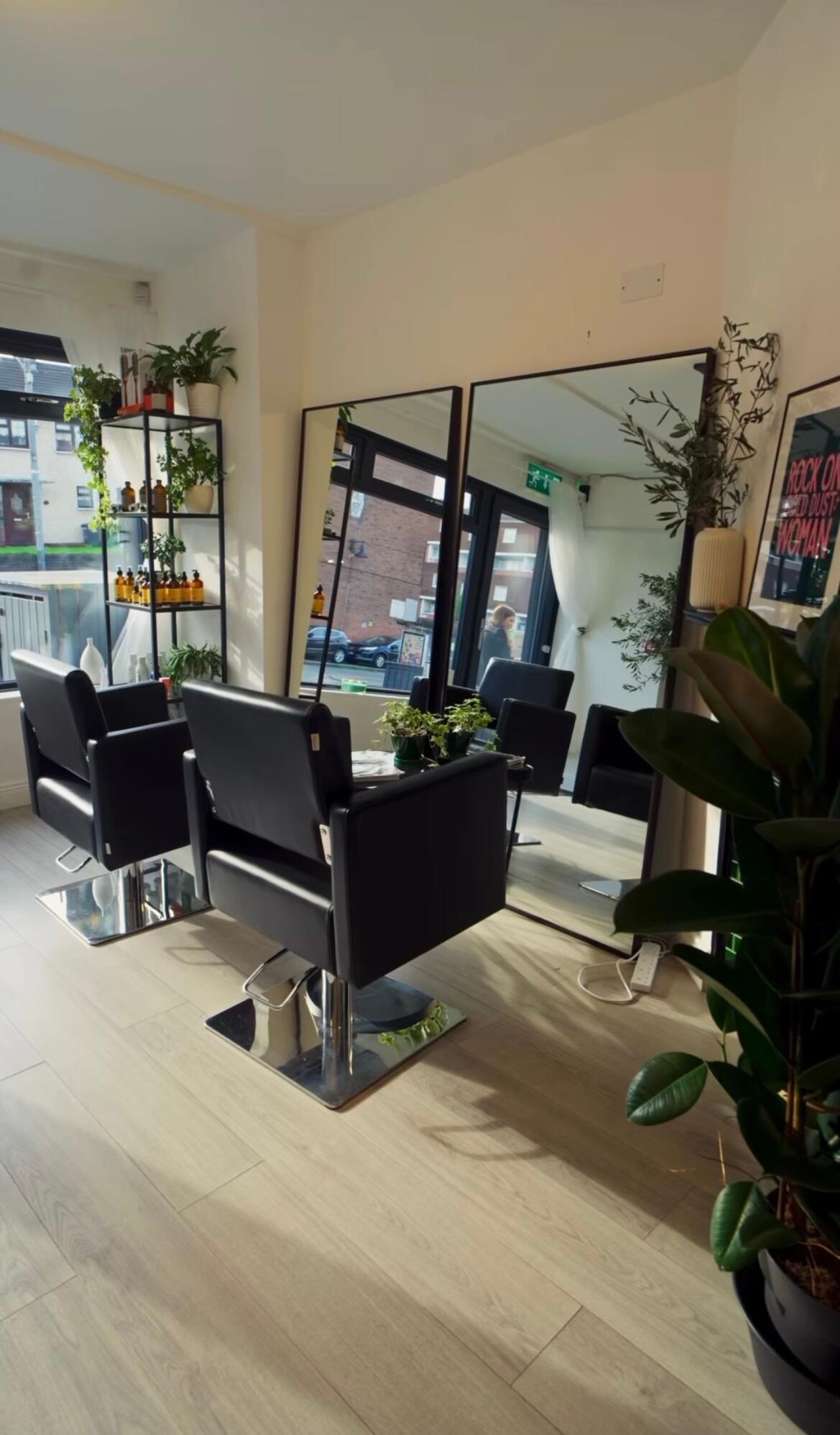 That said, don't let the naturally relaxed atmosphere that she's created at the Sober Colourist fool you into underestimating the talent at play. Maher has put in the hard yards of training and research, carefully choosing brands that match her sustainable ethos and premium approach. She uses the Redken colour range which she describes as constantly evolving, and a range that makes the difference between "lovely" and "wow". The haircare line is by Oway, an organic brand that uses natural products grown on the owner's farm in Italy. But it is her hair steaming process, borrowed from skincare techniques, that is becoming her secret sauce.
The process begins with each client being assessed for a particular treatment when they arrive (there are also more detailed colour consultations including a strand test which you can book in for). Once the treatment is chosen and applied, a steamer (the exact same kind as is used in facials) is applied to the hair.
"The steam oxygenates the hair," says Maher. "It detangles it and immediately improves elasticity in the cuticles. You also get enhanced product absorption from the steam, which then boosts the shine – it allows us to seal the shine in. It also improves the scalp's health by increasing blood circulation and opening up clogged pores."
You are treated to a head massage while the steam infuses and then essential oils are added to the water. "It is like a facial for the hair," says Maher, who credits black female stylists on TikTok for first sharing the benefits of hair steaming.
She is already attracting clients from all over the country, as well as some from as far as Singapore and says her training in new colour technologies like Living-in Colour has meant much longer-lasting results for them.
"You will only have to see me twice a year for that treatment. The colour grows off the hair seamlessly, and you work with the genuine colour to create something really natural." And while the "hair facial" is just part of everyone's treatment, she doesn't want clients to just come for a quick fix.
"I don't want people just to come in for blow-dry, I want them to come for the whole experience, the whole elevation, and to make them feel really really good."
The Sober Colourist, 28 Crumlin Road, Dublin 12, A06A, 353 87 470 3519. Hair steaming is complimentary with every treatment. thesobercolourist.ie