Luxury news
Sabato De Sarno's first Gucci show brings miniskirts, platform loafers and Paul Mescal to Milan
While a rainy day prompted the Italian luxury brand to switch its runway venue at last minute, VIPs in attendance included Kendall Jenner, Julia Roberts, Ryan Gosling and Paul Mescal
New creative director Sabato De Sarno's first Gucci show in Milan featured a fresh image for the brand, with models in chic, simple, yet revealing clothes with minimalist styling and impeccable tailoring—all under the gaze of Kendall Jenner in a much-anticipated event for the Italian label.
It came as a vast departure from the flowing fabrics and vibrant prints of his predecessor, Alessandro Michele.
For his debut show at Kering SA's biggest label on Sept. 22, the former director of men's and women's fashions at Valentino paired almost every model with a handbag, often in a mini size, with looks that included neatly shaped body-length jackets, shiny pale-blue and rich maroon skirts featuring a cut in the middle, and many many miniskirts and shorts, some of which carried the house's double G monogram. Actors Ryan Gosling, Julia Roberts and Paul Mescal were some of the 834 listed guests who sat in the front row, along with Kering Chief Executive Officer Francois-Henri Pinault.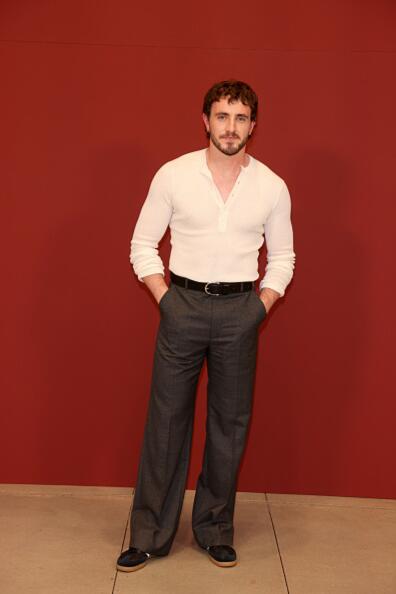 What could have been a baptism of fire turned into one of rain for De Sarno and his team when the weather prompted Gucci to switch the venue at the last minute from the artistic neighbourhood of Brera in central Milan to the brand's headquarters on the outskirts of the city. The dark, hangar-like venue was sober as models strutted to a soundtrack that included a soft electronic tune by Mark Ronson, who also attended.
After the show, a long line immediately formed to access the backstage as guests sought to pay their respect to De Sarno. Among them was Pierpaolo Piccioli, the Valentino Creative Director with whom De Sarno previously worked.
Pinault said he found the show "very very beautiful." The 61 year-old executive added that he was very "confident" in Gucci's future. A new designer's touch is "built over some time," he said, and the "climax won't come right away."
"It's sometimes the second or the third show that are even more important," Pinault added. Kering shares spiked as much as 4.2 per cent just after the show ended.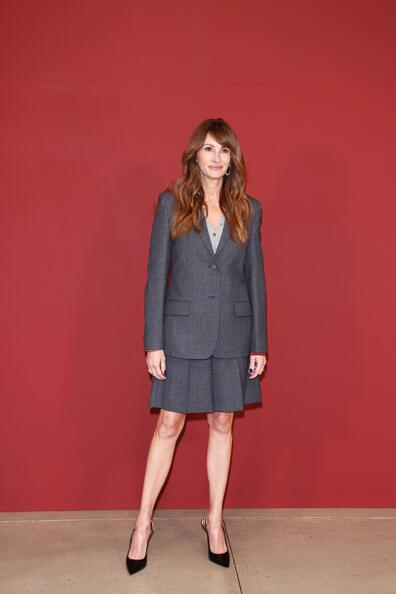 In the run-up, De Sarno moved to wipe all previous content from Gucci's Instagram account—with its more than 50 million followers—a not-uncommon move in the fashion world. Less than a week before the collection was unveiled, the label then posted a portrait of its new artistic director with a quote that highlighted his desire to make the world "fall in love with fashion ancora" (again), thanks to Gucci.
Before the collection's debut, billboards with Gucci ads popped up in cities worldwide featuring the words "Gucci" and "Ancora" over a Bordeaux-like red. Friday's collection will be available for purchase from mid-February, a company representative says. De Sarno's aesthetics will likely attract a "slightly older'" clientele and "command higher price points," Citigroup analyst Thomas Chauvet wrote in a note published after the show.
The stakes were high for De Sarno; Kering's largest brand has been struggling against such rivals as Louis Vuitton. The French label recently hired music star Pharrell Williams as its menswear designer, and his first show in June drew more than 1 billion views on social media, according to parent company LVMH Moet Hennessy Louis Vuitton SE.
Sales of Gucci in the first half of this year rose 1 per cent, lagging sister brands Yves Saint Laurent and Bottega Veneta, which are also part of Kering. LVMH doesn't break down performance by label—but its biggest unit, fashion and leather goods (which includes Louis Vuitton and Christian Dior), grew 20 per cent over that period.
"Gucci has been underperforming the market over the past few years as the brand has become less popular in key markets," Carole Madjo, analyst at Barclays Plc said ahead of the show. She expects De Sarno to "rejuvenate" the label, while the show "should provide Gucci with a clearer brand identity" after a transition phase following the departure in November of former chief designer Alessandro Michele, who was known for his bohemian-chic aesthetics.
Joining De Sarno in leading Gucci on the business side for a transitional period is Kering veteran Jean-Francois Palus, who has replaced former Gucci CEO Marco Bizzarri. The 102-year-old brand is crucial to Kering since it accounts for two thirds of operating income.
De Sarno's introductory collection comes at a moment of uncertainty for luxury demand worldwide. Amid concerns over economic growth prospects in China and the US, two crucial markets, Kering shares have dropped by 3.2 per cent so far this year, as of the end of trading on Sept. 22 in Paris.