watches
MB&F's €210,000 HM11 watch nods to radical modernist architecture
Designed like a four-room house, the €210,000 limited-edition timepiece features a flying tourbillon and a thermometer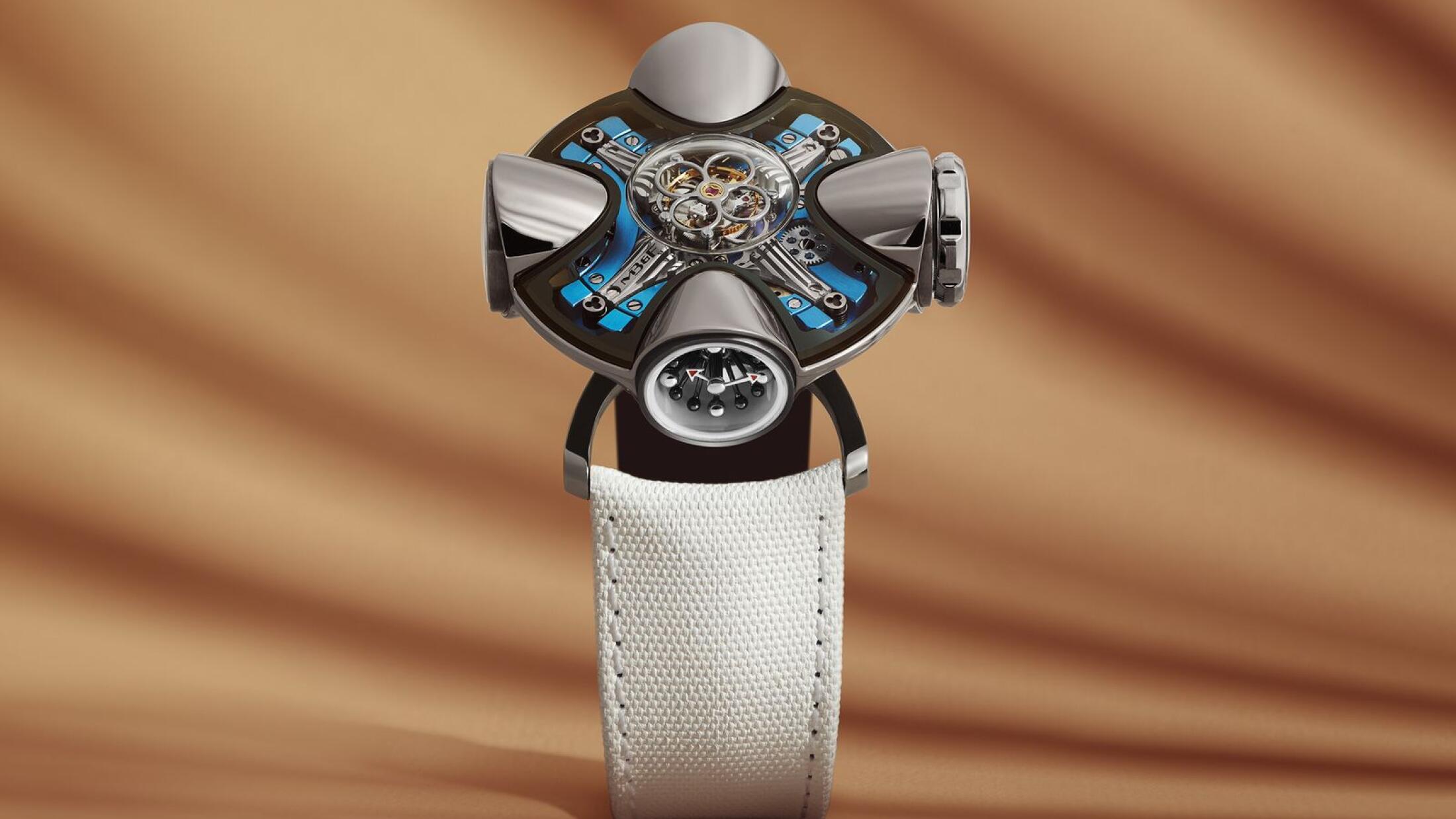 On 15 November, inventive Swiss luxury watchmaker MB&F debuted its Horological Machine No. 11, an avant-garde timepiece that is intended to evoke a four-bedroom house in the vein of the swooping modernist marvels designed by architects like Richard Neutra and Antti Lovag.
Nicknamed the "Architect," the HM11 is crafted from grade 5 titanium and is 42mm in diameter. It will be sold in two limited editions, one with a blue dial, another with red gold. Twenty-five pieces of each version will be produced and all models retail for €210,000.
The watch is round and features four conical "rooms" extending from a central flying tourbillon to the outer rim of the timepiece. Each room shows off a function when viewed from the side: in one, rod-mounted orbs and red-tipped arrows show the minutes and seconds; in another, the power reserve is displayed. A third room showcases a thermometer, an uncommon feature for a mechanical watch. And the fourth holds the watch's crown, which is used for adjusting the time.
Unlike with most mechanical watches, it isn't wound through the crown. Instead, the entire watch is twisted in its base to build up power.
Since the brand's 2005 founding by creator Maximillian Büsser, MB&F (short for Max Büsser and Friends) has released unconventional timepieces — some meant to be worn, others meant to be displayed — that depict time in unexpected ways. Beneath the sculptural shapes and science-fiction references informing these wrist watches and table clocks, MB&F uses engineering breakthroughs that have become favourites of high-spending collectors. Its watches regularly start above the €90,000 mark.
The HM11 is the eleventh in a series of Horological Machines, all of which feature radical shapes and novel methods of time-telling. The idea for the Architect began with a photograph, according to Büsser.
"Around 2017 I started delving into the creative architectural currents which emerged after the very utilitarian '50s and '60s buildings," Büsser says. "One day I fell upon a photo of a house in Boulder, Colorado designed by a famous architect, and for reasons I cannot explain, it immediately made me imagine a watch incorporating a central foyer and four different rooms each hosting a different function." From this jolt of inspiration, Büsser and MB&F collaborator Eric Giroud drafted a sketch. Five years later, the HM11 emerged.
To transform their sketch into a precise timepiece, Büsser tapped into MB&F's technical proficiency. "First, there's the movement with the vertical-powered flying tourbillon, an MB&F speciality, that sends information to the rooms through conical gears," he says. "Then, the incredible winding system, through the case, is so efficient that turning the case just 90 degrees from one dial to another will power the watch up for 2.5 hours." Finally, he adds, the case employs 19 gaskets, "that make this 3D sculpture of sapphire and titanium water-resistant."
2022 was a milestone year for MB&F, which brought in 28 million Swiss francs from the production of 350 timepieces.
For more, sign up to the Watch Club by Irish Tatler here and receive exclusive watch content, the Watch Club newsletter and first access to private events and previews.