Luxury Hotels
Immersive theatre comes to the Greek Islands at this luxury resort
The Light of Apollo production was an eight-month, €100,000 labour of love meant to separate Kalesma from the island's increasingly luxurious competition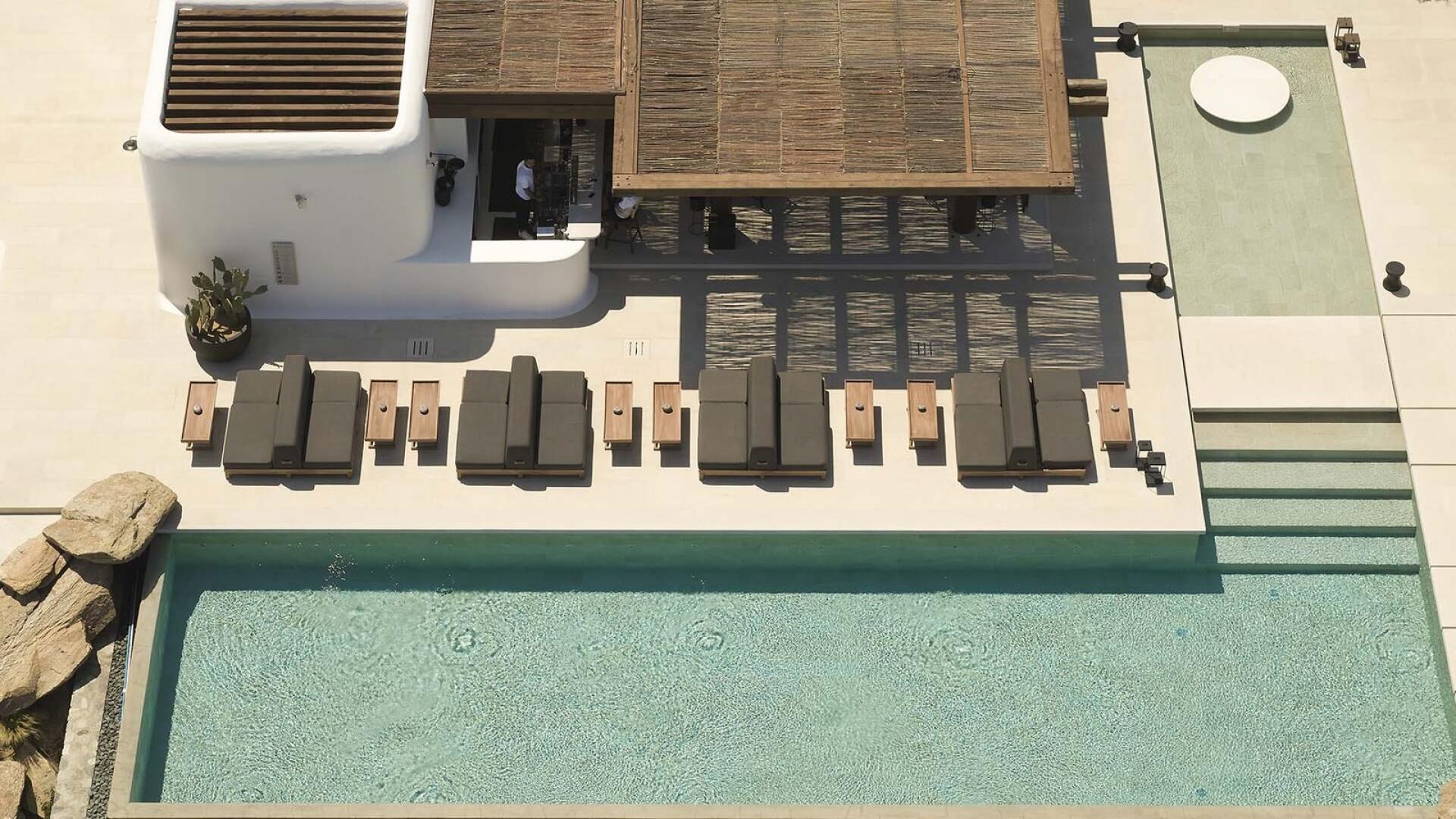 In Mykonos, the newest form of dinner theatre has nothing to do with people-watching in town. Nor does it take place fully at dinner.
The Light of Apollo is a new production co-created by Kalesma Mykonos, a boutique hotel whose 25 whitewashed suites typically command a rate of €2,000 per night. Think of it as Sleep No More meets the Greek gods—told in a two-act performance that surrounds (and involves) diners both at breakfast and dinner. The show stretches nearly three hours in total. It's produced in collaboration with Greek theatrical troupe Tracing Echoes and mostly performed through song and dance, with live voiceover narration in English.
While immersive theatre was valued as a $61 million industry in the US in 2019, this production isn't turning a clear profit. It's happening weekly through July at no charge for hotel guests or other diners who happen to book tables for Thursday at the Pere Ubu Restaurant, which serves Greek cuisine in an open-air courtyard at the resort's core.
Technically, says Sofia Kousathana, co-owner of the hotel, anyone can come see it—even if they aren't paying for accommodations or a meal.
For Kousathana, co-creating The Light of Apollo was an eight-month, €100,000 labour of love meant to separate Kalesma from the island's increasingly luxurious competition, draw guests into the resort's restaurants and engage travellers with local culture.
"They like the story, the mythology, the tradition," she says of her guests, who are 80 per cent from the US during the summer months and have started to look for experiences that go beyond the island's famous nightlife. "They want to know more about where we are."
Immersive theatre is still a pretty avant-garde concept for resorts, seen only in such places as Faena Miami Beach or the Times Square Edition, hotels with performance spaces that have at times hosted spectacular interactive productions. Kalesma's version is unique in doubling as an education in local culture and history.
The production centres on the story of Apollo—mythological god of light, poetry and music—with orchestrations inspired by traditional Greek songs and contemporary choreography referencing the pyrrhichios, a Greek military dance that originated in ancient times.
The first act, at breakfast, introduces various Greek gods including Apollo and his parents Zeus and his mistress Leto; Apollo's his twin sister Artemis; and Hera and Pythia. The performance meanders across the restaurant and adjacent pool deck.
In the second act, around sunset, guests are greeted with "nectar of the gods," a cocktail made with such island-grown ingredients as cucumber, rosemary and piney mastiha extract. They're also given tarot cards which figure in the action that unfolds.
The show aims to go beyond regurgitating facts that can be found online about Mykonos and Delos, where the gods' stories are set. "What you get is an experience connected to the old [ancient] Mykonos," Georgia Tsangaraki, the production's director, says, "so immediately, you connect yourself in another way with the island."
Kousathana says guests so far have been surprised and delighted—to use a hospitality industry catchphrase.
"I saw my guests are very emotionally touched with all these unexpected things that are happening in front of their eyes," she says, referring to highly visual parts of the production that involve sculpted horse headpieces and costumes that include ancient-looking Cycladic masks.
It may not be churning ticket sales, but it is generating buzz—and some dinner business—according to Kousathana. "The truth is that all the island speaks about the performance. It's very unique and different."
Next summer, The Light of Apollo will be back, and Kousathana sees a possibility of including it as part of the island's annual summer arts festival, which has events spanning from June into September. Success, she says, would mean giving even more islanders and visitors access to the production—with any benefit that comes to the hotel serving as icing on the (olive oil) cake.