Exclusive
Art of beauty: how two French icons created the collaboration of the season – and it launches today
The Lancome x Louvre Collection launches today in Brown Thomas – and it's a rare collaboration that celebrates beauty over the ages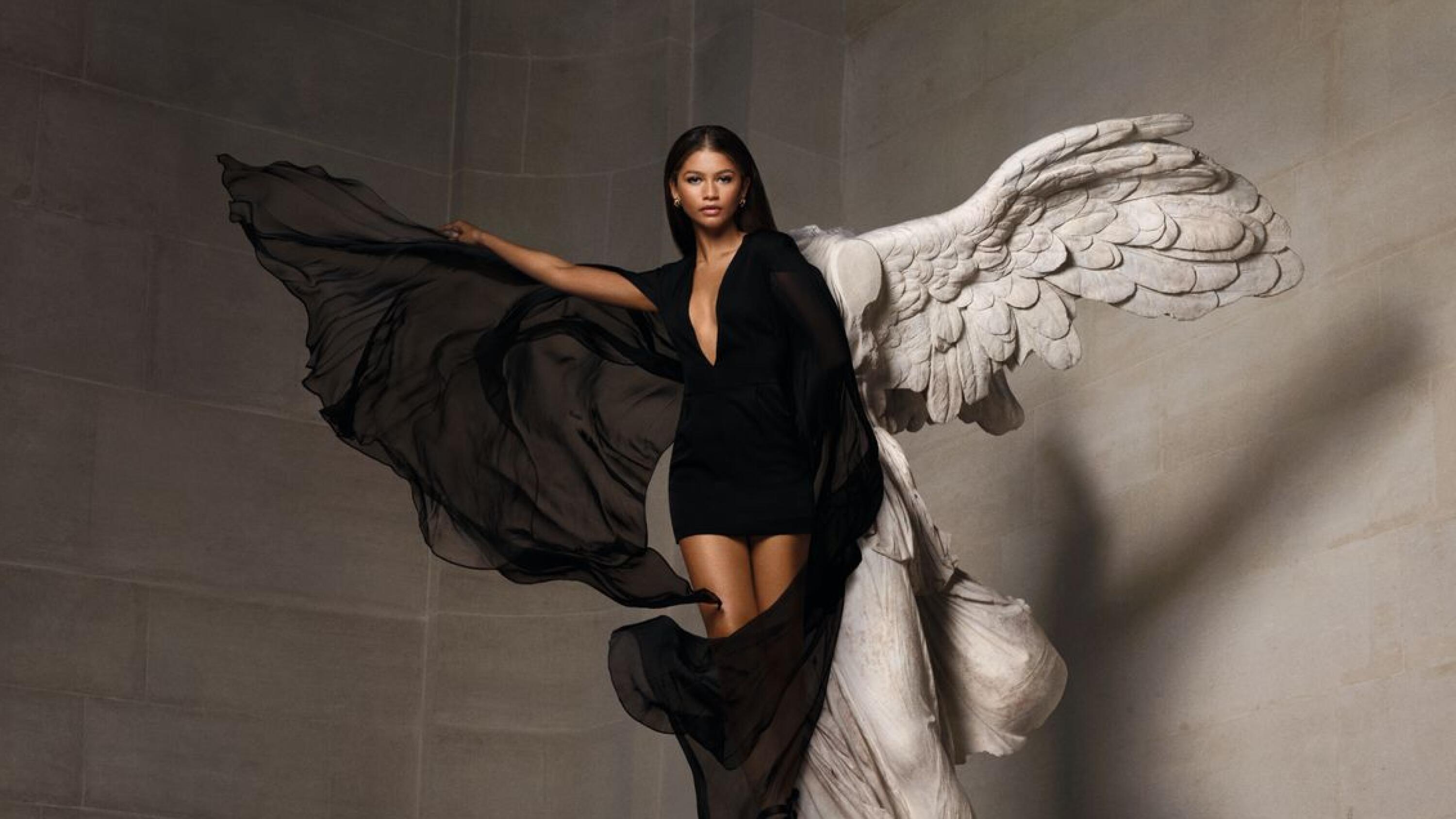 It's a hot summer's day in Paris when we are ushered down the steps of the Louvre, landing underneath its landmark Pyramide designed by the Chinese-American architect I.M. Pei. But one of the most famous, if not the most famous museums in the world looks different today. It is empty. In fact, it's closed.
I am here for a unique private visit through a selection of some of its greatest, most treasured works which will feature as part of a groundbreaking collaboration between the Louvre itself and the French beauty house Lancôme.
The alliance has been two years in the making (for the Louvre, collaborations are rare) and was spearheaded by Lancôme's global brand president Françoise Lehmann. "We want to continuously open new beauty perspectives to today's women in regard to our artistic heritage and celebrate the fact that beauty is a movement that never stands still," says Lehmann. That it doesn't.
A former royal residence, the Louvre has accompanied the history of France for more than eight centuries. Even before the French Revolution opened up its halls to the public, it was a place where artists could admire the great masters, be inspired, and become creators themselves.
Walking through one of its oldest sections, The Salle des Caryatids features female figures sculpted by Jean Goujon in 1550 which were carved to support the musicians' gallery. Shapely, rounded, thinner-lipped and smaller-breasted than what we would consider typical beauty today, it's a reminder of just how much our idea of idealised beauty has changed.
It's a dilemma that wasn't lost on Lancôme's creative director Lisa Eldridge, who immersed herself in the Richelieu gallery of the Louvre, invited after closing time to be one-on-one with the masterpieces to get inspiration for what would become the limited-edition collection and was key in making the connection between these artworks and beauty now.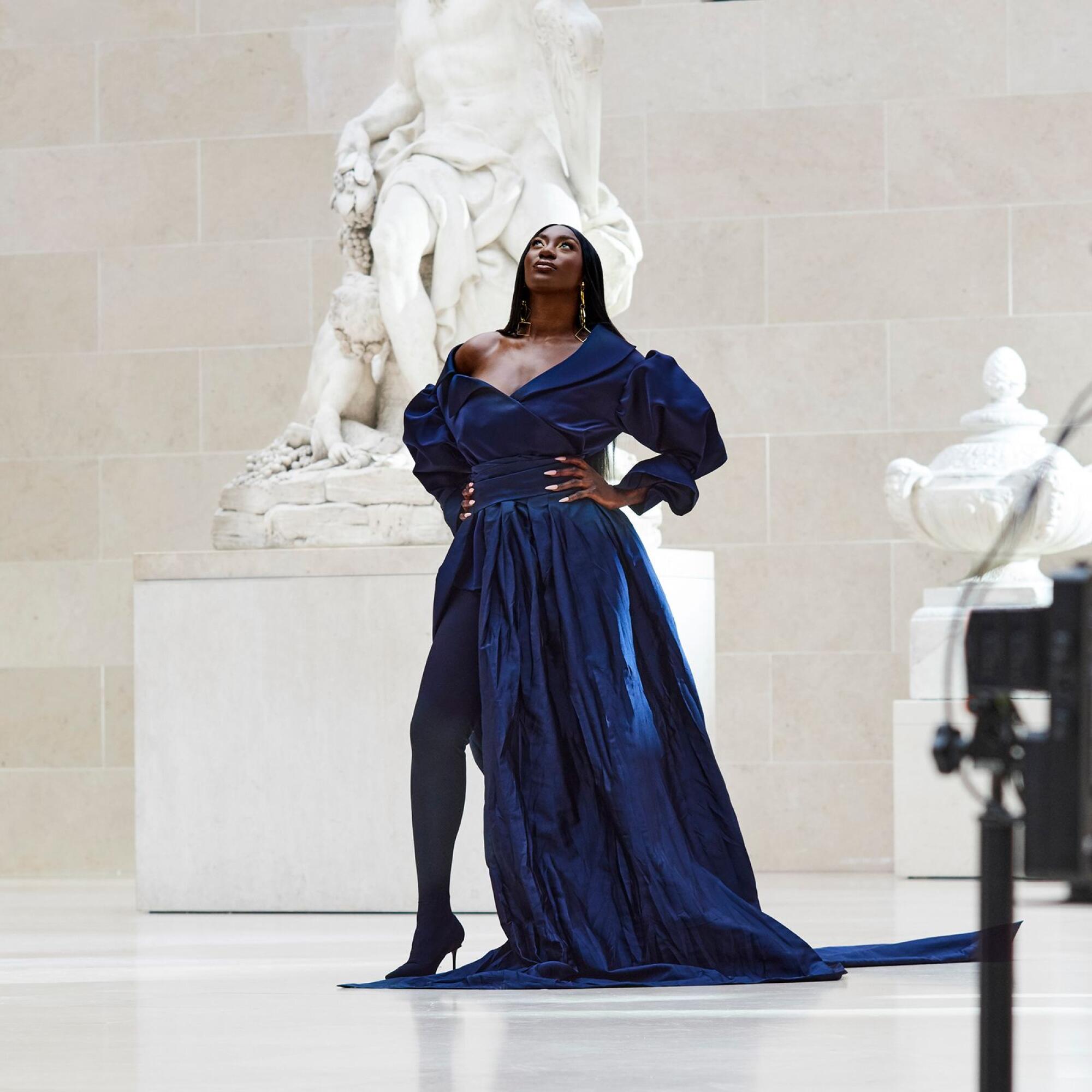 "I feel like we're living in a moment of paradoxes. On one hand, it's the first time really since the beginning of time that women have more choice. Men, women, everyone has more of a choice in terms of beauty. Because right up until this moment, it was dictated – this is the style, this is what you should wear.
Now it's almost like we've gone a little bit back more to a tribal time, in that you have people that aspire to look a certain way and you can find your tribe in a way – 'I like to look like this'.
"But in terms of looking back at the artwork, you realise that it's all cyclical, beauty is cyclical. I say this time and time again." It is something Eldridge is conscious of in the midst of a time when there has never been so much choice in how you can change or alter your looks. "Sometimes when somebody's asking me, shall I have this done or that done – I'm like, be careful, it could be out of fashion. If you can just embrace your own natural beauty because you might just find that five years from now it's completely changed."
The process of building a limited-edition collection began with the choice of nine sculptures from the Louvre as inspirations for women of today: the Venus de Milo, the Victory of Samothrace, Corine, Diane de Gabies, the Nymph with the scorpion, Echo, Hygeia, Hermaphrodite, and Venus D'Arles.
What do they have in common? Lancôme has chosen each of them because of their emblematic qualities in expressing values of their story of femininity and beauty in their way, which for the French beauty house in the context of modern times, is why they captivate us – whether it be the more wild strength of Diana of Gabies, Goddess of the Moon, or Corine, the heroine of the novel Corine or Italy by Madame de Staël) and a romantic model, a modern woman who lives in independence and true to her passions, travelling throughout Europe.
For Eldridge, the challenge was to take these inspiring artworks and translate them into pieces that would be the basis of the collection. "I'd go to the Louvre on my days off," says Eldridge, "to walk around and to soak up the colour, the textures, the light, and this would really inspire me with my make-up work.
"So I was able to walk around on a day when it was closed and have real time to be with the curator. And to really go deep into not just the paintings obviously and the beautiful sculptures and the architecture, but also the atmosphere. [Eldridge has an eye condition which means she sees colour in an unusual way] "so for me, it's about light and about atmosphere."
This has been something of a long-held desire for the renowned make-up artist, who was appointed creative director of make-up for the French beauty house in 2015, the same year she authored, Face Paint: The Story of Make-up. A favourite of everyone from Dua Lipa and Kate Winslet to Keira Knightley and Nicole Kidman, she is passionate about make-up being recognised for its intellectual and cultural worth and not just as a frippery. "I've worked with museums to help curate things when there's been a make-up or a beauty angle to a particular exhibition, but very often I was met with 'we're just going to have this little bit of make-up on the side. You know, it's just, it's a frivolous thing.'
"I'm like, make-up is not a frivolous thing, this is intrinsic to humanity. It tells us so much culturally about society. And that's why I'm so passionate about the history of make-up [she was actually filming a documentary on the history of beauty when the Louvre project began], so to find out that this is now legitimised with the Louvre in a very, very authentic way, for me, it feels like my life's work is now coming to fruition."
What she arrived at was an edited collection: the Richelieu Wing colour palette combining highlighter and four shades of eyeshadows inspired by the famed Richelieu Gallery of the Louvre. For Lancôme's L'Absolu Rouge lipstick, she created four new shades, each celebrating a female deity, while their heralded Génifique serum gets a direct association with skin health with a limited edition bottle baring the image of the Goddess Hygie.
"For the Louvre campaign I wanted to create a look with the palette that had a little drama," says Eldridge. "I chose to use the deep green shade in a soft but graphic shape to create a 'double wing' liner look along the upper lash line and the outer edge of the lower lash. I combined the eye look with a really fresh and radiant skin using the highlighter in the palette to give extra luminosity. A full rich lip completed the look for beautiful He Cong.''
The palette she created was inspired by the gallery's light and is punctuated by the relief of the sculptures themselves. "The texture is very smooth and easy to blend. With these hues, you can use them as a highlighter, from light to deep skin tones; you could also use a mix. You can apply it with a finger or a brush, on the eyes, and lips. The green shade is striking – as a liner, or for a smoky eye."
She chose the design because of Corine, herself. "It's very much about her struggles because at that time you couldn't be a genius and a woman; but she explained it from a very feminine point of view, which was quite unusual then."
For Lehmann, who herself crystallises a kind of cool agelessness that is a powerful part of the brand, the collection is a very personal one too. "I really like the fact that this is very emotional, as well," she says, "I mean, when you look at the campaign [featuring ambassadors, including Amanda Seyfried, Aya Nakamura, He Kong and Zendaya], and when you look at the visual, you really have this sense of pride to be part of this journey. We really want every woman to feel that she has a piece of the Louvre at home with her."
The Lancôme x Louvre collection launches today in Brown Thomas Dublin and online from brownthomas.com
Shop the Lancôme x Louvre Collection