Unfriendly skies for Ryanair
The short-selling birds of prey are circling the airline these days, but analysts differ on how grave its troubles are
Israel Englander, known as Izzy, is one of the sharpest hedge fund managers in the world, with a net worth of $6 billion and a firm that manages nearly $40 billion in assets. Ken Griffin, whose net worth is estimated at just under $12 billion, is another fund manager overseeing around $25 billion in assets. Both men have built their eye-watering fortunes on the back of millions of well-informed bets on the stock market and, just lately, they've both had Ryanair in their sights.
Since the start of this year, Englander's firm Millennium Management and Griffin's Citadel have been making enormous short bets against Ryanair shares, which involve a trader borrowing shares, selling them on the open market, and then waiting for the price to drop.
If they do, the trader can buy the cheaper shares, return them to the person from whom they borrowed them, and pocket the difference.
Central Bank data shows that since March, both firms have been taking multiple short bets – sometimes in the hundreds of millions of euro, amounting to 1 or 2 per cent of the company's total share capital – and waiting for the airline's shares to fall. While it's not possible to tell how much they're making off the trades, the number of times they've run them and the size of each one hint at their confidence that Ryanair's shares would fall.
It coincides with a major sell-down of a stake held by another firm, trillion-dollar American mutual fund the Capital Group, which in August last year held 17 per cent of the shares in the company, worth €2.6 billion at the time. In a year, it has sold more than €1.5 billion of those – nearly €350 million in the last two months – leaving it with a stake of just over 4.9 per cent.
Meanwhile, the news isn't getting any better for Ryanair or Michael O'Leary.
***
Last week, the company announced results which revealed a 24 per cent fall in pre-tax profit in the first quarter – which is April, May and June for Ryanair. Profits fell from €345.5 million a year ago to €262.3 million this year. Though it had 11 per cent more passengers – 41.9 million compared to 37.6 million – and its revenue increased from €2.08 billion to €2.31 billion, its costs rose substantially too.
The results are the latest in a steady flow of bad news for Ryanair in the last 18 months – from the ongoing industrial relations problems which forced it to recognise unions, to a succession of profit warnings, culminating in May in its weakest annual results for four years. On top of that, there was the news that Peter Bellew, once tipped as a potential replacement to O'Leary, was leaving his role as chief operating officer to go to Easyjet, one of Ryanair's main rivals.
As if that wasn't bad enough, Ryanair has been labouring under the shadow of Brexit for the last few years. O'Leary last week acknowledged that the airline might have to cancel flights between Belfast and London in the event of a no-deal Brexit. A few days after the results came out, he announced that 1,500 jobs were at risk because it had a surplus of pilots and cabin crew.
Then there isthe lingering problem of Boeing, which has had to ground its new 737 Max aircraft – of which Ryanair has a substantial order.
For Ruxandra Haradau-Doser, an equity analyst for Kepler Cheuvreux, this all means that conditions are likely to get worse for Ryanair before they get better.
"This company has now got its weakest operating margins in ten years. It has the wrong aircraft on order. It has a very high exposure to Brexit, which will be an uncertainty over the next months. And it is a unionised business, so its margins won't be at the levels they once were," she said.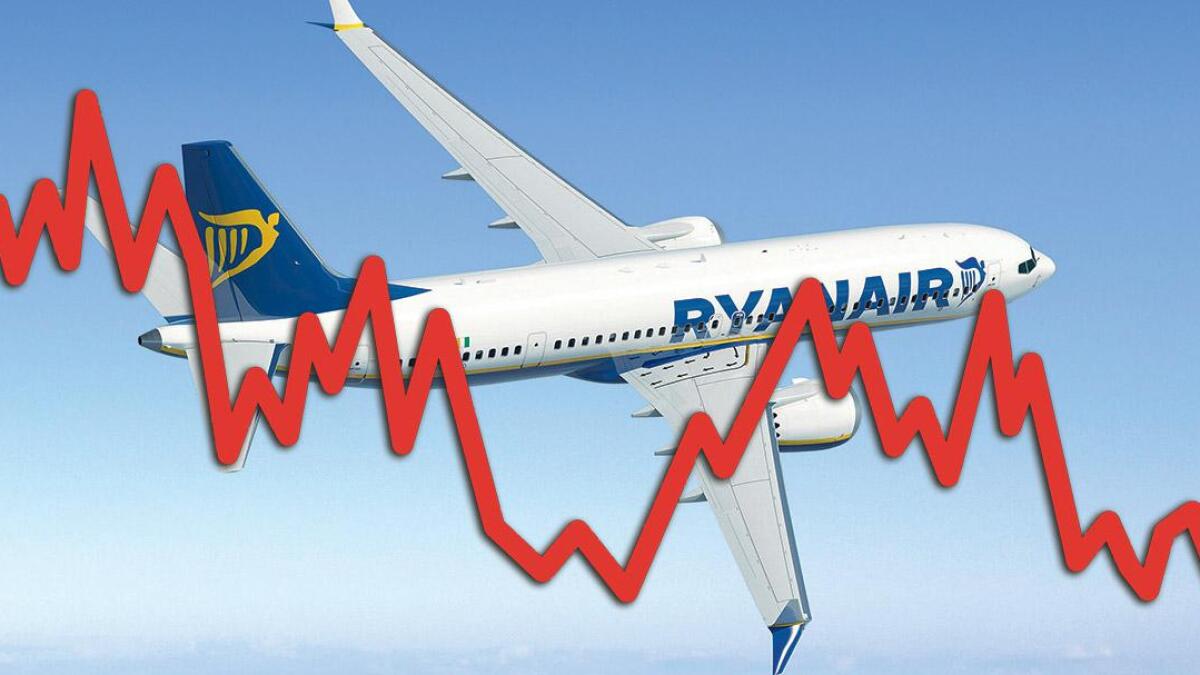 "In the past they were generating double-digit margins, where the other players in the market were low single-digit. Now their margins are in line with IAG [owner of Aer Lingus and British Airways], which is now in a position to put significant pressure on Ryanair."
In the past, Ryanair might have ridden out this difficult patch by resorting to the simple expedient of reducing its fares – which it had always been able to do because of its much lower cost base. That's become far more difficult, analysts say.
For starters, there's the delay in delivery of those new Boeings. A taste of just how important they are was evident in O'Leary's comments to analysts last week, when he was asked about the deal: "We were originally expecting 58 aircraft for the summer of 2020; that's now 30 at best. It may well move to 20; it could move to 10; and it could well move to zero if Boeing don't get their shit together pretty quickly with the regulators."
It made headlines, not just because of the bad language but because, for once, O'Leary wasn't just baiting reporters for attention; he genuinely seems to have no answer on a question that affects the airline significantly.
According to analysts, the 737 Max is vital to Ryanair in the short term because the new aircraft are larger, which would give Ryanair more room for cutting fares – and undercutting their competitors – and every month's delay means revenue lost.
On top of that there's the potential passenger reluctance once the aircraft are delivered, Haradau-Doser said. "When this aircraft starts to be delivered there will be, in my view, an issue with the brand. Will passengers be willing to fly the Boeing? Even temporarily, it could have an impact on their fares."
All of which could severely limit the airline's ability to pull its main lever – slashing fares – if the market starts to tighten.
It places a greater burden on those ancillaries as a source of revenue, according to Kathryn Leonard of Numis, who wrote in a note last week that while Ryanair was "modestly optimistic" for positive growth in the second half of the year, "we see limited ancillary growth thereafter, given that its two primary products (priority boarding and allocated seating) have reached saturation".
This points to a problem for the Ryanair brand, which seems "weaker than that of the other players in the market". The regular cutting of fares suggests its passengers are not very 'sticky', in marketing parlance, and are drawn solely by low fares.
"They have been working for years to change internal culture and brand and customer satisfaction, and if you look at their fare development, it seems not to be very successful."
***
Not everyone is gloomy about Ryanair's prospects – at least in the medium to long term. Savanthi Syth of US firm Raymond James wrote in a recent note that she continued "to believe the risk-reward remains compelling at current levels given Ryanair's competitive cost structure and 'fortress' balance sheet", and she issued an 'outperform' rating for the airline.
Syth argued in the note that if fuel costs rose, Ryanair could benefit from a much earlier improvement in its financial fortunes. Her theory is that "a rising fuel price" would force further industry capacity consolidation.
If this happened, Ryanair, which has hedged its fuel costs, would have more room to undercut its rivals on price.
Moreover, she thinks that turbulence in the short-term will more than moderate in the long-term – or rather, the dynamics of the market will change so substantially that Ryanair will be able to benefit from the difficulties of smaller airlines.
Indeed, Syth went one step further, writing last week that "Ryanair remains well positioned to capitalise on the competitive backdrop, and appears content using its muscle (cost structure, size, and balance sheet) to hasten the demise of weaker peers".
Some analysts are even cautiously positive on some of the threats facing Ryanair. Olfa Taamallah of Oddo Securities believes that Ryanair is better placed to manage any Brexit fallout than rivals such as Easyjet. She pointed out in a note published last week that Easyjet's booking levels were 63 per cent in August and just 41 per cent in September, whereas "the high level of bookings at Ryanair over Q2 and Q3 (albeit with lower pricing)" means that the risk of a Brexit wallop "is more limited than at rivals".
Even Haradau-Doser – who is markedly bearish on Ryanair's prospects – agreed that the European market was ripe for consolidation and that Ryanair could probably best capitalise on that.
While any transatlantic plan was a pipe dream, thanks to the costs and the dominance of a small group of very powerful operators, Ryanair has the balance sheet to opportunistically pick off any small airlines that get into trouble – especially those with lucrative slots at primary airports.
***
Short-term, though, most analysts say the airline's share price is likely to stay under pressure. Haradau-Doser said her view was "it should trade to a discount", noting that she had revised her target share price from €8.10 to €7.60.
Leonard agreed that investors might have to be patient as Ryanair sorts out its problems and the market sorts itself out. In a note she wrote that over the next two years the airline's capital expenditure – on new planes and smaller airline acquisitions – would probably peak, meaning there would likely be less free cashflow for distribution to shareholders until 2022 "at the earliest". She set a target price of €10.09, only slightly higher than the current market price of €9.42.
Even Olfa Taamallah – generally more positive than other analysts on the airline's prospects – trimmed her adjustments lower. She maintained her 'buy' rating on the stock, but adjusted her price target down from €13 to €12.
In well-appointed corner offices across the Atlantic, Izzy Englander and Ken Griffin will be watching closely.
The Numbers:
$865 billion: In 2018, revenues topped $812 billion for the airline industry. It is estimated that they will top $865 billion in 2019
$206 billion: In 2019 the fuel bill is forecast to be $206 billion, accounting for 25% of operating expenses at around $70 per barrel of Brent. Fuel accounted for 21% of operating expenses in 2016
$180 billion: The global airline industry's fuel bill totalled $180 billion in 2018. This is almost double the $91 billion fuel bill for 2005, and up from $149 billion in 2017
€28 billion: Industry net profits of $28 billion are forecast for 2019, following an estimated profit of $30 billion in 2018. Net profits totalled €36 million in 2015
$71: Commercial airlines spent $71.60 on crude oil per barrel in 2018. That figure has increased from $44.60 in 2016
$43.6 billion: The airline industry is expected to make an operating profit of $43.6 billion in 2019, down from $47 billion in 2018