Partner Content
Ready, set, cook: Neven Maguire's easy recipes to feed the family
In the first of a four week series, the chef shares some of his favourite recipes for midweek meals. In partnership with Dunnes Stores Simply Better
I don't know about you, but back to school time is always hectic in my home. The fix? I've found that meal planning each week really helps, and these reliable recipes using Dunnes Stores Simply Better ingredients are amongst my favourites. Keep these recipes close to hand and who knows? You might be top of the class this term!
Shepherd's Pie
Prep time: 20 minutes
Cook time: 50 minutes
Serves: 6-8
Ingredients
2 Tbsp Simply Better Cold Pressed Irish Rapeseed Oil
740g Simply Better Connemara Hill Lamb Fresh Irish
Lamb Mince
1 Tin of Simply Better Italian Chopped Tomatoes
1 Tsp Simply Better Organic Garlic & Herb Seasoning
Simply Better Atlantic Sea Salt & Organic Herbs
2 Carrots, diced
2 Onions, finely chopped
3 Celery Sticks, diced
100g Button Mushrooms, sliced
1 Tbsp Worcestershire Sauce
300ml Chicken or Beef Stock
300ml White Wine
25g Plain Flour
Knob of Butter
Buttered Peas, to serve
For the Cheesy Mash
75g Simply Better West Cork Co-Op Extra Mature
Drinagh Cheddar, grated
1kg Rooster Potatoes, cut into chunks
50g Butter
Method
1. Put a frying pan over a high heat and add a little of the oil. Cook the lamb mince in batches, one pack at a time, breaking the mince up with a wooden spoon and allow it to develop a nice golden colour. Transfer the lamb mince to a plate and set aside.
2. Wipe out the pan, then add the butter and allow it to melt over a medium heat. Add the carrots, celery and onion and cook for 3-4 minutes, stirring occasionally, until the vegetables are starting to soften. Add in the mushrooms and cook for a further 1-2 minutes.
3. Tip in the browned lamb mince, stirring to combine, then stir in the garlic and herb seasoning. Pour in the wine and scrape up all the crusty brown bits stuck to the bottom of the pan, then allow the liquid to reduce by three-quarters. Add the Worcestershire sauce and chopped tomatoes and stir to combine.
4. Sprinkle over the flour and cook for 2-3 minutes, stirring continuously. Gradually pour in the stock and bring to a gentle simmer. Cook over a low heat for 15-20 minutes until meltingly tender. If the sauce becomes too thick add a little more stock.
5. To make the mash put the potatoes in a pan of cold salted water. Cover and bring to the boil, then reduce the heat and simmer for 15- 20 minutes, until tender. Drain the potatoes and return to the pan over a low heat for 2-3 minutes to remove as much moisture as possible. Remove the pan from the heat, then mash with a potato masher or pass through a potato ricer until smooth. Beat in the cheese and butter and season to taste.
6. Preheat the grill. Spoon the mince into a baking dish, then spoon the mash on top. Dot with a little more butter and grill until golden. Alternatively, leave to cool completely and store in the fridge for up to two days, then preheat the oven to 180°C (350°F / Gas Mark 4) and cook for 40 minutes, until bubbling and brown. Serve straight to the table with a dish of the buttered peas alongside.
Chicken & Broccoli Bake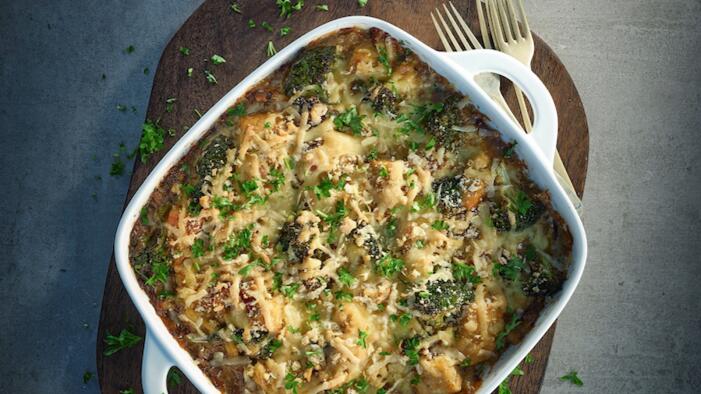 Prep time: 15 minutes
Cook time: 35 minutes
Serves: 4
Ingredients
3 Simply Better Irish Corn Fed Chicken Breast Fillets, cut into cubes
1 Pack Simply Better Dry Cured Unsmoked Irish Bacon Lardons
1 Tub Simply Better Irish Made Poultry Gravy
100g Simply Better West Cork Co-Op Extra Mature
Drinagh Cheddar, grated
50g Simply Better Rustic Ciabatta Breadcrumbs
2 Tsp Simply Better Italian Pesto alla Genovese with
PDO Genovese Basil
2 Tbsp. Simply Better Cold Pressed Irish Rapeseed Oil
20g Butter
100ml Simply Better Single Source Irish Jersey Cream
1 Head of Fresh Broccoli, cut into florets
100g Chestnut Mushrooms, cut into quarters
1 Tbsp Fresh Thyme Leaves
Sea Salt & Freshly Ground Black Pepper
Method
1. Preheat the oven to 180°C (350°F / Gas Mark 4)
2. Blanch the broccoli florets in boiling salted water for 40 seconds and refresh under cold water. Then set aside until required.
3. Heat the rapeseed oil and butter in a large non-stick frying pan over a medium heat. Add in the cubed chicken and season generously with salt and pepper. Cook the chicken for 2-3 minutes until lightly browned on all sides.
4. Add the bacon lardons to the pan along with the mushrooms and thyme leaves and mix well.
5. Add the poultry gravy, basil pesto and cream to the pan and stir well to combine, then add the broccoli florets.
6. Transfer the chicken and broccoli mix to an ovenproof dish and sprinkle over the breadcrumbs. Top the breadcrumbs with the grated cheese and bake in the oven for 20-25 minutes until the chicken is cooked through and the cheddar breadcrumbs are nicely golden.
Neven's tip: Feel free to mix up the ingredients in this one: you could swap out the broccoli for cauliflower, for example. You could get creative with the cheesy mash, too, choosing your family's favourite cheese from the Dunnes Stores Simply Better collection.