Recipes
Domini Kemp's charred lamb chops, roast potatoes with chorizo, and labneh with marinated cherries
Planning a barbecue? These recipes will work even if the weather doesn't play ball
There's nothing quite like the taste of charred meat to camouflage mediocre cooking skills. But rain and frayed tempers can throw the whole al fresco theme into disarray, which means you need to have a good plan B.
Delicious salads that can handle being left out for a couple of hours and even improve at room temperature, as well as meat that can also be cooked indoors if a hurricane hits, will definitely ease pressure on the designated chef.
Lamb is probably my favourite meat and cooking it is pretty straightforward. A brief charring and these lamb racks come up trumps.
These salads could all be stellar meals in their own right, they're so delicious. And the cherries; well, that recipe is a combination of a few different Rory O'Connell recipes from his wonderful book, The Joy of Food.
It's one of my absolute favourite cookbooks in recent years and I hope you'll love this combo of flavours as much as I do. Cherries, labneh, lemon, olive oil and mint - divine.
Aubergine caponata and burrata on a golden baguette
Ingredients, serves 4
2 aubergines, diced
Sea salt
100ml olive oil
1 red onion, peeled and diced
1 red pepper, diced
1 tube tomato purée
2 tbsp golden currants
2 tbsp balsamic vinegar
1 tbsp red wine vinegar
6 anchovies, roughly chopped
2 garlic cloves, peeled and sliced
80g pine nuts
1 baguette (to give you 8-12 slices)
20g mint, finely chopped
1 ball burrata or mozzarella, torn
Method
1. Put the aubergines in a colander and sprinkle generously with sea salt. Let them sweat a little for about an hour, and then pat dry, wiping the excess salt and water off them.
2. Add three quarters of the olive oil to a heavy-bottomed pot over a medium heat, then then sweat the onion and red pepper until soft. Next, add the aubergines and tomato purée and cook for another few minutes until the mixture starts to get a bit soft and loses some of its bulk. Then add the currants, vinegars, anchovies, garlic and pine nuts.
3. Cover with a lid, then add about 100ml water, check the seasoning and cook out on a very gentle heat for a good 20-30 minutes until rich and delicious. If you need to take the lid off for a final minutes of cooking to let any excess liquid evaporate, do so.
4. While the mix is cooking, preheat your oven to 160C. Slice the baguette and drizzle with the remaining olive oil, then place in the oven to toast until golden brown. Allow the baguette slices to cool fully then top with warm aubergine caponata, some chopped mint and a little torn burrata.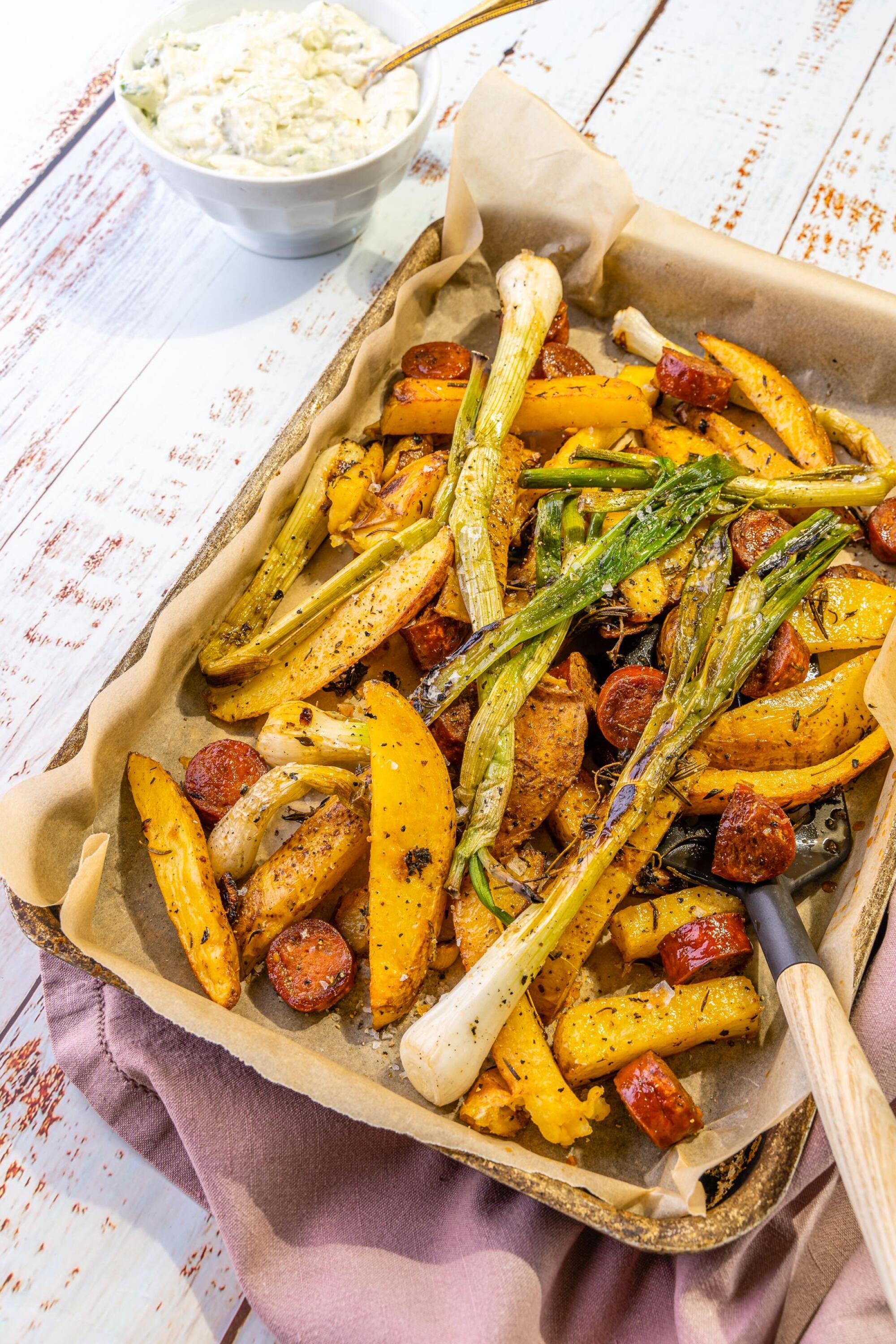 Roast potatoes with chorizo, burnt spring onion and feta 'butter'
Rory O'Connell also had a version of this dish, but the whipped feta butter gives an extra delicious lift.
Ingredients, serves 4
For the potato and chorizo mix
800g potatoes, cut into wedges
225g chorizo, sliced
50ml olive oil
Salt and pepper
Few sprigs rosemary and thyme, chopped
Few garlic cloves, peeled and sliced
For the burnt spring onion and feta butter
2 bunches spring onions, trimmed
2-3 tbsp olive oil
Sea salt
180g feta
165g cream cheese
100g crème fraîche
2 tbsp red wine vinegar
Method
1. Preheat oven to 180C. Toss all of the ingredients for the potato and chorizo together, then place in a roasting pan and cook until the potatoes are tender. You may need to cover the potatoes loosely if the chorizo is starting to burn, but you want to give this a toss every 15 minutes or so, to ensure the potatoes get well coated in all that chorizo oil.
2. To make the burnt spring onion and feta butter, heat a chargrill or your barbecue. Coat the spring onions with the olive oil and sprinkle over some salt, then char until nicely browned. Set aside to cool and then roughly chop half of the spring onions, leaving the other half for garnish.
3. In a food processor, blitz the feta with the chopped and charred spring onions, the crème fraîche, cream cheese and red wine vinegar. Season and set aside.
4. When ready to serve, dot blobs of the feta butter onto the warm potatoes and chorizo, then garnish with the spring onions by draping them over the top.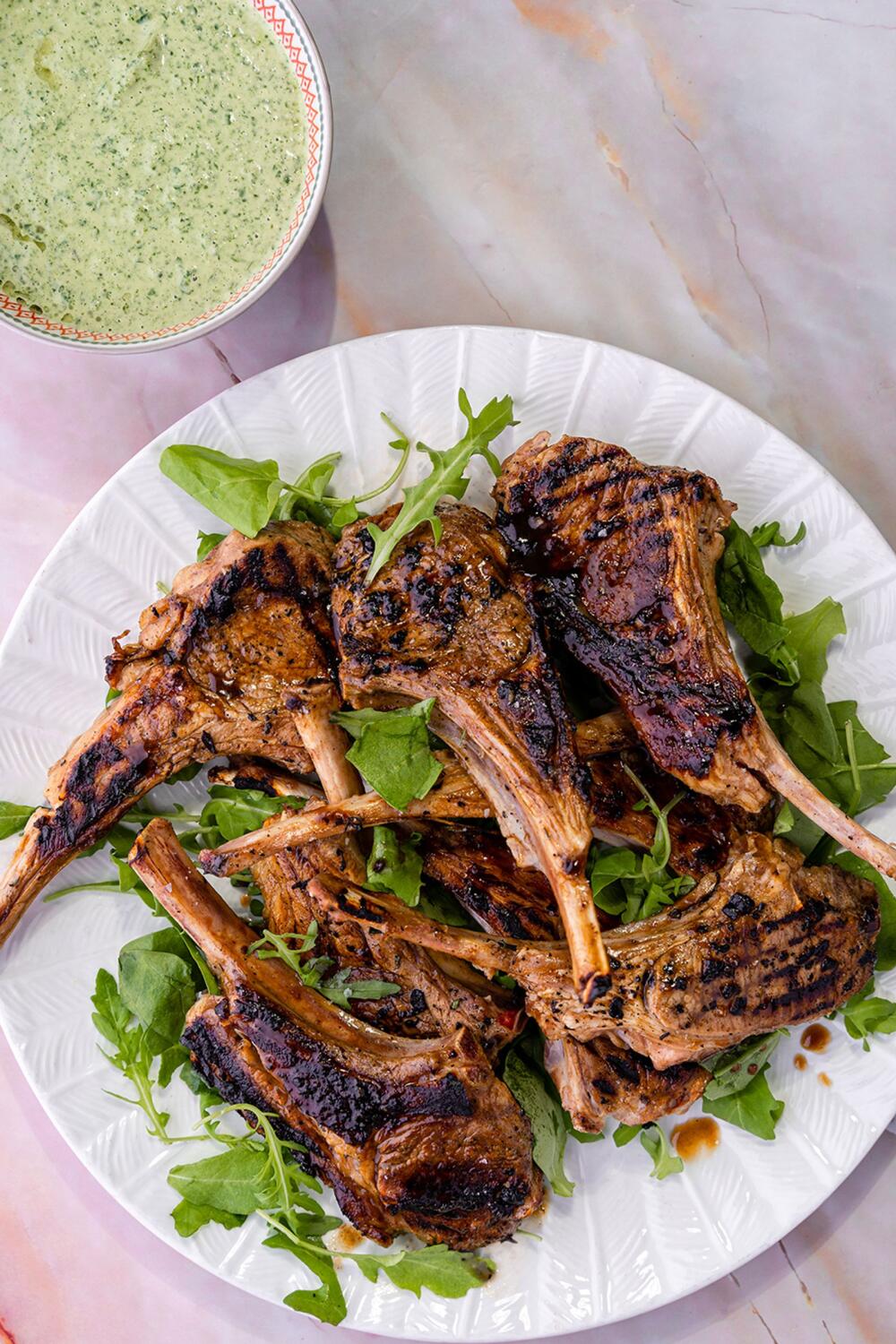 Charred lamb with punchy green sauce
Ingredients, serves 4
Few sprigs rosemary or thyme
Salt and pepper
1 tbsp honey
Few dashes Worcestershire sauce
1 tbsp balsamic vinegar
12-16 lamb rack chops
For the punchy green sauce
2 egg yolks
3 garlic cloves, peeled and crushed
1 tbsp Dijon mustard
100ml olive oil
2 tbsp red wine vinegar
Salt and pepper
20g flat-leaf parsley
20g basil
20g mint
Few squirts Tabasco sauce
To serve
Rocket leaves
Method
1. First, prepare the lamb. Chop up the herbs then mix with the honey, balsamic, Worcestershire sauce and seasoning. Rub the mix into the lamb, then cover and leave to marinade for a few hours or overnight.
2. To make the sauce, blitz the egg yolk, garlic cloves and mustard together in a food processor to form the base of the sauce. Slowly blend in a few drops of olive oil then, with the motor still running, continue adding the olive oil in a thin stream - you should feel it start to thicken. Add about half the olive oil and then add the red wine vinegar to season. Continue adding the rest of the oil, which will thicken it up a bit more, then add the herbs and blitz together along with Tabasco sauce to season. Set aside in the fridge until ready to serve.
3. When ready to cook the lamb, place on the barbecue or chargrill pan and cook until lightly charred on both sides. Each side will cook in just a few minutes, so make sure to flip the lamb so both sides are nicely charred and the inside is a lovely pink colour.
4. To serve, lay the rocket down on a large plate or serving dish. Place the lamb on top then serve with the green sauce on the side for dunking or drizzled over the meat.
Brown sugar labneh with marinated cherries and pumpkin seed praline
This is a hodge-podge of several of Rory's recipes, plus my own favourite way of toasting pumpkin seeds. Sorry Rory!
Ingredients, serves 4
1 large tub thick Greek yoghurt, approximately 450g
4 tsp muscovado sugar
400g cherries, stones removed
1 tbsp honey
Zest and juice 1 lemon
Few sprigs mint, chopped
50ml of your very poshest olive oil
For the pumpkin "praline"
50g pumpkin seeds
1 tbsp honey
Few splashes tamari
Method
1. Line a sieve with muslin or a clean tea towel and let the yoghurt drain for a few hours (or even overnight) so that you are left with a lovely thick labneh.
2. Transfer the labneh to a bowl and sprinkle with the sugar which will ooze into the labneh. You can give it a light swirl before serving.
3. Mix the cherries with the honey, lemon juice, zest and mint. Add the olive oil to season. Add more honey or lemon if necessary but let them macerate at room temperature for about an hour before serving.
4. To make the praline, preheat your oven to 160C. Put the seeds on a roasting tray lined with greaseproof paper, then sprinkle over the tamari and the honey and toss to coat. Toast in the oven until starting to brown slightly; they should be sticky and salty and make a lovely crunchy topping.
5. To serve, just smear a plate with the labneh then top with the cherries and a sprinkle of the praline pumpkin seeds.