Interview
Clare Smyth on her new cookbook, expanding to Australia and being named the world's best female chef
"Some women weren't too happy I accepted it, but the most important thing is having a voice," Smyth tells the Business Post as she prepares to launch a new book which traces her journey to three Michelin stars
When we talk of culinary greats, Clare Smyth's name is often mentioned in reverential tones. This is a chef who started her career as a teenager by leaving Northern Ireland to duke it out in London's fine dining scene, and who was entrusted by Gordon Ramsay to safeguard his three Michelin stars for 11 years.
She then opened her own restaurant, the widely-praised Core, in London in 2017. It went straight into the Michelin Guide with two stars, then was promoted to three star status in 2021 - all of this, and more, before the age of 40.
You can imagine how nervous I was before our interview - Smyth is culinary royalty - but I needn't have worried. Her opening line of "Hi Jordan, it's Clare", put me at ease, and kicked off a fascinating conversation with one of world's most interesting and inspirational chefs.
When Core opened on Kensington Park Road, it did so to much fanfare. Having spent much of her career in the shadows of famous men like Ramsay and Alain Ducasse, Smyth's first solo venture proved worth the wait, and became an instant success.
The menu comes in several versions – classic tasting, 'Core seasons' and á la carte – but some dishes are staples. Among them are potato and roe (in the new book, Smyth describes her potato habit as "a lifelong one"), which is comprised of a Charlotte potato that's submerged in butter and seaweed and slow-cooked in a water bath, before being further marinated for 24 hours.
The dish is served with homemade salt and vinegar potato crisps, a dulse beurre blanc, trout roe, smoked herring eggs and edible flowers. It sounds complicated, but Smyth thinks of it as comfort food.
"It took a couple of months to create the dish but oddly enough, it's not really changed at all because it just seemed to fit into place. I guess it's because it's so familiar and nostalgic, we just knew what to do with it right from the beginning, and then it became sort of a cult dish," Smyth said.
"People just love it and it makes me chuckle that something so simple is so successful. All the things that we try to be clever with, then it's this kind of dish that people just love. It gives them the most pleasure and I really think that's because of the nostalgic, comfort element to it.
"It just reaffirms what good food actually...it can be the most humble of ingredients that you then use to create something extraordinary. I think it's pretty cool that something so simple has been so successful. That's the goal, isn't it?"
Potato and roe is unlikely to ever come off the menu - "it just can't!" - and recently made the leap across the globe to thrill guests at Oncore, Smyth's new restaurant in Sydney, which opened in November 2021 after a few Covid-related delays.
The restaurant, which had been on the cards for a while, is Smyth's first attempt at expansion. But why so far away?
"Well, I lived in Sydney for a little while when I was younger and I'm normally there a few times a year for various reasons like filming or doing food festivals," she says. "I just love it there, and then this opportunity came up, this brand new building with these incredible views of the opera house. It really was very special, and that was a big part of the reason we opened there."
Australia doesn't have a Michelin Guide, but its equivalent, the Chef Hat Award, gave Oncore a score of 19 out of 20 not long after it opened.
"It received the second highest rating in all of Australia within its first three months, which is a pretty good start. The guide hasn't actually been released yet - it comes out in October - but that score is basically a two or three hat level, so that's great," says Smyth.
"You know, we just have an excellent team there. They're all really serious about what they're doing and have done an amazing job so far trying to create this world class restaurant on the other side of the world."
Running the kitchen at Oncore is Alan Stuart, who previously worked with Smyth at Core. It's important to her that the success she's achieved filters down to those who work alongside her, and allows them to flourish under her guidance.
"I definitely want to open another restaurant. I'm looking at new sites now and weighing up all of our options, because the team is always growing and evolving, and we need to give opportunities to them," she says.
"We have incredible retention of people and I think that's because we invest a lot in them and their training. It allows them to grow into themselves and become more confident and knowledgeable people."
Core closes for two days a week to allow staff a decent break, but also to allows them to continue learning and upskilling – Smyth assigns everyone in the restaurant a topic that they're interested in to research, and they then present their learnings to the rest of the team each week.
It might sound unusual, but Smyth believes it's part of why her staff stay with her for so long, as it helps to boost their confidence and communication skills. Fine dining is historically better known for tough working conditions, bullying and gender inequality, but she is determined to break down those barriers.
"It's always going to be tough at the top in every industry, but there are good reasons for something being tough, and some maybe not so good reasons. Finding the right environment to work in can be difficult," she says.
"But once you find somewhere with a nurturing environment - where you grow every day with like-minded individuals, somewhere that's going somewhere, and where you can see that your work really is appreciated - then it's worth it. For me, it's important that every single member of my team is personally invested in the restaurant, and that they see that its the success is a result of what they do."
While Smyth is striving to make changes within the industry, it's no secret that it is still woefully poor in terms of representation for women, LGBTQIA+ people, and people of colour. Of the 130 restaurants across the globe that hold three Michelin stars, just seven are helmed by women.
Smyth was named best female chef in the world in 2018 by the World's 50 Best Restaurants, an accolade with a contentious reputation. Some, like her fellow Michelin-starred chef Dominique Crenn, have argued that the title is redundant and creates an 'othering' of non-male chefs. For Smyth, it was more complicated than that.
"To be honest, it was something that I didn't really want. I was very much on the cusp of not wanting to accept it because I didn't want to be singled out. But someone said to me, 'if you don't accept it then how will you ever tell people your story or why you think this is right or wrong? You won't have a voice if you don't accept it.' I thought that was a really good point," she says.
"Through talking about it, I found there was no right or wrong really. Some people think it's great and some don't; there are a lot of grey areas. Some women weren't too happy I had accepted the award, they looked up to me and didn't agree with the award, but really, the most important thing is having a voice and that's why I accepted it."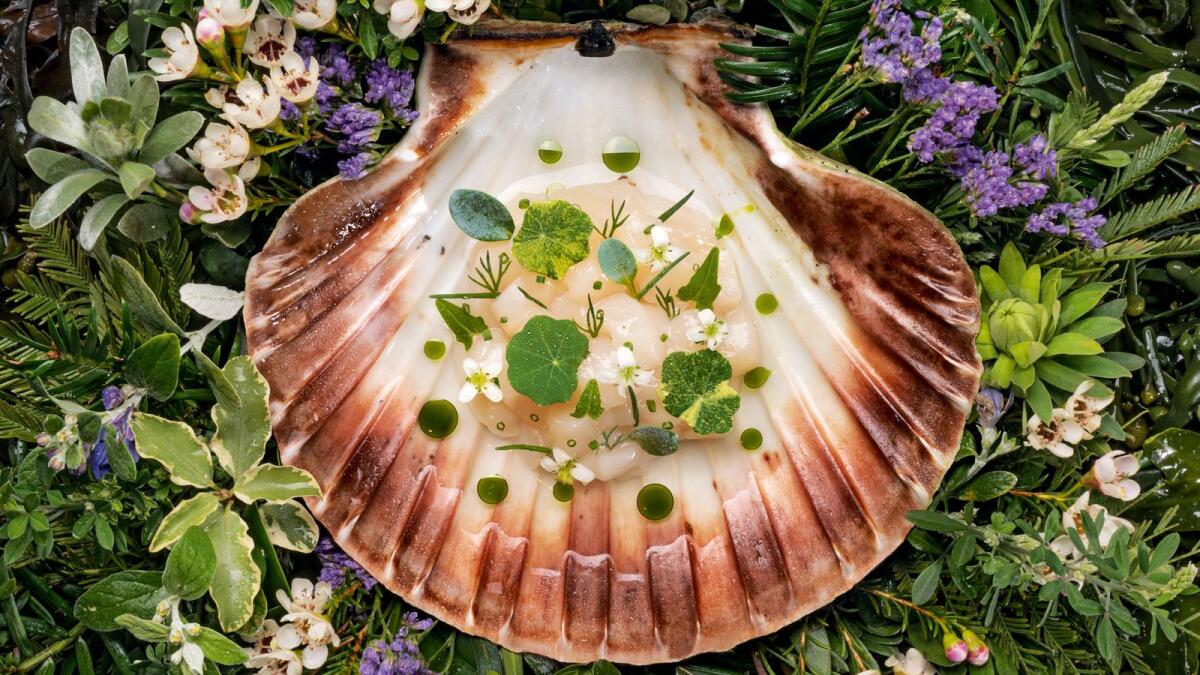 Smyth has inspired many chefs. But who has influenced her?
"Alain Ducasse, Gordon Ramsay and Thomas Keller are the three chefs that I've always admired, and all of them are very different characters," she says. "They were the three that inspired me the most and still do - they're always pushing boundaries, and their work ethic is second to none."
Work ethic isn't something Smyth herself lacks either: along with her two restaurants, she has written a beautiful cookbook featuring recipes from Core that will be released on July 7. The massive tome gives real insight into the inner workings of the restaurant, and how Smyth and her team work to make it an exceptional place to visit.
There are details on suppliers, in-depth recipes for many of her famous dishes and gorgeous photographs that highlight the chef's connection with the land, her suppliers and her team.
"I think capturing the moment and what we're doing now is really important. I wanted to create a record of all the dishes we developed in the first three years of Core so that we have space to create more," she says.
"I'd like to keep releasing cookbooks as we go so we can keep documenting what we're doing. The whole team pitched in and helped create the book. The pandemic was the perfect opportunity for it really."
Restaurants across the world post-Covid face one overarching issue: a lack of staff. For Smyth, whose retention levels are is so high, that wasn't too much of an issue, but Brexit has caused serious problems.
"We're at the luckier end in that we're a three Michelin star restaurant so we have people who still want to work for us. But Brexit has been huge. The whole industry is missing the European workforce. At the higher end of hospitality, there were lots of people who came from France and Switzerland, but that's just not possible now, because the cost of visas and sponsorship is through the roof and many restaurants just can't pay that," she says.
"It's a real challenge and a shame that the freedom and opportunities I enjoyed to work abroad are now blocked to these people. We're sponsoring three staff members and are about to sponsor another. but there are really huge costs attached to that, and not everybody can do it."
Core is a kitchen that many chefs aspire to work in, and Smyth herself is a huge part of the reason why – she is generous in sharing her knowledge and has created a welcoming working environment.
"Kitchens became quite famous for bad things because it was all televised, but we've changed dramatically I think. It's not acceptable to behave like that any more," she says.
"It's a much more professional environment now and my particular style is quiet and calm. I want people to walk into my kitchen and feel it is pleasant and that they want to be there. You should be able to walk into work and feel that it is a comfortable place to be, and that's what Core is."
The Core cookbook by Clare Smyth will be published by Phaidon on July 7 priced €55, and is available to pre-order at phaidon.com