Self
Paradise Found: this Limerick luxury spa has had an impressive makeover
The Spa at Number One Pery Square offers a compelling reason to take time out. Partner content with Ireland's Blue Book
"The idea is that of nature gently reclaiming the building." Spa coach and holistic therapist Sharon Collopy is walking me through the restyled spa at Number 1 Pery Square in Limerick. The walls of these former wine cellars have been painted a calming grey-green (Dulux's Wax Khaki, since I asked). En route to the treatment rooms, there are a number of beautiful botanical installations, the creation of local florist Tara Moloney of White Dove Nurseries. "Our aim was to make this feel like a little world of wild nature, right in the basement of a Georgian building," says Sharon. The target has been hit.
The spa at Number 1 Pery Square has been in operation since 2009, and in March of this year revealed its new look. The floorpan hasn't changed, including seven generous treatment rooms, some of which feature the exposed brick that once insulated a fine wine collection. What has changed is the mood: it really does feel like stepping into another, infinitely more relaxing world, and the lack of bells and whistles is refreshing. There is a foot spa, a steam room and sauna, and the lovely Herbal Cocoon room, plus a seaweed bath suite. And then there's the jewel underground, the Snooze Room, featuring low light, lounge beds, plush blankets and the opportunity to become the snuggest bug in the city, for a half hour at least. This spa is just right for its location; not too big, not too showy and mercifully devoid of things designed to splash you when you least expect it. Wellness, rather than excess, is the word.
Seaweed-based Voya products are used throughout. I booked in for the Voya Deluxe Signature Facial, which is really three treatments in one: a blissful back and shoulder massage, a hydrating and purifying facial, plus a dual action face mask application using something called Mermaid's Purse, a kelpy concoction that is boosted by the application of laminaria seaweed leaves to the face. Laminaria, otherwise known as 'deep-sea tangles' are those thick yellow-ish seaweed bands that you were slightly scared of as a child. As a grownup you'll appreciate their deeply moisturising and remineralising effects on the skin.
Priced €139 the treatment extends to 90 minutes, and includes use of those sweet thermal rooms. Ask for Sharon, if you can get her, as her intuitive, nurturing approach to client care gives this treatment a special edge. Afford yourself time here, to enjoy the immersive ambience, and to admire artwork such as a specially commissioned piece by Limerick School of Art & Design graduate Francesca Hutchinson. "Francesca's piece seeks to evoke the relationship we have with nature and how nature heals us," says the driving force at No 1 Pery Square, owner and managing director Patricia Roberts, "and is another example of our commitment to supporting local."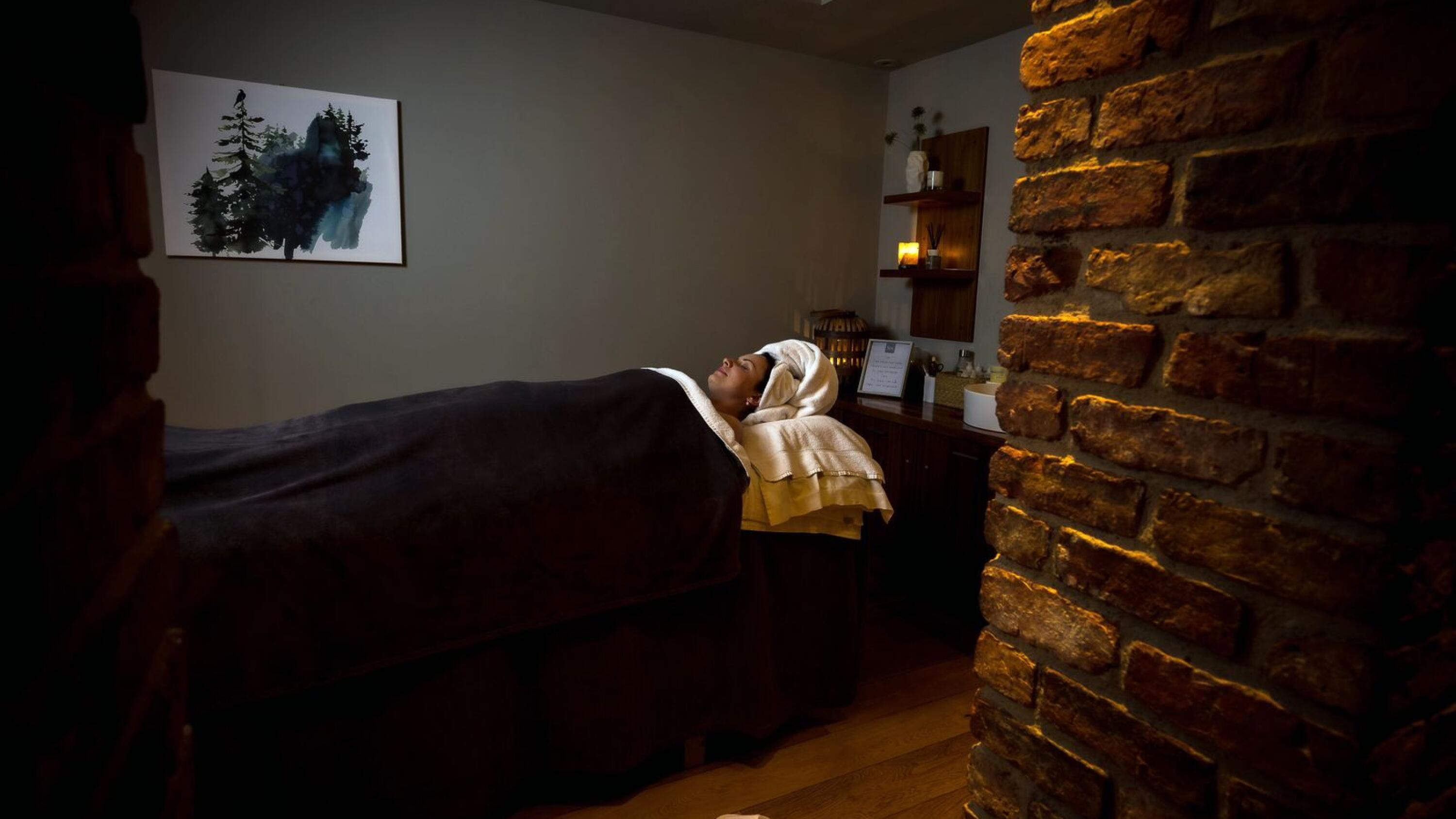 Do book in good time, as the Spa at Number 1 Pery Square is attracting new visitors in their droves, with everyone from local business types to international guests taking time out in the Treaty City. Those seeking to combine a spa visit with a stay at the hotel should also think ahead: rooms are booking out at speed, and packages like The Headspace Escape (an overnight stay, with breakfast and lunch, plus a one hour treatment at the spa, priced from €299 per person) make the proposition even more appealing.
Rooms range from period style, to classic clubs, with the Townhouse Suite a two bedroom bolthole featuring great views of Georgian Limerick. From Dublin, it's a two hour trip by car, or better yet, a two hour and ten minute journey by train, which feels like a moment of self-care in itself. I'll be booking in for a midweek 24-hour break with a friend, confident that those long overdue catchup conversations can happen, if we just make space for them. And the spa at Number 1 Pery Square is exactly the kind of space we need.
Book your experience at Number 1 Pery Square through Ireland's Blue Book here www.irelands-blue-book.ie