Adventures in Technophobia
Adventures in Technophobia: The Dyson Gen5detect vacuum
Dyson is back with a cleaning kit upgrade and their next-generation model in cordless vacuuming technology that doesn't just clean floors, it sucks up viruses too
Ah Dyson, the technophobe's happy place. So simple even troglodytes like myself can operate them, coming as they do, mercifully unencumbered by too many bells and whistles or screens and manuals that make you want to cry razor-sharp swords. Things just click into place, stickle-brick style, and you do not need to be an engineer to figure out what goes where.
But if, as Dyson has rightly recognised, technology will ultimately murder us all in our sleep, it could at least make our last days on Earth a little easier. Hence the tech company's most recent reorganisation and reboot of their cordless vacuum range. Gone are names like Absolute, Animal, and Complete, replaced instead by the Dyson V8 and the Dyson V11.
And what's new about them? Well, the kit has been streamlined for one. In one box you get the body of the machine including the wand; the cleaner head and two of what's deemed as the essential cleaning tools: the crevice tool and the combination tool. Which is all very welcome indeed – less faffing about with extras, and less waste too – a move Dyson say comes with the backup of a recent study which found that 91 per cent of European shoppers want companies to offer more eco-friendly products, with an increased focus on only buying what they need.
But that's not the only trend they are looking to accommodate. Citing further recent research which found that over two-thirds (72 per cent) of shoppers expect the brands they buy from to recognise them as individuals and know their interests – though this might just be an upswell primal reaction to AI – Dyson is offering a new "personalised" approach with the option to customise the vacuum cleaner for your own cleaning scenario with a bunch of accessories including a Pet Grooming Kit which features a grooming tool and an extra long extension hose. There is the Precision tool set to help get to those hard-to-reach places for deep cleaning and an "Advanced Cleaning Kit" for deep cleaning.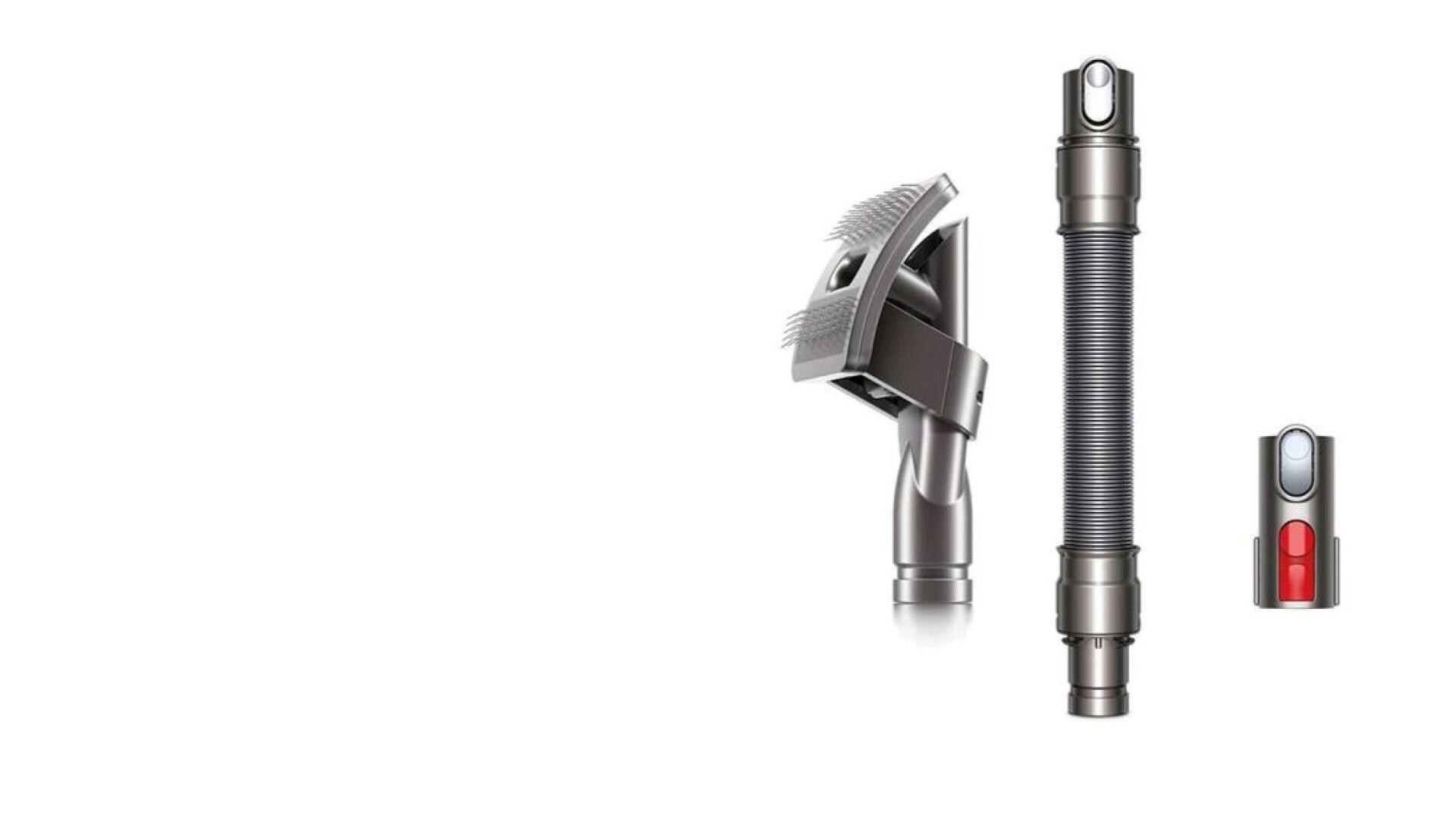 But really the most exciting bit for those of us with a hatred of cleaning and a deep distrust of technology is their latest generation of vacuum, the Dyson Gen5detect. Featuring their new fifth-generation Hyperdymium motor (a trademarked motor they created which spins up to nine times faster than a Formula One engine) it is extra powerful and features a fully sealed, whole-machine HEPA filtration system, designed to capture 99.99 per cent of particles down to 0.1 microns, essentially things that are as small as viruses. The "Fluffy Optic" cleaner head which was introduced so you could actually see the dust on the interface, has also been re-engineered to show twice the amount of microscopic dust.
The redesigned digital display shows in real-time when the surface is clean, it even gives you the volume of particles being removed, so you know when to move on or (extremely unlikely in my case) spend more time cleaning. New software updates monitor and control the motor's speed, power and temperature, troubleshooting any potential issues with the machine as you go. There is a built-in dusting and crevice tool (a welcome reduction in fumbling about getting on new bits), there is now a power button instead of the classic trigger so you can swap hands while hoovering on the go, and the battery has been bigged up too, with 70 minutes of suction. It is a cleaning dream, with the only caveat that it is a bulkier and heavier piece of kit so maybe not the best fit for all levels of strength. That said, a little cleaning workout feels like an actual good use of time, and you can always enjoy watching those microparticles get the ending they deserve.
The Dyson Gen5detect vacuum, €849.99, dyson.ie