Barbecue
Neven Maguire's top barbecue tips
To get you barbecue ready, we asked Neven Maguire, celebrity chef and brand ambassador for Dunnes Stores Simply Better, to share some of his top barbecue tips to make sure that you can master the grill this summer. Brought to you in partnership with Dunnes Stores Simply Better.
If anyone knows about perfecting a barbecue, it's Neven Maguire. One of Ireland's best known chefs and the owner of MacNean House and Restaurant in Co Cavan, Neven also runs his own cookery school and launched his own range of cookware with Dunnes Stores. The Cook with Neven Maguire range is available in Dunnes Stores outlets nationwide and includes some handy gadgets that will help you host a better barbecue this summer. Here, he shares his top tips and tricks.
NEVEN MAGUIRE'S TOP TIPS FOR A SUMMER BARBECUE
1. Ensure your grill is clean before cooking. Give it a good scrub to prevent food from sticking and to remove any black specs which can look unappealing on food. My BBQ brush from my cookware collection is perfect for this.
2. Preheat the BBQ and ensure it is smoking hot before cooking. If you are using a charcoal BBQ it can take up to 30 minutes for it to be at the right cooking temperature, the coals should be grey and glowing.
3. Let the meat come to room temperature. Just like pan frying a steak or roasting a beef joint, allow your meat to come to room temperature before cooking on the grill.
4. Try not to move the meat on the BBQ too much, it should cook evenly on both sides. Use a good set of BBQ tools, such as my BBQ tool set which includes a turner, tongs and fork. Use a tongs to move meats such as burgers and sausages so you don't pierce the meat and lose some of the juices.
5. Use a meat thermometer to ensure your meat is cooked properly. Pierce the meat with the thermometer at the thickest part and ensure it reaches 75C before serving.
6. Similar to cooking steaks and roasts, allow your meat to rest for 5-10 minutes before serving to allow it time to relax and retain all its juices. Keep some tin foil nearby to cover the meat once it's fully cooked.
7. A marinade is a great way to add flavour to your meats, try my simple marinade recipe below which is great for chicken or fish. Don't forget to keep any extra marinade and use it to brush it over the meat as it cooks – but don't use it after cooking as the dish will have held raw meat.
8. Using skewers on a BBQ is a great way to cook both vegetables and meat. If you are using bamboo skewers ensure they are soaked in cold water for 15-20 minutes before assembling the skewers to ensure they don't burn on the grill.
9. Vegetables taste great when cooked on the BBQ but avoid adding salt or oil to the vegetables before cooking. Cook them directly on the heat and then drizzle them with some extra virgin olive oil, salt and pepper or pesto before serving.
10. Fish is also delicious when cooked on the BBQ, salmon and prawns both work really well and they can be wrapped in foil and placed on the grill. Serve them with a delicious flavoured butter, such as my Italian Grilled Pepper Butter (recipe below), if you really want to impress your friends and family.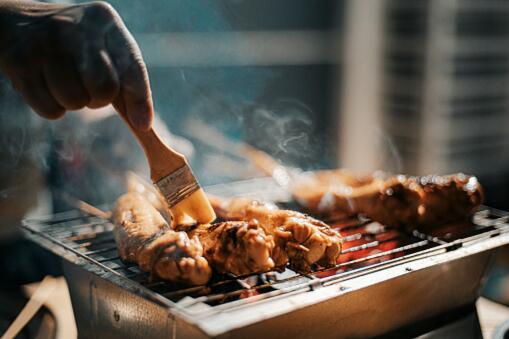 Neven's Simple Marinade Recipe
2 tbsp Simply Better Irish Made Soy & Ginger Sauce
2 tbsp Simply Better Irish Made Sweet Chilli Sauce
2 tbsp Simply Better Spanish Orange Blossom Honey
1 garlic clove, peeled and crushed
Zest and juice of ½ lime
4 chicken breasts
Method
1. For the marinade, place the soy sauce in a shallow non-metallic dish with the honey, sweet chilli sauce, garlic, lime zest and juice and mix well to combine. Cut the chicken breasts into strips and place them in the dish, turning to coat. Cover with cling film and leave to marinate in the fridge for at least 2 hours, or overnight if time allows. Cook over the barbecue, then enjoy.
Neven's Italian Grilled Pepper Butter
1 Jar of Simply Better Italian Grilled Peppers
100g butter, softened
1 tsp smoked paprika
Small bunch fresh basil
Sea salt and freshly ground black pepper
Method
1. To make the grilled pepper butter, add 3 sliced grilled peppers from the jar to a food processor along with the butter, basil, smoked paprika, salt and pepper and blitz to combine. Spread the butter on to a sheet of cling film and roll tightly to create a cylinder shape. Place in the fridge to chill until needed.
Want to get your hands on Neven's range of BBQ tools? Shop the Cook with Neven Maguire range at Dunnes Stores and at dunnesstores.com
Brought to you in partnership with Dunnes Stores Simply Better