Sponsored
Smarttech247 ranked as Deloitte Fast 50 company showcasing VisionX SOC platform
It's the second year running that the cybersecurity organisation has been recognised in one of Ireland's foremost technology award programmes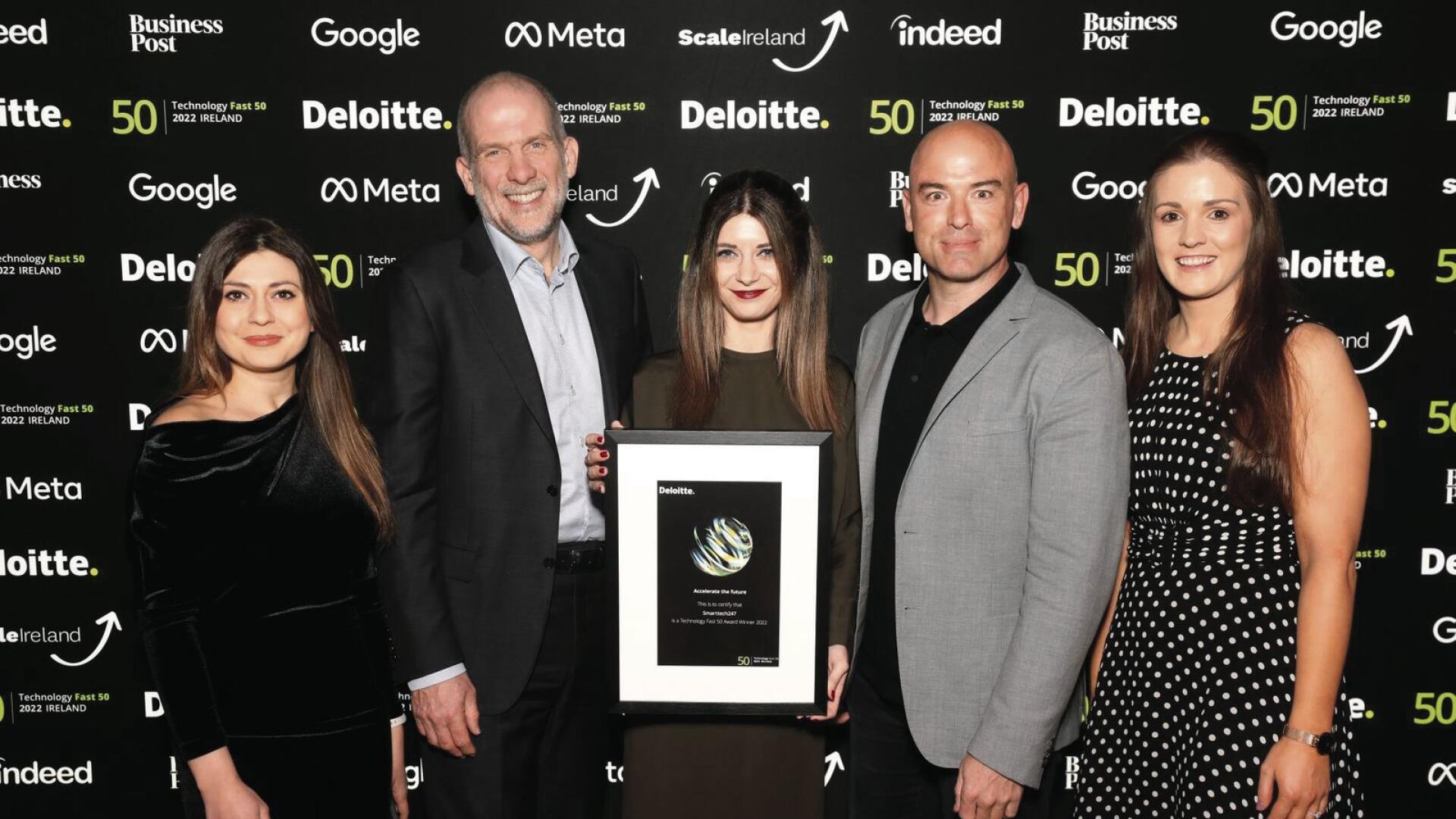 Leading cybersecurity organisation Smarttech247 has been recognised as a Deloitte Technology Fast 50 company, for the second time in a row.
With offices in Cork, Belfast, New York, Bucharest and Krakow, it has ambitious plans for global growth next year and launched its own security technologies this year as part of its continued R&D and innovation efforts. Smarttech247 has experienced an average of 40 per cent year-on-year growth in the past two years.
"The threat landscape is changing constantly. In the last 12 months our Security Operations Centres (SOC) have seen bigger attacks, more sophisticated malware strains and a huge increase in social engineering attacks," said chief executive Raluca Saceanu.
"Couple that with macro issues that the cybersecurity industry is facing, such as geopolitical tensions, lack of skills, etc, and the problem only grows bigger. This past quarter alone saw global attacks increase by 28 per cent, business email compromise grow by 40 per cent and commodity malware grow by 25 per cent. This is why the company created its VisionX security product which aims at solving these complex and widespread issues.
"Our philosophy is to simplify security operations for our customers and to enable them to anticipate and mitigate threats faster and better. VisionX is a SOC platform with sophisticated cross-function detection of suspicious activity that can identify exploitation of systems, users and processes across an entire organisation. Outside of 24/7 monitoring, VisionX provides a simplified, unified view of risk and security events in order to know what is important and what actions are needed."
Even though organisations are investing more and more resources into security technologies, many cybersecurity professionals are finding it difficult to cut through the noise of millions of security events generated by all these technologies. Moreover, they need to make investments in many different technologies, but at the same time they are looking to consolidate their tech stack. "Too many platforms" means too much noise.
"We have identified that security executives are not getting the transparency and the tool effectiveness that they need out of their current tech stack. Moreover, due to the high volume of alerts, they don't have the necessary skills to respond to threats fast. The VisionX SOC platform combines technology and people that work together — each doing what they do best — to detect, understand and remediate cyber issues fast," Saceanu said.
Smarttech247 also launched two more security technologies this year, NoPhish and Threathub.
NoPhish is a managed phishing defence product that allows the users of an organisation to report suspected phishing attempts fast. The product then applies threat intelligence to investigate and correlate the data in minutes and the malicious email is removed from the inbox of any users that may have received it.
Increased phishing attacks are only one of the problems that organisations face. The large number of unmanageable vulnerabilities is a growing pain for many security executives today. This is why Smarttech247 launched Threathub, a vulnerability management tool that allows companies to assess and prioritise vulnerabilities based on the impact on the organisation. Threathub also offers targeted threat intelligence, helping companies react fast when new or updated vulnerabilities become a concern for their organisation.
With all this success, it's only the beginning for the organisation. "We want to grow Smarttech247 into new markets globally and we will continue to invest in our innovation efforts. We want to be recognised as a globally leading cybersecurity company and we believe our growth plans are optimally positioned to get us there," Saceanu said.