Sponsored
Shining a light on Lean for Micro
By focusing on all aspects of a business, the Lean for Micro programme has helped local SMEs discover ways to improve themselves through small and big changes
All businesses strive for improvements, no matter what the circumstances. The ability to speed up processes, remove inefficiencies and ultimately free up time for more important tasks is the constant aim of many organisations.
Enterprise support agencies like Carlow County Council's Local Enterprise Office (LEO) look to empower small businesses through learning programmes, mentoring and grants systems to help them become the best in their work.
The Lean for Micro programme, which provides specialised training in Lean tools and techniques to help build better and more robust entities, is one example of this. The result is thousands of companies across the country experiencing significant gains and improvements.
In Carlow, a large number of organisations from a variety of industries avail of the programme, showing how far-reaching its philosophy is, and how useful it is, in particular, for small firms.
Murphy Engineering & Mobile Welding: helping bespoke firms
A good example of this is Murphy Engineering & Mobile Welding Ltd, which offers bespoke solutions for those needing stuctures such as steel gates and railing as well as a fully equipped welding and fabrication workshop.
The ten-person team, headed by husband and wife Brian and Alison Murphy, develops bespoke solutions for clients in sectors like pharmaceuticals, communications, construction and retail, where quality is the consistent factor.
"We do our best to give them the quality they want, and because of that, we have good customers," said Alison Murphy. "We have the customers who have a good name so it's win-win."
Murphy Engineering & Mobile Welding worked with Local Enterprise Office Carlow over a number of years, availing of many of the supports it provides to entrepreneurs. When the possibility of Lean for Micro came up this year, the company decided to take it on.
There were going to be challenges but the immediate benefit was bringing a fresh pair of eyes to look at the business.
"It's good to get someone to look at how we can reduce or eliminate waste or increase the value we're getting out of our work," she said. "The fact that our work is bespoke, you have to look at things differently to see where you can reduce or cut back."
While it's early days, the benefits of Lean can already be felt. It immediately introduced efficiencies by fine-tuning production elements, introducing a purchase order system to improve supply management and stock control, and improving how the company tracks project management.
Likewise, many of its accounts and services are now on the cloud, which improves accessibility, ensures high communication, and removes the potential stress of losing documents.
"It means everyone is singing from the same hymn sheet," said Murphy. "It keeps us in the loop in the office as well. Those on the floor can see what's happening, but when you're not directly looking at it, you can lose track."
The business has grown to the point where it's moving into a bigger workshop. On top of that, it's looking at introducing solar panels and charging points for electric vehicles into its roster.
All the signs are positive for the organisation. Murphyrecommends Lean, saying that even a slight change in one of your processes can make a huge difference.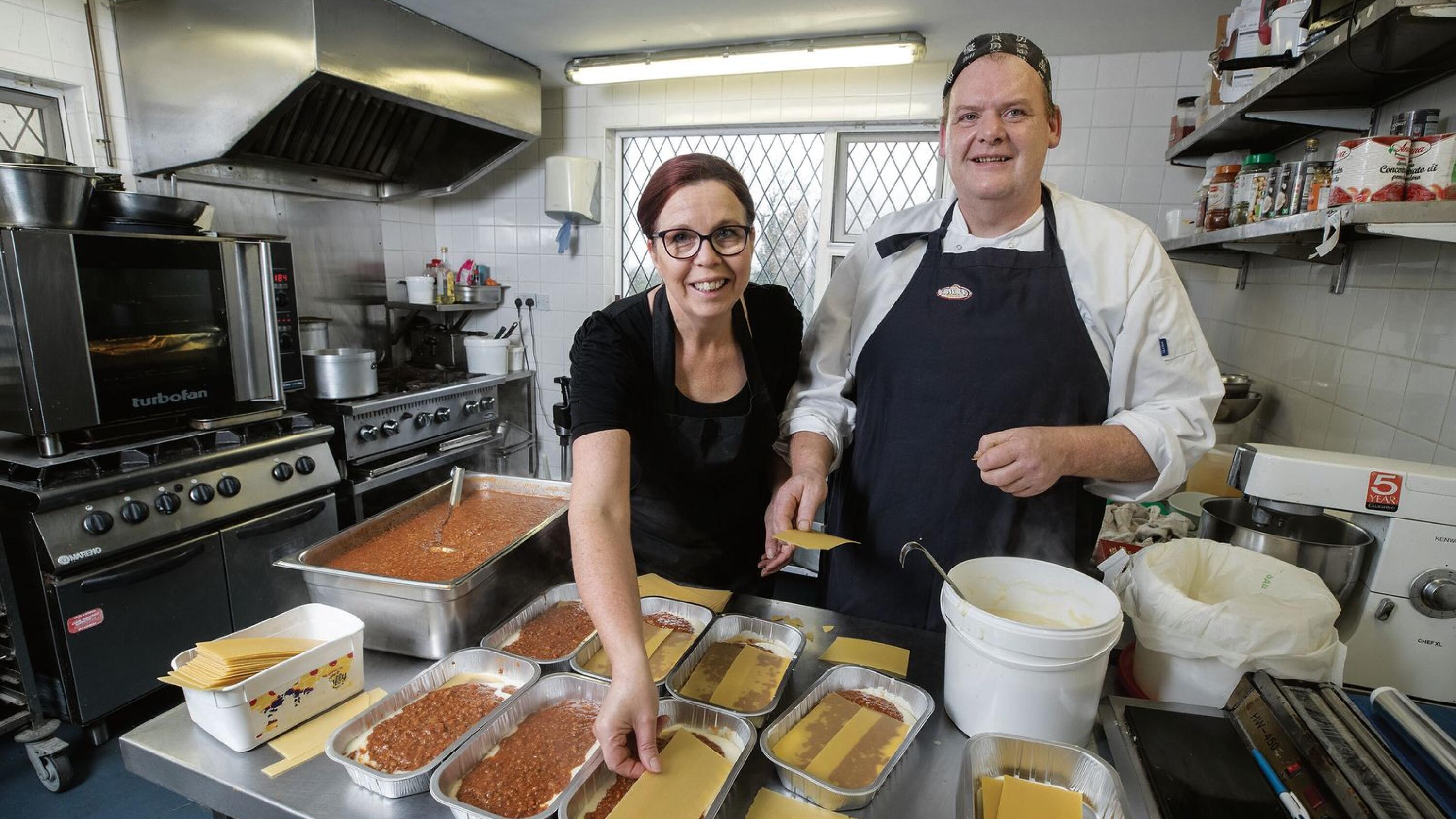 Bia Blasta Home Catering: improving the flow
Another SME that has benefited from Lean for Micro is Bia Blasta Home Catering. Run by another husband and wife team, Bernie Cassells and Pat Dalton, the company has had an extremely busy year which comes after the pandemic pushed them to change their business model.
Catering makes up the bulk of their business, but the introduction of oven-ready meals, which started during the pandemic, has helped the business in multiple ways.
"It changed our business," said Cassells. "It changed our work hours because home catering is weekend work whereas oven-ready meals happen during the week."
As it's a local business, based in the village of Borris near the Carlow Kilkenny border, it's dependent upon word of mouth which it has built up since it started in 2008.
"We thrive on our reputation," she said. "Thankfully, we've always provided a really good service and a quality product that's affordable and that stands to us."
Bia Blasta's experience with Carlow County Council's LEO began during the pandemic when it offered grants for websites and similar digital initiatives to help organisations deal with Covid.
As Lean offered mentoring that small businesses couldn't afford on their own, it jumped at the chance.
Cassells said the biggest benefit of Lean for Micro was how it changed their physical setup, specifically the layout of the kitchen where moving items around or removing machinery made a huge difference to efficiencies.
It's an example of how a small change can make a big difference. But sometimes such simple solutions can get lost when you're running a business and have numerous tasks to tackle.
"The flow is smoother, which ultimately saves time," she said. "When we started the ready-made meals, it took us ten hours to produce for the butchers. Now, we cut that time to a couple of hours on the production day."
"Just the organisation of where you're working, whether it's the kitchen or office, and shaping it so you can put your hand to things easily."
While improvements are made, both are clear as to why they run their business and work towards this.
"Our most important job is being parents to our children and we now get to spend those extra hours with them instead of in the kitchen" she said.
Brendan Kavanagh Furniture: moving in one direction
You can apply a similar principle to Brendan Kavanagh Furniture Ltd, which has been operating for over 20 years.
The company's focus is on custom kitchens. It also offers bespoke bedroom design and custom furniture for living areas. Most of its work is in Dublin, with Carlow and Kilkenny featuring heavily.
Like any work, it throws up challenges, but its owner enjoys every stage of it.
"The business has been growing on word of mouth and reputation," said Brendan Kavanagh. "It's hard work, but I can't stress enough how enjoyable it is. From meeting customers from the start of the journey and going through the whole design stage right to seeing the finished product, it's brilliant."
With a team of six, including Kavanagh himself, the business works with architects, builders and other third parties to deliver its fittings. This year, it embraced Lean principles off the back of positive experiences with Carlow LEO.
The Lean for Micro programme only continued that relationship and helped in many ways.
"It's a mindset which is the big thing and efficiency in how you work," he said. "I trusted LEO that this was the right way to go and to have another opportunity to step up the ladder."
One of the major benefits was its movement from its old pricing system, which Kavanagh described as old-school. Having one that uses cloud services gave it a more efficient and faster pricing system, cutting down on paperwork.
Similarly, small changes in the workshops, such as moving machinery or workbenches around, extra signage, and having essentials like screws in the immediate area greatly improved the flow of work.
"I would always be looking around the corner at ways of improving regardless of what we're doing," he said.
"When we had the Lean programme, everyone was brought together and we had a couple of discussions along the way with the person who ran the programme. We knew everyone was on the same page and we're all going in the one direction, that was key."