J&J Vision Care's Limerick plant is key to global mission
Johnson & Johnson aims to change trajectory of eye health worldwide and its local plant is key to that project given it is one of the planet's biggest contact lens manufacturing facilities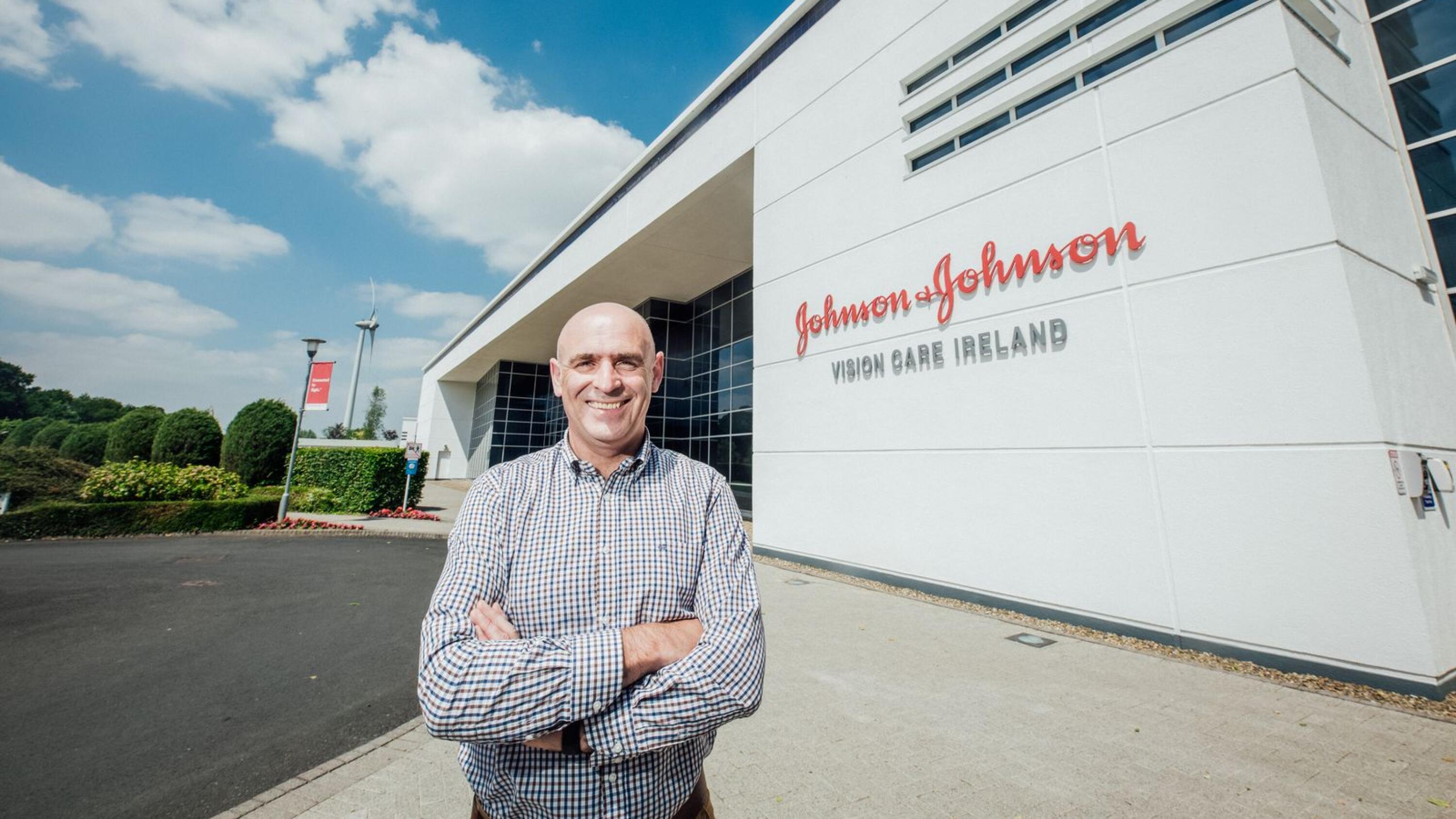 Johnson & Johnson Vision Care Ireland began operating in Limerick in 1996 with just 60 employees. Now, celebrating its 25th year in operation, the Limerick plant has grown to employ 1,600 people, making it one of the biggest contact lens manufacturing facilities in the world.
"The manufacturing site in Limerick is one of Johnson & Johnson's large-scale manufacturing operations for the contact lens business and plays a fundamental role in supporting J&J's mission to change the trajectory of eye health around the world," John Lynch, plant leader at Johnson & Johnson Vision Care Ireland, said.
"In Limerick, we manufacture strategic products in Johnson & Johnson Vision Care's product portfolio, including the company's fastest-growing daily disposable lenses and a range of beauty lenses, largely for the Japan and Asia Pacific markets."
Founded in 1886, Johnson & Johnson (J&J) is one of the world's biggest healthcare companies, with headquarters in New Jersey in the US and more than 130,000 people employed around the world.
J&J has been operating in Ireland since 1935 and now employs 5,000 people at ten locations in five counties.
"J&J's operations in Ireland touch all aspects of human health, from consumer products to pharmaceuticals, medical devices, and vision," Lynch said.
"Our team in Limerick serves customers and patients in markets outside the US with our current portfolio of products, and is also working to deliver new breakthroughs in contact lens technology for the future."
In addition to contact lens manufacturing, Johnson & Johnson has a number of other teams and functions at its campus in Limerick.
Its on-site Advanced Technology Centre designs and makes automated manufacturing equipment for new and manufacturing processes.
There is also a Software Development Centre, specialising in the development of the company's own supply chain, customer management, digital, data analytics and manufacturing systems.
"The software development team designs, develops and delivers high-quality business applications, software solutions and services to meet J&J's business technology requirements. It has a diverse workforce of 18 different nationalities," Lynch said.
J&J's Limerick campus also houses its Surgical Vision Supply Chain function, providing products to patients needing cataract or lens replacement surgery and treatment for dry eye and glaucoma.
"Our aspiration at Johnson & Johnson Vision Care Ireland is to bring improved eyesight to people around the world through the research, development and manufacturing of new medical device technologies," Lynch said.
"Over the last 25 years, the talented workforce, incredible support of the community and the network of suppliers and partners we have here in the midwest, have supported our business and helped us to deliver to our billions of customers around the world."
Johnson & Johnson Vision Care Ireland had a "strong focus" on career progression through continuous education, Lynch said.
"From certificate through to doctorate level programs, we have supported 300-plus employees in developing skills in new technologies since 2016," he said.
The company's graduate and apprenticeship program sponsors 30-plus trainees per year in Limerick.
"Over the years, we've built strong relationships with the University of Limerick and Limerick Institute of Technology, which has been invaluable," Lynch said.
"Johnson & Johnson is also a known leader for advancing women in Science, Technology, Engineering, Math, Manufacturing and Design – what the company calls WiSTEM2D careers.
"Now in its fifth year, WiSTEM2D is a high-intensity programme reaching over 150 undergraduate women to date at University of Limerick and, more recently, University College Cork.
"Its aim is to expose young women to the endless possibilities of a career in STEM, by providing participants with one-to-one mentors, visits to our sites, career workshops and the potential for a long-term career opportunity."
Since opening in 1996, Johnson & Johnson Vision Care Ireland had put down "deep roots in the midwest", Lynch said.
"We have had strong support from many local suppliers, vendors and organisations, such as the IDA, American Chamber, Limerick Chamber of Commerce and local colleges and universities," Lynch said.
An eye to the future on ambitious climate goals
Johnson & Johnson Vision Care Ireland has taken an innovative approach to generating renewable energy on-site at its Limerick plant.
"J&J began setting public climate goals 20 years ago and our new climate commitments are our boldest and most ambitious yet," John Lynch, plant leader at Johnson & Johnson Vision Care Ireland, said.
"Building on a strong history of climate action, by 2030, J&J aims to achieve carbon neutrality. To help meet this goal, we are aggressively accelerating our target for 100 per cent renewable electricity throughout global operations by 2025."
J&J was also working with suppliers to reduce its upstream carbon footprint by 20 per cent by 2030, Lynch said.
"Here in Ireland, we are committed to supporting the company's climate action goals. In the last decade, we have invested more than €60 million in over 80 carbon footprint reduction projects," he said.
"Our Vision Care site in Limerick is committed to environmentally sustainable operations. The site has earned ISO 14001 and ISO 50001 certifications and driven consistent reductions in product resource intensity.
"It uses 100 per cent wind power. Part of the facility's demand is met with an on-site turbine."
J&J would soon be announcing a "significant commitment" through a renewable energy power purchase agreement in Ireland, Lynch said.
"It will take the company one step closer to sourcing 100 per cent of electricity needs globally from renewable energy by 2025," he said.