HealthTech 'golden age' is born of the challenge of a lifetime
The HealthTech Ireland Annual Conference heard that innovation will lead to a near future where technology is central to personalising patient experience and saving lives
In 2020, facing one of the most challenging years in living history, the healthcare sector had no choice but to embrace innovation, making use of technologies including machine learning, telehealth and remote monitoring tools. The adoption of digital healthcare has accelerated to such an extent that governments are now having to take stock of its impact, and plan for its future.
2021's HealthTech Ireland Annual Conference took place online, gathering experts in the field to reflect on this cultural shift. The programme of keynotes, panels and case studies reflected the sector's renewed interest in innovation and connectivity; with the theme "Igniting innovation through collaborations", the conference brought together policy makers, clinical leaders, patient advocates, researchers and other industry insiders to discuss advances made in technology and engineering, and the future of Irish healthcare.
Delivering the morning keynote address, Mike Burrows, national coordination director for AHSN Network, UK, spoke on models for spreading and scaling innovation throughout the healthcare system.
Part of an NHS-funded organisation implementing an end-to-end model for development, support and deployment of innovations at a local and national level in the UK, Burrows outlined lessons taken from their work. "It's not something that can be delivered remotely; it's all about building trust, and relationships with teams," he said. "It's important that there's not only evidence of efficacy, but that there's a solid value proposition there that's either cost-neutral, or that can release resources."
David Toohey, CEO of Synchrophi Systems, delivered a case study titled 'How intelligent automation is changing healthcare'. Discussing the challenges and costs associated with adding more hospital beds, a problem which has long affected Irish hospitals, Toohey went on to discuss an ambitious plan to reduce the length of hospital stays, improve efficiency among hospital staff, and reduce treatment costs through use of intelligent automation.
Cloud computing holds a lot of potential to deliver 'patient-centric' care – speaking on the subject, Mark Finlay, head of public sector for the Republic of Ireland for Amazon Web Services (AWS) said that third-party research indicated that "From a cost perspective, our clients aren't going to invest up front… they can basically turn their infrastructure on and off when they need it." Citing benefits to scalability and security posture, Finlay said the cloud also delivers dramatic improvements to agility.
Dr Andrew Jones, head of clinical innovation at AWS, said that cloud can also aid in securing mission-critical environments, delivering improved reliability. Remote health technologies, like dermatology scanning software SkinVision, use cloud technology to power their machine vision, monitoring potentially dangerous conditions in patients remotely.
Previous
Next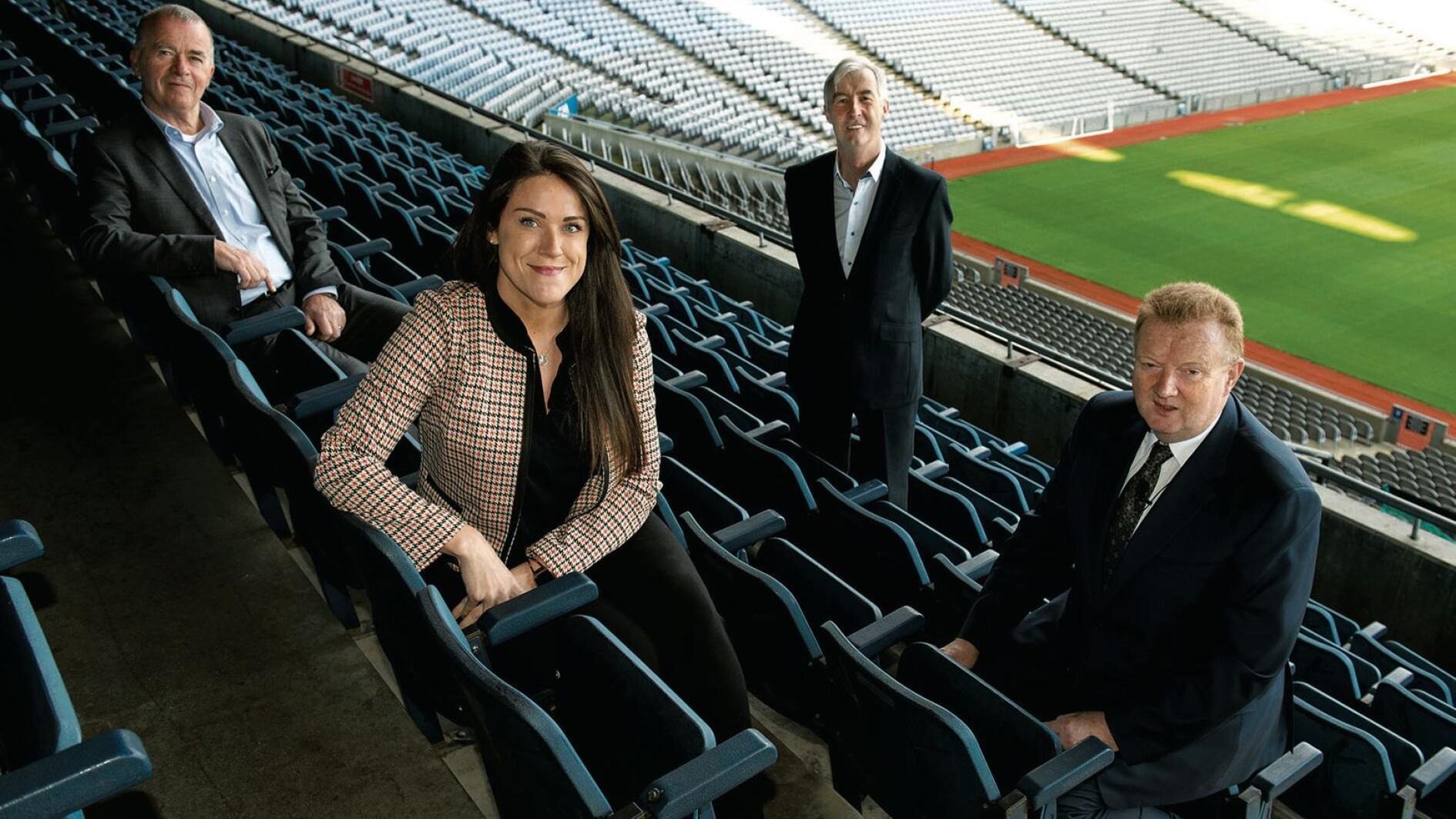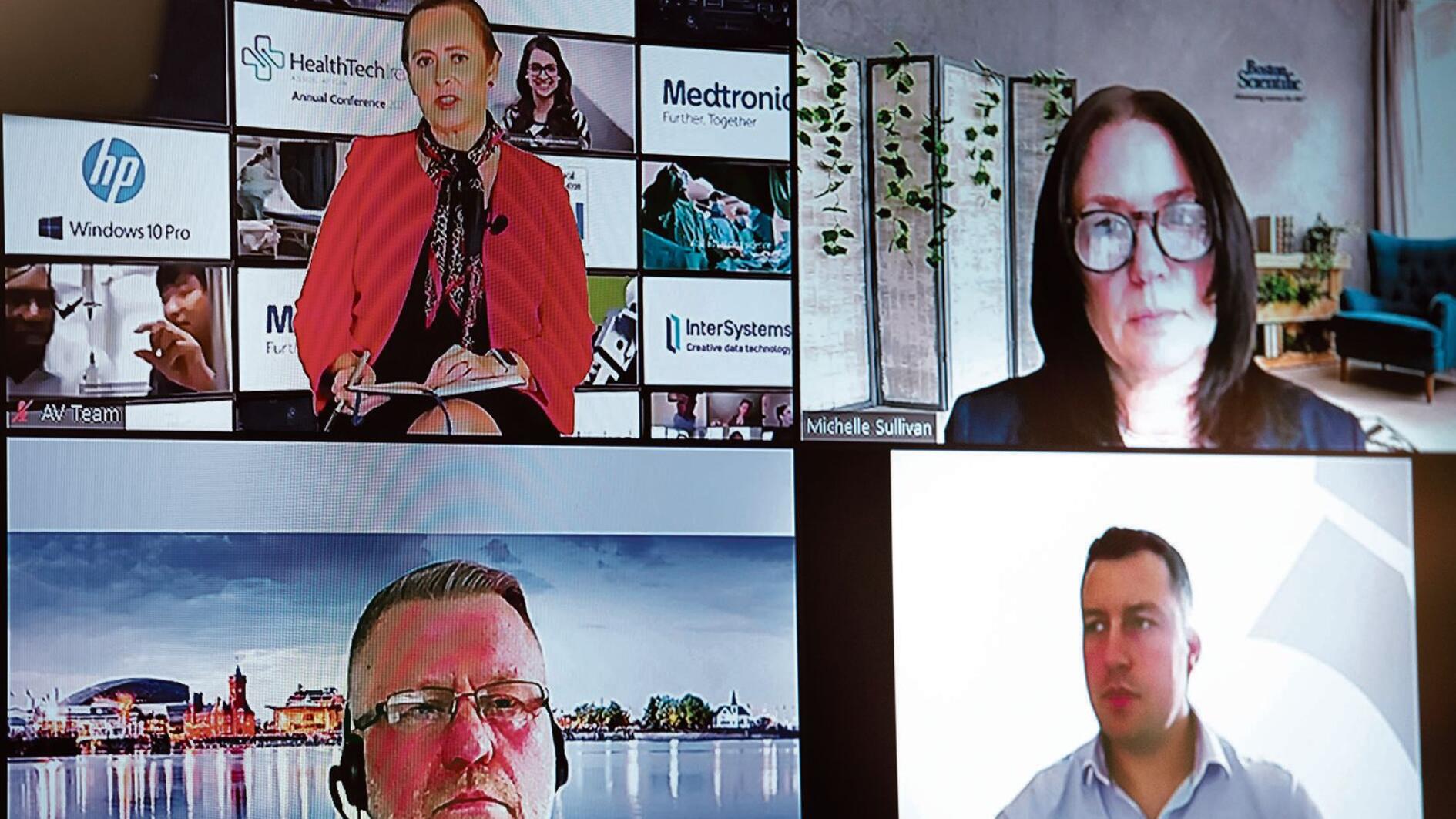 The first panel of the day was on partnerships, innovation and collaboration models in Ireland at present. "We're seeing more and more that as we move into new areas, there's more scope for innovation," said Professor Martin O'Halloran, co-director of BioInnovate Ireland, naming historically underserved areas of medicine, including mental health and patient-centred care, as areas that would benefit from further innovation.
"Allowing people to participate in innovation often allows people to become innovators too," said Tanya Mulcahy, interim director of Health Innovation Hub Ireland. "We couldn't keep up with the number of ideas, and people calling us daily during the pandemic. What was fantastic was that this system – procurement, the general healthcare setting – wanted solutions, and wanted to be involved. It hasn't gone away, and it won't go away in future either."
Deirdre Glenn, head of life sciences at Enterprise Ireland, spoke on the post-covid commercial challenges facing Irish healthcare. "So many companies adapted and pivoted in order to cope with the pandemic," said Glenn. "Where possible, our clients pivoted into supporting medtech and into the production covid-related products."
Some developed hand sanitisers and PPE, while others worked on developing a digital transformation programme. "Companies need access to people with regulatory experience, while with Brexit it's the supply chain."
Enterprise Ireland fosters a culture of innovation, providing training programmes and supports as well as opportunities to collaborate with the third-level community.
Frank Keane, CEO of Vitalograph Group, delivered a case study on scaling innovation. Discussing the development of a device called the Vitalojack, a system for cough analysis, Keane said "What we learned is that SMEs can diversify in innovation… I think that's very important. Generalists tend to survive far longer than specialists."
On a panel on commercial challenges facing health tech scale-ups, Sonia Neary, CEO of Wellola, named access as a particular challenge. "I think it's underestimated, just how much work and time goes into getting a product safe and ready to sell.. you have to make sure your product is fit for use in a clinical context, and that it's evidence based."
Taking this product to market is also a challenge; "What happens to a lot of SMEs like ourselves is that they have to go abroad, and get validation, before they can come back and sell in Ireland."
Another panel took a detailed look at the process of evaluating new technologies for healthcare. Rosemary Durcan, CEO of Athena Life Sciences Consultancy Ltd and a board member of HealthTech Ireland, said: "I think the way forward is in partnership. The time is now to push how we evaluate medtech under the market access umbrella. If we can identify what values the patient is looking for, and the staff, then that's a great place to start."
Jim Joyce, founder of HealthBeacon, said that the first step should be accepting that in Ireland at present there is a problem – and an opportunity – relating to adoption of new health technologies. "There's a procurement process that was built for another time," Joyce said, "It's currently safer to procure from larger companies rather than small innovative companies. There's a leap of faith required."
Chris Coburn, chief innovation officer of Mass General Brigham, delivered the international keynote address, speaking on innovation and trying new technologies in the US healthcare system.
"The pandemic has created new opportunities and has accelerated the rate of change," said Coburn. "It's the right science, it's the right team and it's the right time. This is the golden age, and will be for the next few years." Investing in 47 different early-stage life science companies, Mass General Brigham has experienced significant success among venture capital firms managed by academia.
Coburn was followed by Mary Day, chief executive at St James's Hospital in Dublin, who spoke on the process of integrating research and innovation centres on the St James's campus.
"We're looking at growth in demand, growth in population," Day said. "There has been additional funding, post-Covid. Recruitment has increased, but retention remains an issue." Working towards creating an 'Academic Health Science Campus' (AHSC), St James's recently received a Public Service Innovation Award.
The final panel of the day discussed collaboration and cooperation. Michelle Sullivan, head of public affairs, UK and Ireland for Boston Scientific, said "We're now at a moment where we need to act, in a less panicked fashion but still at pace, in order to maintain quality of service because so much has changed over the last year."
Sullivan said that business transformation should come from the top and the bottom of a business at the same time: "Organisations like ours have to be working on the ground to help everyone implement change successfully."
Neil Dover, country manager of HP Ireland, said that HP has developed a team specific to healthcare: "We've seen innovation, some of it forced upon us, and some of it which has changed lives around the world, like 3D printing."
Healthcare professionals have faced the challenge of a lifetime over the last year; the challenge at present is to retain these gains, learn from them and continue to innovate. The HealthTech Ireland Conference looked to a near future where technology is intrinsic not only to making healthcare more efficient, but to enhancing personalising the patient experience, potentially saving lives in the process.