Bringing the personal connection back to Cyber Expo & Conference Ireland
The organisiers of this year's Cyber Expo & Conference look forward to welcoming attendees in person to the Leopardstown Pavilion, Dublin on Thursday April 28
After a successful virtual event, Cyber Expo & Conference Ireland is set for a return to an in-person event on April 28, 2022 and is back bigger and better than before.
The last 18 months have accelerated technology trends in the workplace, so too have the challenges. While the pandemic has required businesses to become more reliant on technology and services, the complexity of staying protected continues to grow.
Ransomware, awareness and education, endpoint protection, and patching are just some of the elements that need to be considered and it's no surprise that Irish businesses are finding it challenging to keep up.
A PwC report in April 2021 found that while 96 per cent of Irish businesses have altered their strategy during Covid-19, 80 per cent said they lacked confidence that their spending is used correctly, while 37 per cent said they're considering changing their budgeting process.
Considering how prevalent attacks are now and how spread out the average business's tech footprint is, tackling cybersecurity is a daunting task.
No industry is safe from attacks and recent years has seen criminals and other bad actors targeting major sectors like utilities and healthcare; such attacks can leave significant long-lasting damage.
This changing landscape makes events like Renaissance's Cyber Expo & Conference Ireland all the more important. Starting back in 2017, the event has gone from strength to strength and the next one is set to be bigger and more comprehensive than ever before.
Demystifying cybersecurity
Taking place on April 28 in the Leopardstown Pavilion, the full-day event will continue its goal of demystifying cybersecurity and keeping organisations up to date on trends and developments in the marketplace.
The day is split into two main components. The first is the conference section which includes expert-led presentations and breakout sessions with industry experts.
The eight streams will cover pertinent areas of cybersecurity such as identity rights management, Always-on Computing, managed security and application security, and will look at the various issues, challenges and solutions for each one.
Each stream will include real cases studies and live expert panel discussions to flesh out topics and give the best analysis and advice in their respective areas.
The other section is the expo floor which will feature vendors, Value-Added Resellers (VARs), security experts and other major players from the security industry. Each has their own stand, meaning attendees can chat to an expert at any time throughout the day.
Some of the vendors attending include Armis, Barracuda, Checkmarx, Entrust, Immersive Labs, Kemp, Panaroys, Webroot and Zyxel Networks, which will be a prime opportunity for those in the IT trade as well as end-users in the Irish market to avail of their expertise.
"It all ties back into why the Cyber Expo was created in the first place", said Michael Conway, director at Renaissance. "The ethos behind it is a way to bring the entire ecosystem of businesses, manufacturers, vendors and VARs together."
"When we first created it, there were few ways that someone could easily contact and meet vendors, understand the technologies out there and get educated. We wanted to bring people together, let you meet the manufacturers themselves, and have conversations."
The move to Leopardstown Pavilion provides a bigger venue for the Expo and Conference and the room – both literally and figuratively – to provide peace of mind.
For one, the venue is large enough to accommodate up to 1,000 people at any one time, so it will use this space to ensure measures like social distancing and spacing are easy to honour.
Likewise, all vendor stands are the same so no one vendor gets a bigger or more elaborate version to stand out, ensuring that the only difference between each of them is their area of expertise.
Another element is its accessibility in both facilities and in transport. Situated just off the M50, it's convenient for those driving to the city while also being served by major public transport routes such as the Luas Green Line.
That accessibility, alongside the extra space, makes it a more compelling proposition for people to attend.
"We wanted a physical venue, but we wanted to host the Expo and Conference in a sensible and safe way," said Conway. "We have more space, more capabilities for our exhibitions and bigger conference areas so we can handle the same number of people, but provide more spacing to keep everyone safe – plus the benefit of being in-person."
Multiple ways of learning
Many of the talking points and discussions on the day will reflect how cybersecurity has developed in recent years.
Nowadays, it's a 24/7 endeavour with the pandemic accelerating trends, with our reliance on technology increasing and the need for constant availability crucial.
Much of this ties in with the growing prevalence of attacks and threats happening. Ransomware threats are still being carried out while zero-day bugs, and other issues like the Log4Shell vulnerability have ramifications that can deeply affect regular lives.
The ecosystem and marketplace have undergone significant changes since the last Cyber Expo & Conference and this is represented by the eight streams happening throughout the day.
The streams include Always On Computing, Application Security, Business Email Compromise (BEC), Identity & Rights Management, Managed Security, Operational Technology (OT) Cybersecurity, Securing a Microsoft Environment and Cyber in Healthcare.
Each stream will highlight the threats faced and how organisations can protect themselves.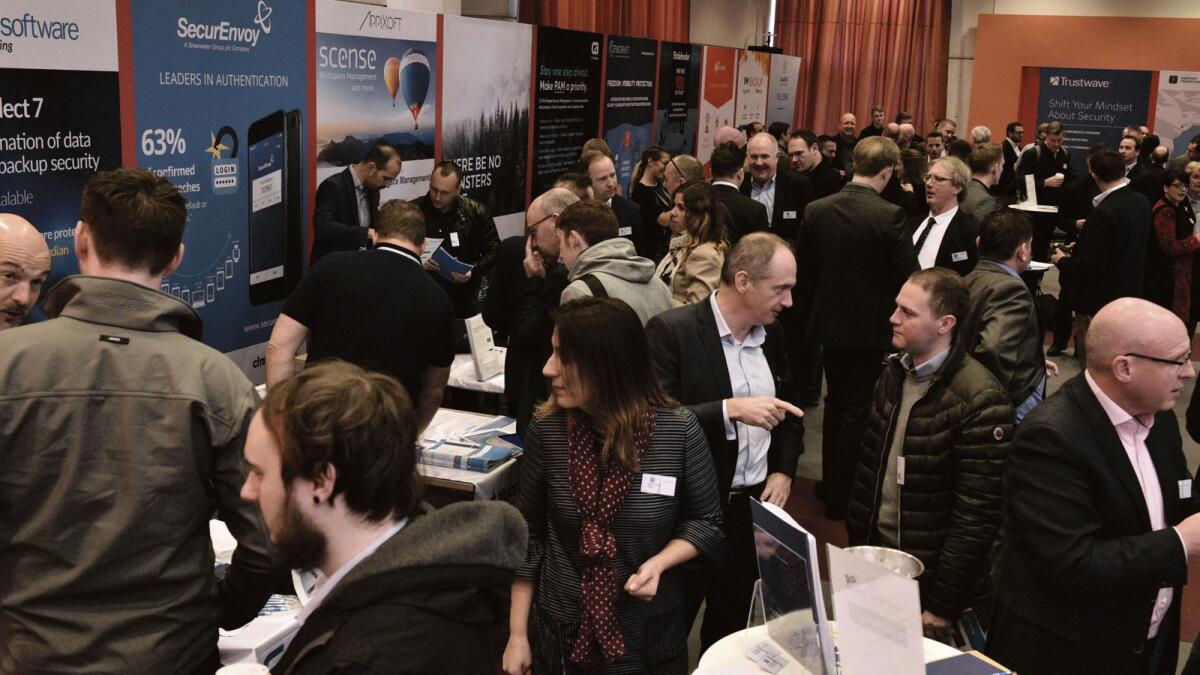 "If you were to attend a conference a couple of years ago, you would have heard talk about endpoint antivirus software and things like that," said Conway. "The market has changed and user demand has changed with cybersecurity being 24/7 and even the largest organisations may not already have 24/7 security analytics or threat analytics available."
Of the eight streams, the first is Always On Computing which focuses on the many threats IT systems face from cybercriminals and attackers. It will also look at the potential cases for component failure and misconfigurations that can lead to downtime.
Application Security looks at the wide-ranging entity that allows users to access services on any device or platform. As applications are of interest for attackers because of the data they process, this stream will focus on
Business Email Compromise (BEC) will analyse the targeted phishing attack practice and how a successful BEC attack can lead to severe ramifications for both the individual and organisations.
The Identity & Rights Management stream will highlight the numerous ways to keep user logins and identity information safe and secure, and how vulnerable your organisation becomes when login details are compromised.
This will cover elements like multi-factor authentication, Privileged Access Management (PAM), and Identity and Access Management and how this and more is key to good cybersecurity posture and hygiene.
As cybersecurity is now a complex entity, it's tough to go it alone without help which is where Managed Security comes into play. This stream will discuss how it can be a boon for your organisation and the many ways it can help take the workload away.
The stream on Operational Technology (OT) Cybersecurity deals with manufacturing businesses and utilities which rely on machinery to carry out crucial tasks such as power generation, water filtration and other essential tasks
As one of the biggest companies in the world, many companies use Microsoft products daily which is what the stream Securing a Microsoft Environment will focus on. As its services now rely on the cloud to provide collaboration and productivity services 24/7, managing that environment has become more complex.
Cyber in Healthcare
The final stream, and one that has grown in prominence in recent years, is Cyber in Healthcare. The Irish healthcare system alone made news in 2021 with the HSE being hit by the Conti Ransomware gang and Coombe Hospital announcing a ransomware attack hit it in December.
This stream will discuss the general state of cybersecurity in healthcare locally and internationally, the major threats, and how to mitigate these threats.
At this point, healthcare institutions worldwide are in the crosshairs for good reason: they use devices and software that are older and therefore easier to compromise and health care information is easy for bad actors to monetise. Those factors make them an attractive target for bad actors and is a big reason for its addition, said Conway.
"Medical and health organisations have been attacked because health records are worth a lot of money," said Conway. "If your health records get exposed and you have something like a chronic disease, that doesn't go away."
"It's the most sensitive data you have and that type of detail is something that should be guarded with the utmost security and protection."
Training events
Alongside the Expo and Conference, training partners Technology Ireland ICT Skillnet will be hosting a number of training events and classes designed to further develop attendees' knowledge and awareness of cybersecurity.
As part of the conference, a 90-minute masterclass in digital transformation will be delivered by Niall McKeown, educator, author and YouTuber. One of the most viewed global experts on YouTube about digital transformation, the sessions will look at the transversal nature of cyber as part of this process.
The other part of the day will include a Capture the Flag event, which creates a fun environment for attendees to learn more about cybersecurity.
Testing them through a number of technical and non-technical challenges, it helps train people to both recognise and mitigate exposure to potential threats, hone their cyber awareness skills, and test their knowledge and competency.
The event is designed as an interactive way of learning and also reinforces existing knowledge.
Reducing the friction
The opportunity to attend an in-person event after so long can bring a sense of novelty but even so, Renaissance has taken measures to ensure this year's Cyber Expo & Conference runs as smoothly as possible.
One of the difficulties faced by many attendees is making the best use of their time there. With multiple streams to attend and vendors to speak to, it can be overwhelming for some to keep track of things, especially since physical events have been so rare over the last 18 months.
A major focus was removing the friction with traditional conference events. Much time can be wasted queuing up for talks, figuring out where to go next, or even just getting a cup of tea or coffee, time that can be better spent making connections.
For one, making sure it's a welcoming and easy-going experience was key so attendees can feel relaxed and not just in terms of Covid measures.
"With the Cyber Expo, we made a point of wanting to feel like they were arriving in our living room," he said.
"We want to make this a friendly place, you're coming in and we're taking the obstacles away so you can focus on the event. The more friction we can take out, the easier it is for everyone, and the more value they will get out of it."
The other important part is to help chaperone those who might not be entirely sure who to go to.
When attendees arrive, someone from the Renaissance team will be able to chat to them, find out what they're hoping to gain from the Expo, point them to the relevant people, and repeat if new information is needed.
All of it is taking out the stress and worry that can come from figuring out what to do and where to go as everyone must benefit.
Cybersecurity can be complex and tough to keep up with at the best of times so streamlining the process, making each section easy to understand, and ensuring that nobody is ever lost or unsure what to do or see is crucial to helping attendees get the most out of their day.
"It's about making it all work," said Conway. "Each person's requirements and what they're attracted to is different, which is why we want to provide maximum value for everyone. Value for the attendees, value for the distributors and manufacturers, value for the partners and value for ourselves.
"We want everyone to be a winner so to get all of those aspects together is huge."
The Cyber Expo & Conference Ireland will be held at the Leopardstown Pavilion, Dublin on Thursday April 28 from 8am- 4pm. To register, visit cyberexpoireland.ie