Sponsored
A Perfect Bite
The Dunnes Stores Simply Better range has a well-deserved reputation for award-winning food and drink. Behind the scenes it also champions small Irish producers, helping them to grow while doing what they do best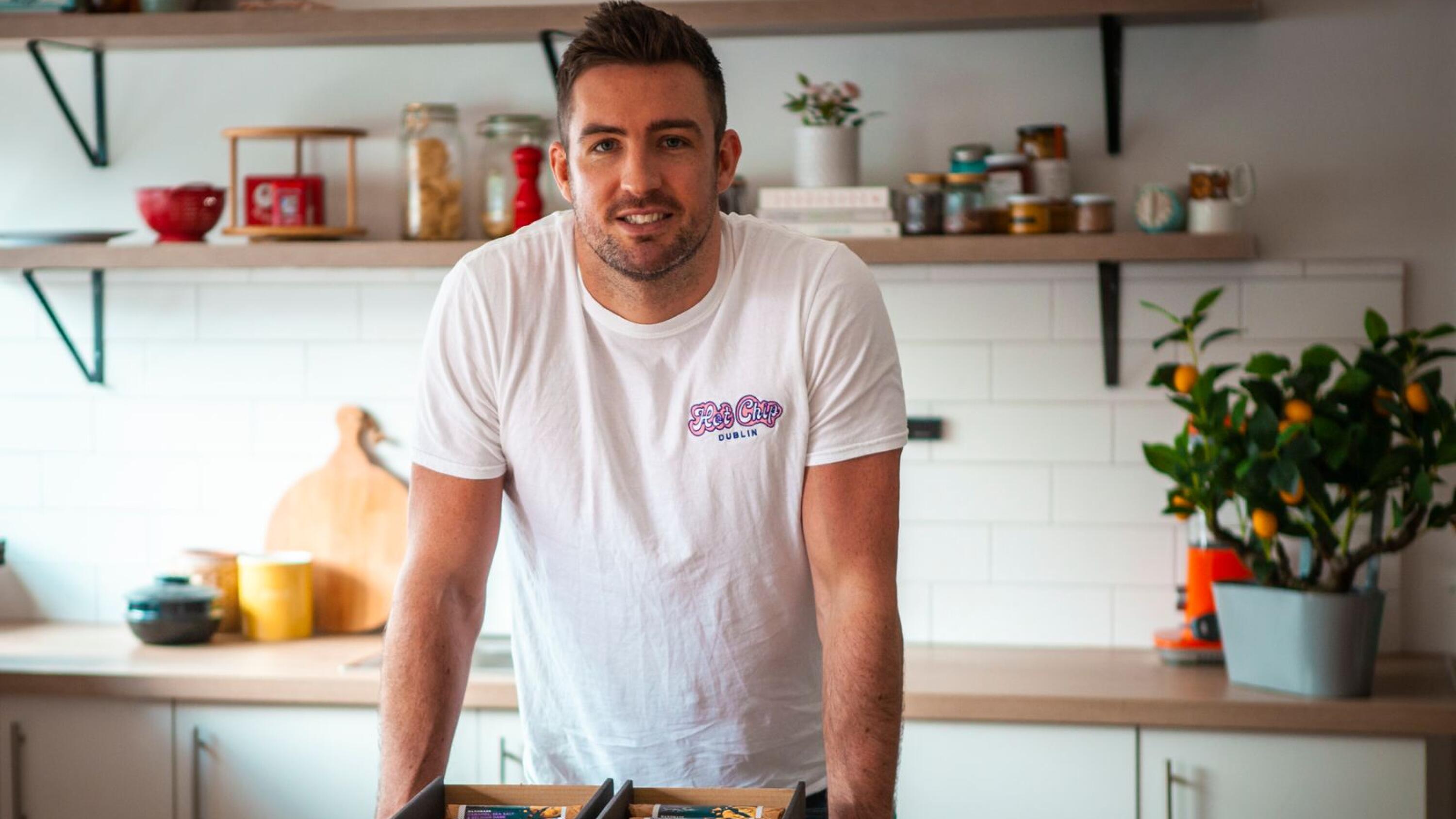 This month we caught up with Dave McSharry of the award-winning Hot Chip cookie dough company to find out more about its new range for the Simply Better collection.
Dave always planned to set up his own business and his time living in Australia and travelling around South America and Canada proved to be inspirational. The former rugby player had studied business management and entrepreneurship while in Australia and was looking for opportunities in the Irish market.
"While I was travelling, I tried different types of food that hadn't really kicked off here yet," he explains. "Doughnuts and cupcakes had pretty good spells in Ireland and it felt like the next trend that might come this way was the thick-style cookies I had tried when I was away."
He started looking into the idea but when Covid hit he changed direction a little.
"Through Covid, I was practicing recipes and when we had the lockdowns it pushed me more towards a bake at home cookie dough. More people were at home and everyone was trying a bit of baking so I wanted to do something that might make it easy for people to bake up a premium cookie themselves."
The Hot Chip cookie dough brand launched in September 2020. It quickly won awards and soon came to the attention of the Dunnes Stores Simply Better team - via another Simply Better producer, as it happens. Which is testament to the collaborative environment the Simply Better brand is nurturing.
"We were supplying cookie dough to a lot of coffee shops around Dublin, including Two Fifty Square Coffee who provide coffee to the Simply Better range," Dave explains. "When the team was in the store the Two Fifty Square Coffee guys told them the cookies sell out each day and go great with their coffee That was how it first came about.
"It's been a long process - about a year - but it's been really good."
The new products have just launched into over 90 Dunnes Stores and there are two exclusive flavours: a caramel, sea salt and dark chocolate and a bourbon vanilla and white chocolate.
Flavour has been at the heart of the brand from the beginning, and the main ingredient is Irish butter.
"We have the best butter in the world," Dave notes, "and we wanted to make an authentic Irish cookie dough." Using local ingredients where possible, Belgian chocolate is one ingredient they were willing to go abroad for as it has such a good name.
"We've been big on ingredients all along and that's why Simply Better was a natural fit for us. They focus on using the best ingredients too. We could have gotten cheaper ingredients and made savings here and there but I wanted to make the best tasting cookie possible. So we stayed strong on that. We've tried to use best."
This commitment to quality is something Hot Chip shares with Simply Better and Dave has been impressed by how the Simply Better team works.
"It's been amazing to see just how detailed they are on every aspect and we've learned a huge amount in terms of packaging and recipe development."
Quality always comes to the fore and Hot Chip's refusal to cut corners has proven to be a wise move. "One thing a lot of people say to us when they try our cookies is that when you bite into it, you know it's one of ours. The taste and texture are quite different to your standard cookie. I think that's where the quality of ingredients shines through."
As for his own favourite flavour in the new Simply Better range? "I really like them with ice cream," he laughs, "so the salted caramel and dark chocolate is probably the one that I'm eating the most of at the moment. It goes really well with vanilla ice cream."
The new products arrive in selected Dunnes Stores this week and Dave is excited about the reaction. All going well, he is full of ideas for the future too, from more products to collaborations with other producers in the range.
It's clear that this partnership with Simply Better is going to be a sweet one indeed.