Stock Take
CRH has a new set of investors to win over with US move
The building materials giant is moving its main listing to the New York Stock Exchange – and with that comes a different type of scrutiny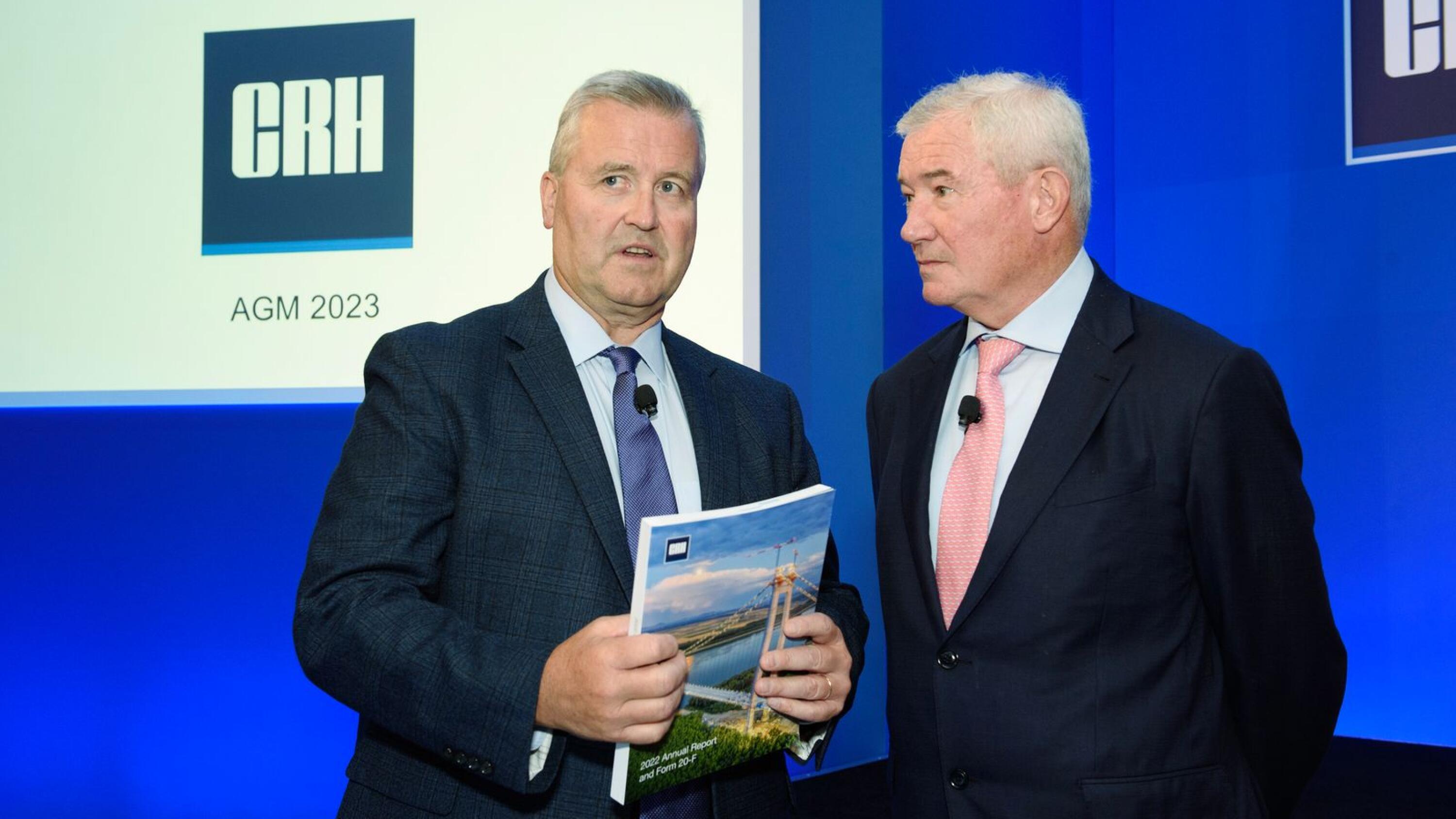 Over its decades trading on the Irish stock exchange, CRH has grown into the biggest – and by far the most valuable – public company this country has ever produced.
Now it has a new set of investors to win over.
The building materials business is moving its main listing to the New York Stock Exchange from Monday, demoting London to a secondary listing and bidding farewell to Ireland's equities market after an 87-year association.
Trading its shares in the US, CRH hopes, will give it access to far greater levels of liquidity than it can avail of on the London or Dublin stock exchanges.
It also makes commercial sense for a company that does the majority of its business in North America – 60 per cent of its 75,000 global employees work there, and it's the source of 75 per cent of all CRH's $2.7 billion in profits worldwide.
There's also the small matter of the $1.2 trillion US infrastructure programme – a lucrative proposition even for CRH, already the biggest player in America's building materials market and a firm described by one analyst as a "cash-generating machine".
With its ever-expanding US presence, CRH – like Flutter, which owns Paddy Power – has come to the realisation in recent years that it is as American as it is Irish, if not more. It has started disclosing its annual reports in dollars and it has openly talked about the process of its own Americanisation.
All it lacked to complete the process was a presence on the New York Stock Exchange. From Monday, that problem will be solved.
Anyone paying attention knows well why CRH has moved to the US – as well as the existential problems its decision has created for Euronext Dublin, the official title of Ireland's stock exchange.
The only question that we don't have an answer to – for now – is whether CRH will make as big a success of its American listing as it has in Irish and UK markets.
Will investors in the US be convinced of the merits of buying into CRH – an Irish company which wants to become as American as apple pie and baseball? And just how big can CRH grow now that the bounties of the US beckon?
Ask the experts, and you get a pretty clear answer: CRH is on to a winner in the US – it just might take American investors a bit of time to figure that out.
Kathryn Thompson is chief executive of Thompson Research Group – a Nashville-based stock exchange analyst. Her firm was the first in the US to start covering CRH, so she's well placed to assess the company's prospects on the New York Stock Exchange.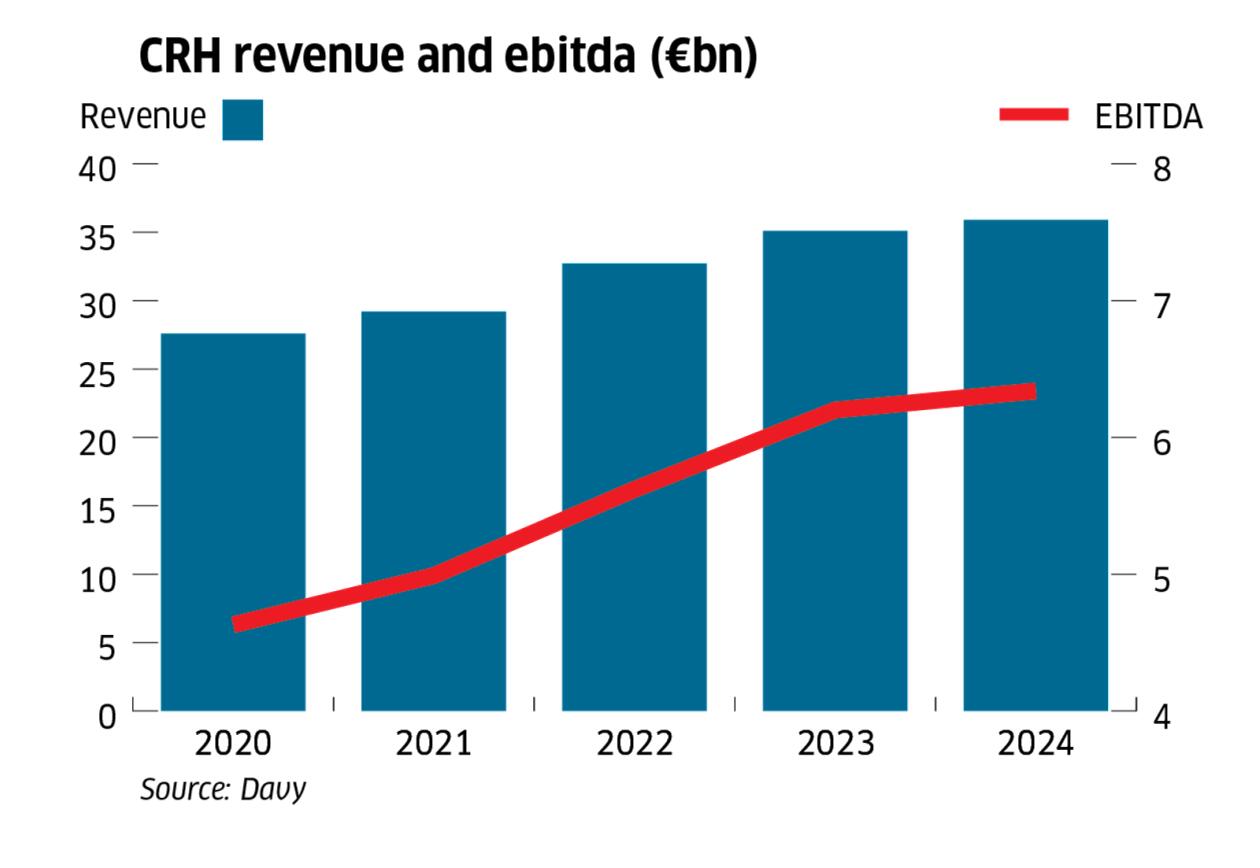 Thompson says she's shocked by how little US investors know about CRH – and by how much they misunderstand a company that is a major player in its industrial market. But she thinks that will change once the company starts flexing its muscles in America.
"The perception is that this is largely a midwest-focused company," Thompson said. "But CRH's top two states in the US also happen to be the top two fastest growing states from a population standpoint – Texas and Florida. That is absolutely not understood by the majority of US investors.
"There's a real education ramp for US investors and, as they get to know the company better and more US analysts start covering the company, we think it will increase the profile."
If Thompson's analysis is bullish, then it's outdone by predictions closer to home for how the company will fare. Davy is forecasting that the company's share price will grow to $75 in the next 12 months – a 40 per cent jump in a year. Longer term, it thinks that can rise even higher.
"CRH will never compete with tech, or with healthcare," Thompson said. "But in the pocket of old-world industries, it will certainly be a key driver – certainly on the construction side of things, without a question. We see it being a market leader."